SPORTS
Lottery fever for basketball tickets reaches O'Hara St.

Ramesh C. Reddy
Editor in Chief

Thousands of registered students started to congregate near the Petersen Events Center ticket office on Oct. 11, beginning at 7:15 p.m. in anticipation of getting men's basketball season tickets.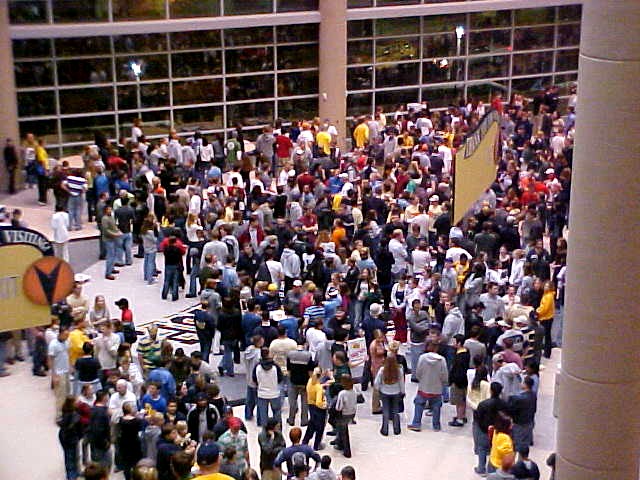 As the ticket office opened at 8:00 p.m., students waited and waited to receive 'wristbands with a number' that would be used in a lottery system to randomly pick 1000 winners who could buy season tickets
Students who were not into basketball games also waited in line to receive a wristband.
Natalie Campbell, a first-year student said, "I would like to further the chances of people I know who really want tickets."
Dana Robertie, also a first-year student was there to kill time and try to help out her friend K.C.
"I am just here to kill time before I go out and party tonight. I will give them [season tickets] to my lovely friend K.C. who loves them [season tickets] or sell them on the black market", said Robertie.
While Robertie and Campbell were not into basketball games, their friend K.C was.
"I actually want to go to the games. I love basketball, Big East basketball", said K.C.
Melissa Patti, a Pitt freshman echoed her friend's desire.
"I love college basketball and it would be worth it waiting in line if I get the tickets", said Patti.
Sean Honeywill waited in line outside the Pete for awhile for the sake of his girl friend.
"My girlfriend wants to go to the games. I don't want tickets but I am here to support my friends. I would rather watch it at home in my underwear", said Honeywill.
Thomas Christophel, a Resident Assistant (RA) in Pitt's dormitory was also in the long line in hopes of getting a winning lottery wristband.
"I want a chance to get Pitt basketball tickets. I am such a fan to get tickets. If I don't get tickets, I will be so sad", said Christophel.
Christophel felt it was so easy to get tickets last year compared to now.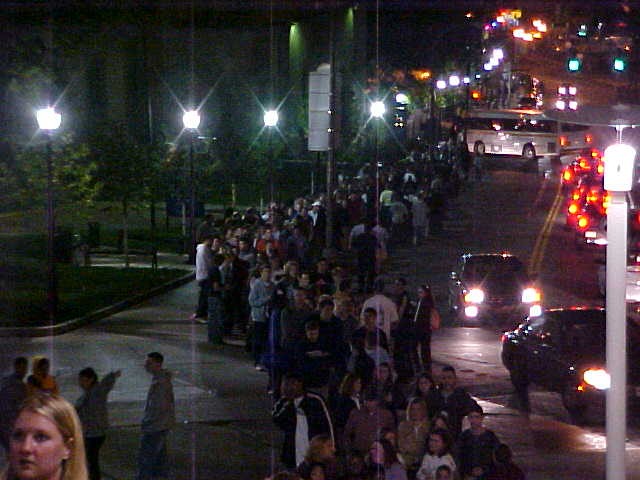 As the night progressed, lines started reaching O'Hara St. near UPMC Western Psychiatric Clinic.
Many had to wait 45 to 60 min in line hoping to get a winning wristband for the lottery system.
Jeff Strejcek said, "It sucks! Lottery system is a bit unfair. They should have more student tickets."
Chris Lopresto agreed with Strejcek.
"They should have more available seats for students. We are the students that cheer the loudest. Ask the players", said Lopresto.
Sherrilyn Blinn waiting with her friend Alisha West felt the lottery system was fair but giving tickets on a first come first serve would be unfair because people waiting in the back of the line would have no possibility of getting tickets.
Brian Kim did not mind waiting in line near O'Hara St to get into the Pete.
"I want season tickets. It's great to see all these people showing support for basketball team. Even though it is a long wait, we love them so much", said Kim.
Not every student in line had Kim's patience to wait in line.
Jessie Gleason, a Pitt freshman waited for 45 min and left saying, "I have stuff to do back in the room."
Pitt Senior Eric Smith voiced his disapproval for being in line.
"I had season tickets for the last three years and now I had to wait in line to get a wrist band", said Smith.
As the line continued to move slowly, there were students who felt that upper-class students should have been given first preference.
Liz Witter said, "I am a senior and I don't get seniority or anything. It should be for people who know something about basketball."
Megan Balsley agreed with Witter.
"We think tickets should be offered to juniors and seniors first", said Balsley.
Pitt athletes from other athletic programs who used to get free basketball tickets to the games at Fitzerald Fieldhouse if they signed up early had to also stand in line in hopes of getting a winning bracelet this time.
Many athletes from the swim team waited in line as a team in hopes of getting winning bracelets.
Couple of students who waited in line with their friends had concerns knowing all of them may not make it since it was going to be a random drawing but figured they could increase their chances of winning and share the tickets.
Michelle Rizzo said, "It is Pitt basketball and we want to support them. We are increasing the chances of getting 1 ticket."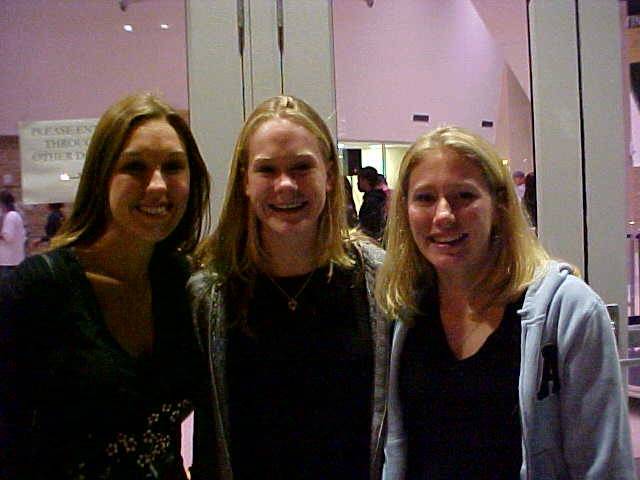 Melanie Stanish, Carrie Quinn, and Dana Shondel waited together for 75 min to get their wristbands after they started at O'Hara Street.
"We want tickets, [waiting for] 1 hour 15 min was not that bad. If one of us gets it, we can share it", said Shondel.


Rather than partying early Friday night, sorority sisters of Kappa Kappa Delta, Jessica Neuhart and Michelle McCauley endured the long lines.
"I am obsessed with Pitt basketball. Even though I am disappointed that tickets are limited, I am willing to do what it takes to see the Panthers in action", said Neuhart.
After the long wait Neuhart and McCauley headed for Midnight Madness.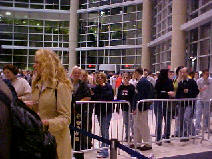 By 10:00 p.m. most of the line outside the Pete disappeared but the line inside continued as the night to receive wristbands was coming to a close and Midnight Madness was coming to the spotlight.
By the time Midnight Madness started more than 2800 wristbands were given away of which there were only1000 winners posted in the William Pitt Union, the Petersen Events Center, and online at www.pittsburghpanthers.com on Sat, Oct. 12.
At Midnight Madness, the men's and women's basketball teams were introduced. A scrimmage and multiple contests took place with the final contest being a basketball throw from mid-court to win $10.000 but the contestant could not make it.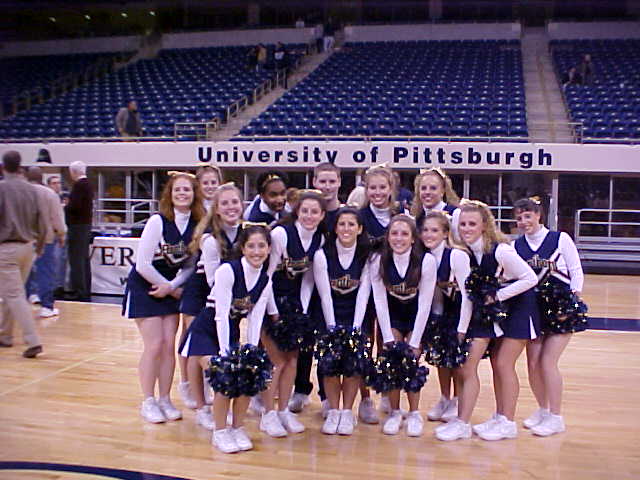 Audiences got opportunities to receive free T-shirts from the Pitt cheerleaders as players won their contests for their seating section. The event ended with the cheerleaders posing for the media.
Photos by Ramesh C. Reddy