"Whites With Stepping Skills Should Beware Sprite's Step Off Offering!"
Ramesh C. Reddy
Publisher
Imagine the uproar that would have happened if a reporter asked Tiger Woods, "You are black, what are you doing winning a golf tournament ?" or to Venus and Serena Williams, "You are black, what are you doing winning a tennis tournament?"
It was shocking to read in Sunday's Post-Gazette about what happened after members of the winning Zeta Tau Alpha sorority, from the University of Arkansas, won what was dubbed the largest Greek stepping competition ever sponsored by Sprite.
When people think about stepping, they usually think about the Divine Nine taking part in a Step Show competition. The Divine Nine represent the nine national sororities and fraternities consisting mainly of African-American talent who put on a sizzling step show.
But shockingly none of the Divine Nine won the Sprite-Step Off competition but a sorority consisting of all white girls won the $100,000 scholarship prize because they were that good. There was dismay and protests that an all white-led group won the competition.
Sprite did not want to take the heat so instead of just sticking with the winners, a week later they come up with a lame excuse that a scoring discrepancy kept the all black, Alpha Kappa Alpha sorority from winning too. Both were awarded the scholarship.
The problem with this is that many people could not bear the thought of an all white-sorority winning a traditionally black step off competition. Instead of ZTA being congratulated for their excellent performance, there were boos from the audience because they won and also thousands of negative comments on the internet and radio waves. The face of racism has shown itself again but this time against whites because they adapted to a traditionally black performance and won.
For many Blacks who have faced prejudice, discrimination, and the ugly face of racism, if they thought, "Whites have taken so much away from us and now they want to also take our cultural identity formed in Step", it may make sense for them to be upset but life should be lived with a biblical worldview.
A biblical worldview sees humanity created in the image of God and we all bleed the same color of blood. If a White Supremacist person or a Black Panther person were in a serious car accident and needed lots of blood to live, no matter how racist they maybe, I can bet you they will not ask, "Is the blood entering my bloodstream from a white, black, yellow, person?"
They will be thankful to receive the blood that gives them life. We all bleed the same blood no matter how we look on the outside. Jesus' precious cleansing blood was used to save all humanity regardless of their race when they turned to Him.
To heckle the ZTA's because they were an all white group to win a traditionally black competition was just wrong. To appease the protestors and give a black sorority the victory too was a worst travesty. The results were double checked on the day of the competition so it is hard for me to believe AKA's won fair and square, a week later, except for political reasons.
This is not the first time this has happened. It happened when Taylor Swift beat Beyonce for an award. I am so glad that no one came back a week later and said that Beyonce won too! Except in that situation, only one disgruntled black rapper made comments against Taylor Swift.
Yet, I am not surprised of what happened in Atlanta with reverse-racism because no matter how many people preach that racism is wrong, it will continue to happen since humanity is a fallen race that can only be redeemed by the Savior's love.
We have to experience the Savior's love as the Samaritan woman experienced it at the well to fight racism ourselves. Going to a church will not make us any less racist because sadly many KKK members were church going folk. It is very well possible that those ostracizing the ZTA's could be church going folk too. Going to church does not make anyone a loving Christian but only Christ's love permeating people's lives by empowering, equipping, and enabling people to live His way through the power of the Holy Spirit and His Word will make a difference.
What is needed is a transformation by God's grace to love how Jesus loved, to see the world through the eyes of Jesus. That takes time and effort. But, it will not happen without Jesus Christ.
Jesus sets the first example of fighting racism and sexism in John 4.
"When a Samaritan woman came to draw water, Jesus said to her, "Will you give me a drink?" (His disciples had gone into the town to buy food.) The Samaritan woman said to him, "You are a Jew and I am a Samaritan woman. How can you ask me for a drink?" (For Jews do not associate with Samaritans.) Jesus answered her, "If you knew the gift of God and who it is that asks you for a drink, you would have asked him and he would have given you living water." (John 4:7-10, NIV)
Let us learn from Jesus Christ and ask His help to fight racism while we remember even stepping is a gift from the Lord. There is nothing wrong to borrow good things from other cultures to bless others.
When Tiger Woods, Serena and Venus Williams have won tournaments people have rejoiced with them instead of ostracizing them.
Don't the ZTA's deserve the same?
I wanted to reach a predominantly African-American population with the love of Christ through my writings years ago but I needed to strategically plan how to do that.
I wrote stuff and called it Christian Rap I, Christian Rap II, all the way to Christian Rap 31. I knew if I called it rap, my African-American friends would be interested in reading it. Many did and asked me for more each week. One person was even saved from suicide after reading one of the poems I called Christian Rap. I share this with you because when we use what is predominately considered a game, talent, etc of one culture but it blesses others, that is a good thing. I wrote all of them seeking the Lord Jesus Christ.
I am so glad that I was not ostracized or looked down upon few years ago when I joined a Black Action Society Slam Jam Poetry Competition at the University of Pittsburgh.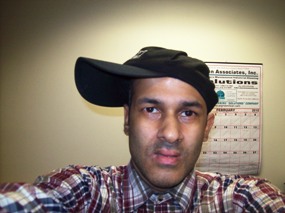 I opened my performance with
Ramesh is my name
Serving the Lord is my game
Christ did not come for fame
But to save you and me from the flame
So give Him a start
By giving Him your heart
So He can do His part
And Satan's fiery arrows you can dart.
Click picture to watch the video from another day
Then I did a poem regarding the dangers of cocaine by giving it a personality: Cocaine Collapses Citizens by Ramesh C. Reddy

Invading peoples bodies, they call me dope.
In my clutches, you have no hope.
I am too powerful for you to say nope.
I have a twin, white powder named Coke.
In blood, dealers let my opponents soak.
Let me tell you, it ain't no joke!
Come in my way, I will shoot to kill!
With sorrow and tears, your family, I will fill.
In my power, you have no free will.
My dealers and buyers use guns in a rush.
People's wounds make their blood gush.
Since I am illegal, my code name is 'hush'.
I am too slick to get caught.
From me children and adults have bought.
You need to get high, I am better than pot.
Lot of money, if you got
Dope and Coke, I give a lot.
DEA and ATF have me sought.
Christ is the only One, have not fought!
Hope people don't know Jesus, else I will rot!
Cause I know, no one can from the Savior run.
His Healing power, miracles hast done!
People now start using love, not my dope and gun.
Without death, I have no fun.
After people came to Jesus, my profits are none!
Cause they realize, I am sin.
With me in their system, they cannot win.
Only Jesus' love gives them a new start.
So to Jesus, they give their heart
Knowing He will do His part!
Healing addictions is His art!
As Jesus loves them so much!
He sends His healing touch!
Even though their life looks dim
And the future looks slim
His cleansing Blood can heal them, where they are
Making me lose the Drug-War!
My career I will lose
Because the Savior, they will choose!
For every poem I read, I was getting 10's from 5 out of 6 judges but one African-American judge kept giving me a zero. Regardless, I made it into the finals. Even though I did not win it all, I was thankful to BAS for giving me an opportunity and not look down upon me. I later found out that I should have opened for KRS-One but I could not make it.
Let us not limit any sports, any music, etc to a particular race if others want to bless us with their gifts and talents. If they win, let us be happy for them. Majority of the people were happy for me when I won a particular contest after I read this poem at another venue.
Recently, Sodexo celebrated Black History Month with a dinner at Market Central Dining. During that time, we had different acts for the audience. At one point two Asian students wanted to perform and we gave them an opportunity and they electrified the crowds with their Hip Hop and Rap.
Soon Pitt will be having a Hip-Hop Battle to see who does the best performance. Let us hope that the members of the University of Pittsburgh will not be biased in voting based on skin color but on talent.
May we not shun anyone of another culture, especially if they win, because it seems odd to see them do something that their culture has not culturally been known for. Whites have not been known for step dancing and Asians have not been known for Hip Hop and Rap until recently. Let us embrace Multi-Culturalism from a biblical perspective instead of shunning it.
Members of the Divine Nine usually do a good job when it comes to putting a step show. For example, the brothers of the fraternity Alpha Phi Alpha and the sisters of the sorority Zeta Phi Beta have won the University of Pittsburgh step show competition for the second time in a row.
Alpha Phi Alpha win the 2009 Step Show competition
Zeta Phi Beta win the 2009 Step Show competition
Sprite insulted the ZTA's when it also allowed the AKA's to win claiming a discrepancy in scoring a week later, yes a week later. If Sprite cannot take the heat if whites win what is traditionally considered an all African-American tradition, then they may as well have a sign stating, "Whites, if you win, we will have co-champions a week later".