"Sorority Sisters Seek Pledges Promoting Loving Leadership!"

Ramesh C.Reddy
Publisher
Editors Note: Unfortunately, due to time constraints, pictures of all the groups could not be taken. If your picture is not part of the slideshow and you submit a picture to rreddy@pittsburghstandard.com, it will be included.
On a morning of Tue, Sept 15, 09 when students were rushing to their 9:00 a.m. classes, the sorority sisters of Delta Delta Delta (Tri Delta) staked out the William Pitt Union (WPU) 12 hours earlier in support of their baby sisters who would become part of their fold. They were slowly joined by other sororities who camped outside of WPU.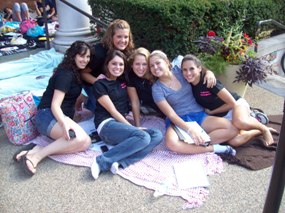 Amanda Nigrelli, a sister of Tri Delta said, "We like to be here to support our girls and show them how excited we are to greet them to our house!"
Her sorority sister Caity Garvey camped out early so she could find a good place where the pledges of Tri Delta could have access to them.
"Because when they [baby sisters] come out here, we want them to see us first and not have to search for us in the crowd. Throughout the day girls who like our house will see us as they pass by and that's got to be really exciting for them for us being there for them from 9:00 a.m. - 9:00 p.m.", said Garbey.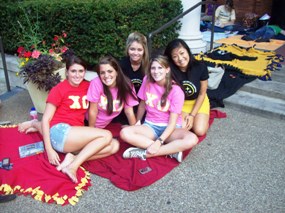 To Eileen Chan, a sister of Chi Omega, to spend the extra time outside the WPU after already spending so much time in recruitment seemed the fair thing to do when they arrived at 10:30 a.m. to show how excited they are to have them [new pledges] as their new sisters.
When the sisters of Sigma Delta Tau camped out the WPU, they wanted to keep with tradition of what happens during bid night.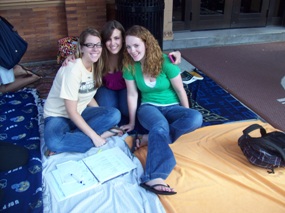 Tia Tomasic & Sarah Jones stated, "It's tradition to come early and get the best spot so you can see when the girls come out and you can be the first girls they see."
Katelyn Korzuch, a sister of Kappa Delta did not even let work come in the way of showing her love and support for the new babies who would one day become KD's when she arrived around 3:00 p.m.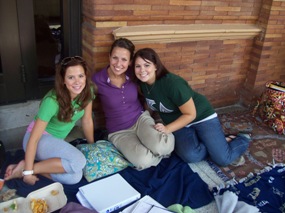 "I actually have work but we wanted to get here early so we can see the new members first.", said Korzuch.
The sisters of Alpha Delta Pi (A D Pi) wanted to follow the rules of Panhellenic when they decided to camp out only after 4:00 p.m.
Carol Dai, a sister of A D Pi echoed similar sentiments of other sororities for being there before 9:00 p.m.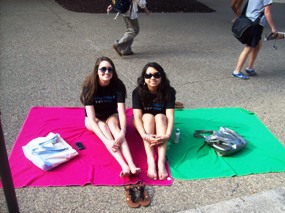 "We want to get a good spot so new girls can see us and hear us cheering them on!", said Dai.
As the hours ticked and 9:00 p.m. was approaching, the excitement was electrifying around 8:45 p.m. as if a New Year was about to come. Sororities showed their excitement with sisters holding signs, chanting their slogans, and coming together as a community.
You will be now taken to a slideshow of sororities waiting to meet their new baby sisters.
Chi Omega sisters famous chant echoed with "We are Chi Omega's, we are red hot, we are Chi Omega's, we are red hot!"
While the excitement was flowing to a boiling point outside the WPU, about 200 excited girls gathered inside the WPU to go into the Ballroom around 9:00 p.m. They waited in anticipation to see if their first choice would become their new family of sisters. A counselor from the University of Pittsburgh Counseling Center was also at hand just in case, girls who were rejected by the sorority of their choice needed someone to talk to.
As bid envelopes were passed out, the tension grew until the 200 girls could open their envelopes at which time shouts of joy erupted and hugs were given throughout the room.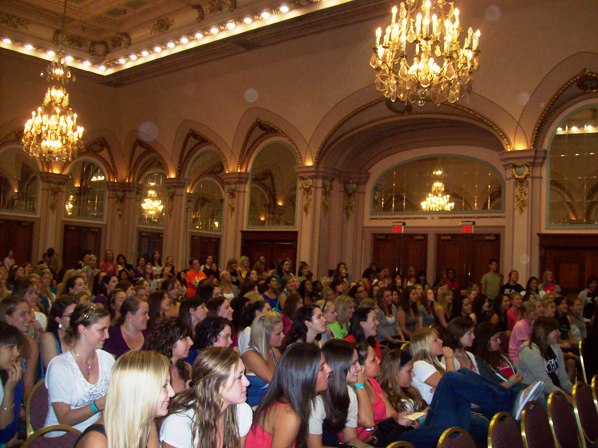 Later, the new babies were introduced to their new family of sisters in the Kurtzman Room, who expressed excitement in having them.
Alpha Delta Pi Pledges: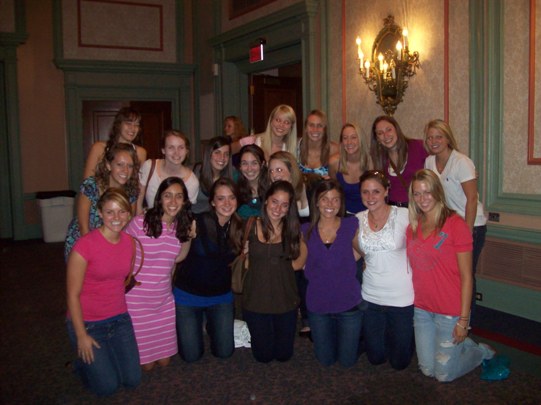 Alpha Epsilon Pledges with their sorority family: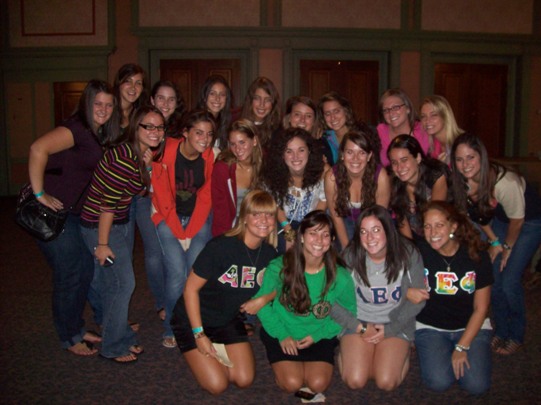 Chi Omega Pledges with their sorority family: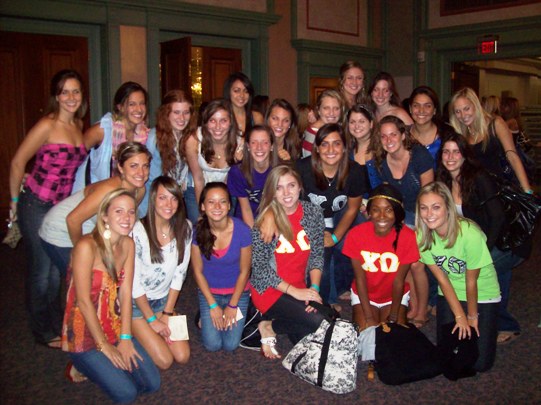 Delta Phi Epsilon pledges with their sorority family: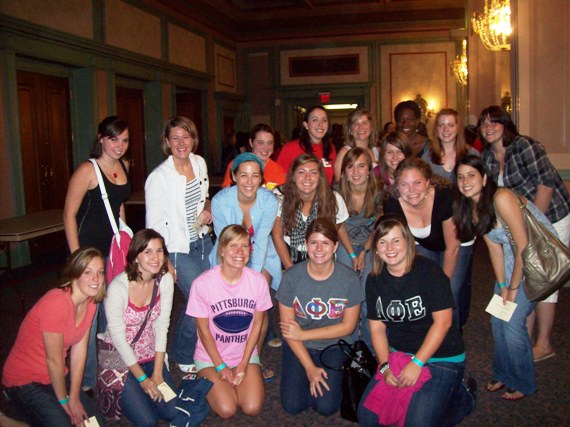 Delta Zeta pledges with their sorority family: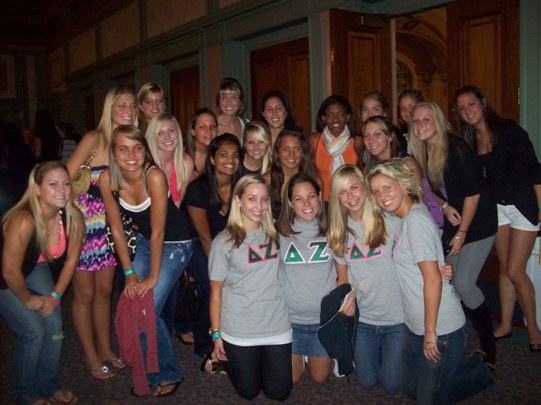 Delta Delta Delta pledges with their sorority family: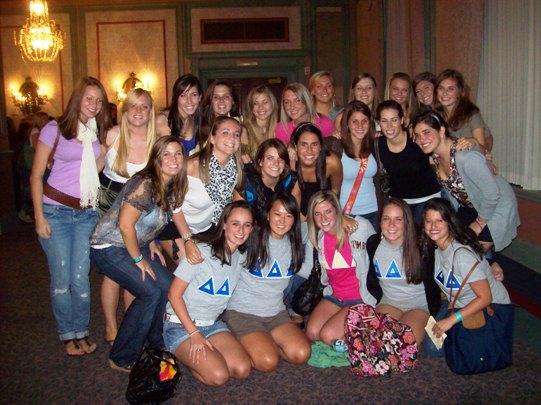 Kappa Delta Pledges with their sorority family: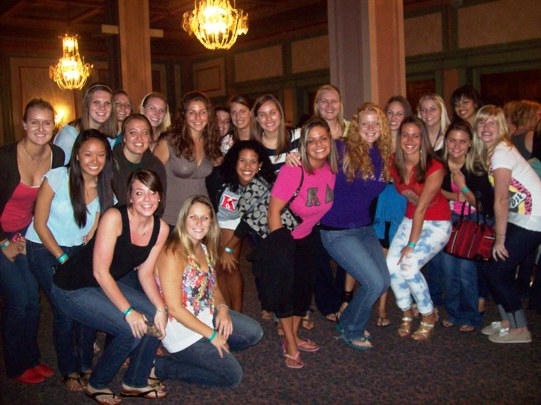 Kappa Kappa Gamma Pledges with their sorority family: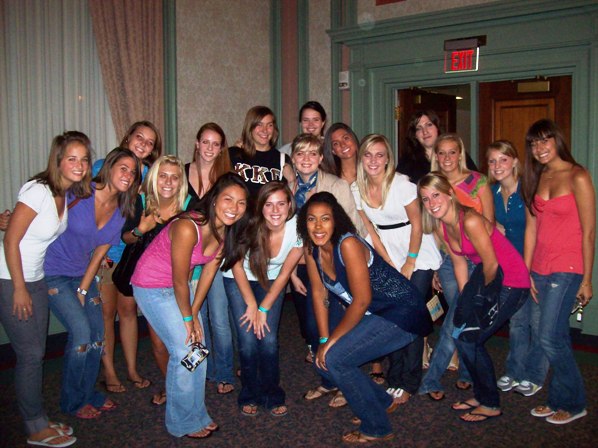 Sigma Delta Tau Pledges with their sorority family: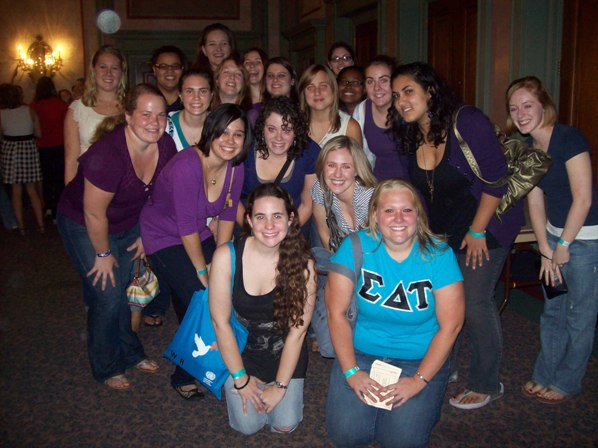 Afterwards, they all began their journey to go outside the WPU to await the love and support of their extended family of sisters who would take them home to either Amos Hall, Bruce Hall, or the Kappa House and shower them with love and affection.
"Applauding Amos Hallís Habitability, Sorority Sisters Report Ribbon Cutting Ceremony!" (Sept 15, 09, 1:33 a.m.)
All photos by Ramesh C. Reddy