"Foreigners Fetch Free Furniture From Faithful Followers Loving Lord!"

By Ramesh C.Reddy
Pittsburgh Standard

Sept 02, 2009
The Pittsburgh Region International Student Ministries (P.R.I.S.M) provided international students arriving in Pittsburgh with free furniture and household items on Sat, Aug 25, 09 from 9:00 a.m. - 2:00 p.m. at Bellefield Presbyterian Church as it partnered with about 200 churches from the region to show them the love of Christ. This was their 27th year providing this service for the students.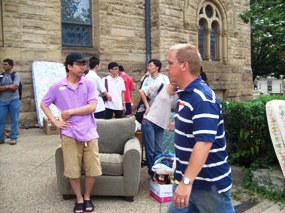 Scott Boyd, the director of P.R.I.S.M said, "We do it because we believe it is our first opportunity to welcome people to Pittsburgh and show them the love of Christ by giving away something that is free. We want to demonstrate God's love is also free."
Boyd wondered how many people in Pittsburgh have any furniture left when they give it all away. For the first time in 27 years, P.R.I.S.M decided to go away from the 'first-come, first serve' basis and do a lottery system. About 300 tickets were given away by 9:00 a.m. for the free service to begin.
"It [having the lottery system] is taking the pressure of students to come so early. Last year, we had a student come in at 5:00 a.m. They don't have to stand in line until the appropriate time.", said Boyd.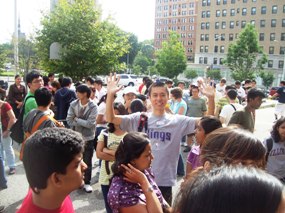 Liu Huihong, a Chinese student who arrived recently and got plugged into the Pittsburgh Chinese Church-Oakland headed by senior pastor Hugo Cheng was so thankful.
"Thank you for providing so much. You are so kind. First, I feel very good. It is amazing! Second, it is absolutely fantastic, no word can make description.", said Huihong.
About 50 volunteers made this experience possible for Huihong and many other students from different ethnic backgrounds.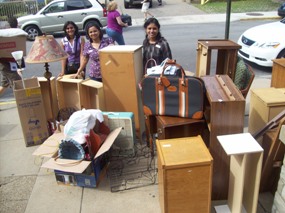 Shailey Dedhia, Ruma Bhagwat, and Chaitale Anandpara from India were very appreciative of the churches generosity.
"It's really good what they are doing. It's difficult to get this much good stuff. We appreciate what church is doing."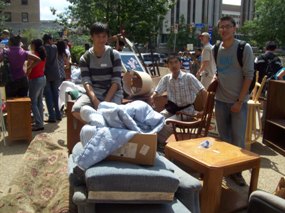 John Wang, Daniel Lu, and Qi Mao from China echoed the sentiments of the Indian students.
"I think the church is very generous to help international students. We are short of everything when we come here. We rented a home and there is nothing in the home."
Other students wanted to give back to the church for their generosity.
Ruchita Bansal, Rishu Thukral, and Parul Bansal from India too had high praises for the church.
"We appreciate what you all are doing. I hope we can one day contribute back!"
Mina Kabiri, a new student from Iran was joyfully shocked with what the church was doing.
"It's very interesting; we do not have this; not at all in our country.", said Kabiri.
Jamual Al Rifai, a student from Jordan was so excited to get his bed.
"I want to sleep man", said Rifai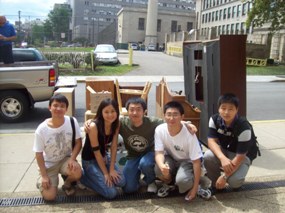 Weinan Ma, another Chinese student was so excited to feed his apartment the free furniture and household items.
"I love them all [furniture and household items] and can feed it to empty apartment. It is very helpful to us new graduates who are fresh here and don't know how to get stuff. We don't know where or how. New ones are too expensive for us. People we meet here are very nice. We make new friends here.", said Ma.
His friend Qiu Ling Zhu echoed similar sentiments.
"I feel so lucky. I want to thank the drivers too for moving furniture to apartment.", said Zhu.
The churches had reached out with the love of Christ to students of different ethnicities ranging from Chinese, German, Indian, Iranian, Japanese, Jordan, South Korean, and Taiwanese, and more by the days end.
P.R.I.S.M continues to be an outreach center for international students through the semester.
Musical slideshow I from free furniture give away! (Sept 04, 09, 9:51 a.m.)
All pictures by Ramesh C. Reddy