Ramesh C. Reddy
Managing Editor
University of Pittsburgh students enjoyed a night of cosmic bowling in Lexington, Ky one day after the 3rd ranked Pittsburgh Panther basketball team loses to 10th ranked Kent St Golden Flashes in the Sweet 16 on Thursday, March 21, 02.
Thirty-three Pitt students participated in cosmic bowling, as many of them played two rounds even as they also drank up shots of beer. The students used six different lanes to play the game. The highest totals from each lane were recorded for the final round to see who would emerge as the Pitt Cosmic Bowling Champion of Lexington, Ky. The Pittsburgh Standard sponsored the event with the winner getting their picture in the paper.
Lane 1 contestants were Mike Silvestri, Matt Winfield, Eric Bond, Nick Elliot, and Nate Olstine.
Lane 2 contestants were Jackie Kraft, Tony Galante, Jason Makel, Garret Gracey, and Nicole Henry.
Lane 3 contestants were Andrew Glass, Malachi Handler, Penny Holmen & Dana, Ben Finkelstein, Anthony Peck, and Zainab Hassan
Lane 4 contestants were Jillian Williams, Tiffanie Anderson, Jess Elsdon, Christine Seaman, and Jon Burns
Lane 5 contestants were Joe Hepp, Brian Palmer, Brian Behan, Corey Seymour, and Dan Doyle
Lane 6 contestants were Doug Wolfe, Mike Himes, Chad Hull, Seth Runatl, Sonya Berkovich, and RJ Lozano
Jackie Kraft from lane 2 scored a high score of 172 points beating Matt Winfield by 10 points who had a score of 162 points. When news spread that Jackie won, a Pitt male student remarked, "Jackie, a girl has 172?"
Other students remarked, "We are not going to beat that."
One of the student said, "Way to go" to Jackie.
Kraft became the Pittsburgh Standard's Pitt Cosmic Bowling Champion of Lexington, Ky.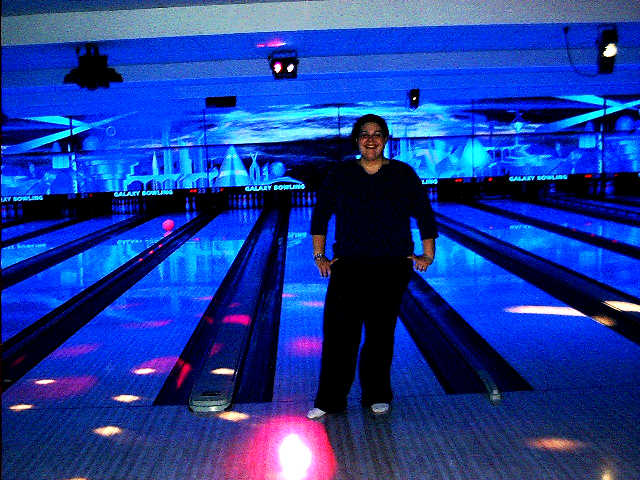 Pitt students sell their tickets and get left behind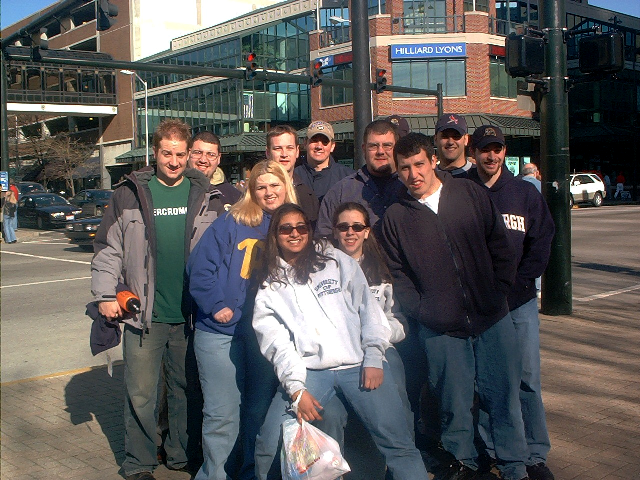 Many Pitt students sell their tickets before the Final Four game began between the Indiana Hoosiers and Kent St Golden Flashes when the Golden Flashes burned the Pittsburgh Panthers from the Final Four.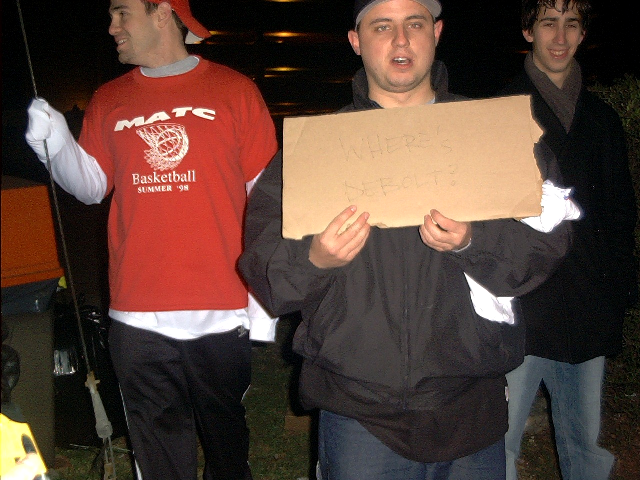 After the Final Four game was over many Pitt fans near Rupp Arena were left behind from 9:30 pm - 12:30 am in the freezing cold weather. Jason Markel holds a sign asking people, "Where's Debolt?", the name of the bus. Eventually, Joe Cavalla, the director of student activities gives a hand and arrives with the bus.