Ramesh C. Reddy
Managing Editor
Indiana Hoosiers trailed the Duke Blue Devils by 13 points most of the way during the Sweet 16 South regional in Lexington, Kentucky's Rupp Arena until things started changing in the 2nd half.
With 15:53 left in the game, the Hoosiers cut the lead to 10. With 6:30 left in the game IU, Pitt, and Kent St fans were going crazy as the Hoosiers cut the Blue Devil's lead to 6 and had the ball.
With 5:44 left, the Hoosiers cut the lead to 4 and got the ball back on the Blue Devil's foul. Imagine being in the stands and experiencing the excitement of IU fans in red, Pitt fans in blue & gold, and Kent St fans in yellow all about to see if the Hoosiers can fire the hot Blue Devils from the Sweet 16.
With 5:37 left, it became a 1-point game but the Hoosiers could never tie the game or take the lead until less than 1:54 was left in the game. They finally tied the game 70-70. Eventually, Hoosiers would win the game 74-73.
As the upset became a reality, Pitt fans joined with the IU fans in excitement. Indiana fans and Pitt fans cell phones were going off the hook after the stunning upset in the closing seconds of the game.
John Miller, a grad student at Pitt watching the game at Rupp Arena said, "I can't believe I just saw that."
Nick West, a Pitt freshman at Rupp Arena said, "I thought it was great. I was cheering them the whole time. I have a friend who goes to Indiana so I hope we play them so I can talk some smack to them."
Frank Yeh, a Pitt sophomore at the game was happy to see the Blue Devils lose.
"I was on top of the world. It was awesome", said Yeh
Josh Butler, a Pitt sophomore who wanted the Blue Devils to win was disappointed.
"I am crushed", said Butler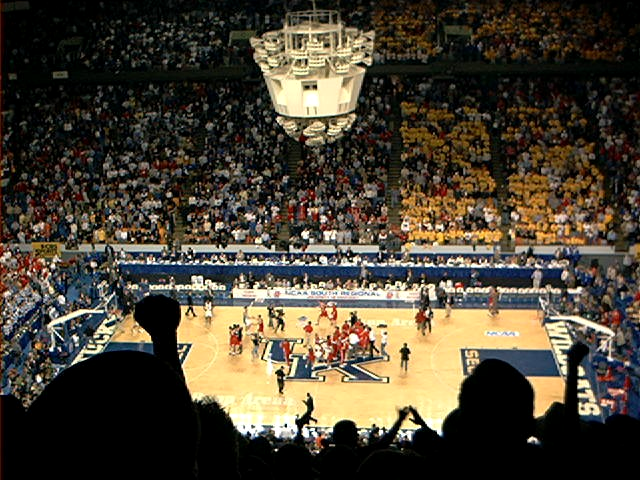 Photo by Ramesh C. Reddy
Hoosiers shock the nation with an upset of the Blue Devils in the Sweet 16 South Regional