Jon Sobolewski
Sports Editor
The 2002-2003 season for Pitt should be even more successful than this past year with the return of every player except forward Chad Johnson. The Panthers will welcome two new freshman and two players who sat out this season while practicing with the team.
The most heralded of those newcomers will be point guard Carl Krauser. Krauser is easily capable of backing up Brandin Knight at the point, but rumors are beginning to surface that he may be more than a backup point guard. Krauser may push Julius Page to the 3-spot and the Panthers may play a true three-guard lineup. Krauser is explosive and entertaining and with him and Knight on the floor Pitt may push the tempo more to create plenty of easy opportunities in the open court.
The frontcourt will also be much improved next season simply because the Panthers have plenty of youthful talent that will have an off-season to refine their skills. Chevy Troutman and Toree Morris are the two who would seem to benefit the most from this upcoming summer.
Troutman is still raw, but he has become a fan favorite because of his toughness and quiet demeanor. He often can turn a game into a rugby scrum by diving after loose balls and "tackling" opponents who get in his way when a ball is on the floor. Troutman needs to work on his finishing ability and definitely his free throw shooting touch.
Sophomore Mark McCarroll is an active athletic forward, but his skeleton frame kept him off the court in March, so an off-season of intense weight training could do him good. McCarroll should probably fill most of the minutes vacated by the graduation of Chad Johnson.
Julius Page needs to work on his ball handling and his dribble penetration and Jaron Brown is a very solid all around player, but getting a jump shot should be one of his off-season goals.
Mentioning Knight's free throw shooting isn't necessary is it? A positive improvement in Knight's game in the interest of an NBA career would be for him to add some strength. Nobody is questioning Brandin Knight's heart, but he needs to get stronger to avoid some potential injuries.
Freshman guard Yuri Demetris is rumored to be transferring, but those rumors have quieted with the Panthers success. If Demetris does transfer, his likely destination would be Division II Indiana University of Pennsylvania (IUP). Demetris, a skilled scorer with deep range, played very little in Big East conference and NCAA tournament play.
Don't expect much from Pitt's two incoming recruits 6-7 Ed Turner from Buffalo and 6-9 Levon Kendall from Vancouver. Both bring some athletic size, but neither is probably ready to contribute right now. If either would play it would probably be Turner.
Another recruit listed in various publications is 6-10 Daryl Jacobs. Do not expect Jacobs in a Panther uniform anytime soon or possibly ever. Jacobs is an academic nightmare going from Buffalo Traditional Academy to Maine Central Institute and now to a Junior College. Jacobs says he will honor his commitment to Pitt, but he may never even get a chance to be eligible to play at Pitt. Sources at Pitt say he will never be in a Panther uniform. Jacobs was once recruited by Cincinnati, Tennessee, and Maryland not to mention Pitt.
Pitt may lose one other key component from this year's success: associate head coach Jamie Dixon. Dixon, 37, is one of the best assistant coaches in America and a head coach job offer will take him away from Pitt eventually. He is a possible candidate for the vacant Montana job according to ESPN's Andy Katz.
With a new arena and plenty of talent, not to mention the almost unanimous coach of the year Ben Howland, Pitt will be one of the nations top candidates to make it to New Orleans at the end of March next season.
Jon Sobolewski is the sports editor of the Pittsburgh Standard and the creator and editor of SOBEBALL, a website that offers a complete source for college hoops at http://sobeball.i8.com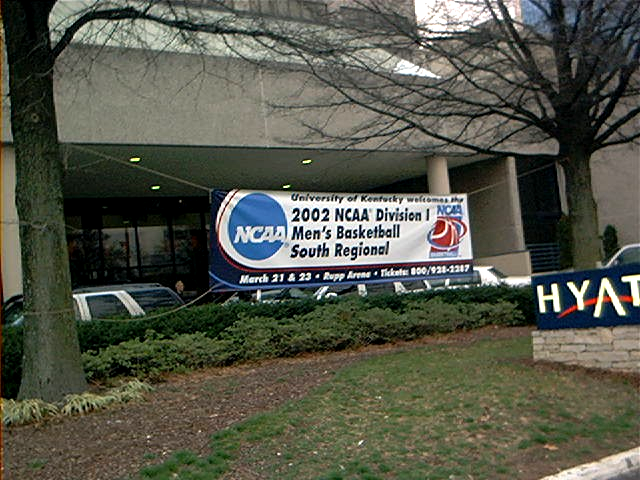 Photo by Ramesh C. Reddy
Panthers should aim for next year's tournament with the players they have.