NEWS
Pitt student becomes a Panther mascot
Ramesh C. Reddy
Managing Editor
Ramesh: What made you want to be a Pitt Panther?
Panther: Actually I played football for seven years and then in my senior year I guess I realized I was not going to get much playing time so the cheerleaders asked me if I would be the mascot for my high school. I was like yeah sure and I really liked it. My friend from Penn St tried out and became a Nittany Lion and I thought that was the coolest thing ever so when I came to Pitt it was my ultimate goal just to be the Pitt Panther and I did it pretty fast. I got here and three weeks later I am the Pitt Panther.
Ramesh: Whoís your supervisor?
Panther: Her name is Theresa Nuzzo
Ramesh: So, Theresa Nuzzo is also the Panthers supervisor?
Panther: Yeah, yeah!
Ramesh: How long have you been the Pitt Panther?
Panther: This is my second year now. I am only a sophomore.
Ramesh: Oh cool! For those students who do not know, how did you get the Panther position? What was the process?
Panther: It was last year right after the pep rally. I approached some cheerleaders about it. I didnít think I would get the Panther job. Right away I thought it was a seniority thing. I basically tried out at a pep rally and did pretty good I guess. Theresa said I could be the Panther anytime I want.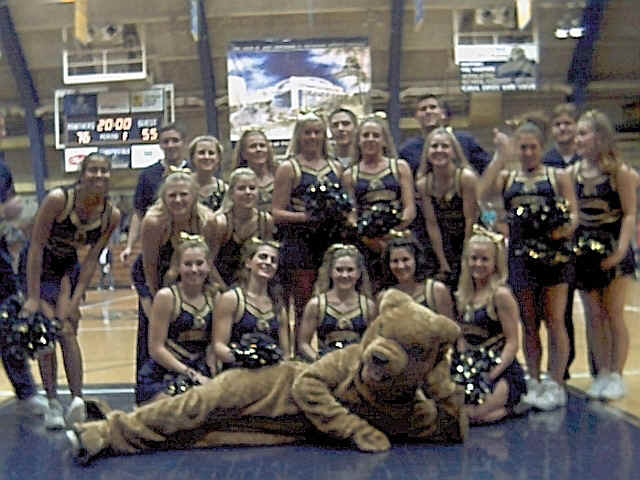 Photo by Ramesh C. Reddy
Pitt Panther relaxes on the game floor with his cheerleading team!
Ramesh: What has been your most memorable experience as a Panther so far?
Panther: Most memorable experience? (Silence thinking) Wow
Ramesh: Take your time
Panther: (silence...) I guess it would probably, huh thatís a tough one; I remember pretty much everything I have ever done with it. I guess actually, the Big East Tournament last year in New York City at Madison Square Garden. Everyone picked us to lose in the first few games but we went all the way to the championship. I guess the most memorable experience would be when we played Syracuse that night and we beat them.
Ramesh: Wow!
Panther: That was amazing and we beat Notre Dame and all that, that whole trip was just amazing, pulling it out from nowhere.
Ramesh: Cool! What has been a memory you would like to forget as a Pitt Panther?
Panther: Memory I would like to forget? (Hmm) Every year I go to Temple and I always go up into the crowd because I am from Lancaster and have a lot of family and friends that go to that game. The crowd there is really intense; they are mean people, really mean to the mascot. I went up in the stands to see some family and would go around and make my rounds. There must have been a group of 12 kids that just beat me up.
Ramesh: Awe
Panther: Yeah, I guess that would be probably the memory I would like to forget. This year was not that bad but the year before I got beat up pretty bad.
Ramesh: Awe man! Did your uniform come off?
Panther: Yeah, my head blew off
Ramesh: Awe, that is not good!
Panther: I guess Temple would be the only time it happened. I just lay down and took it.
Ramesh: Awe
Panther: I covered my face and curled up. Thatís about all I could do.
Ramesh: Did anyone come and rescue you?
Panther: Eventually! It took time but eventually some Pitt fans saw what was happening, ran down and helped me out.
Ramesh: Okay! What is the hardest thing of being a Panther?
Panther: It takes up all of my time. Itís hard to find time for school. I came to college and wanted to be a Panther but I wanted to do a lot of other things. Since I became a Panther, I have not had time for anything else other than that. Otherwise I would not get any schoolwork done if I had anything else. It really does take all of my time.
Ramesh: Cool! What is the easiest thing about being a Panther?
Panther: Easiest thing? I think the easiest thing, getting to go to in all these away games traveling. Thatís pretty amazing! I am flying these planes and staying in these incredible hotels having a good time. That would be the easiest thing being a Panther.