"Estranged Employee Complains Concerning Buying Bagel Factory's Food!"
Ramesh C. Reddy
Publisher
Was this an employee who was fired from the company and wanted to retaliate against Bagel factory?
Was this an employee who still works at Bagel Factory but was afraid to directly address the issues he/she saw?
Whatever the reason, a particular employee decided to use the bus shelter at the intersection of Forbes & Craig to voice his/her distaste against Bagel Factory!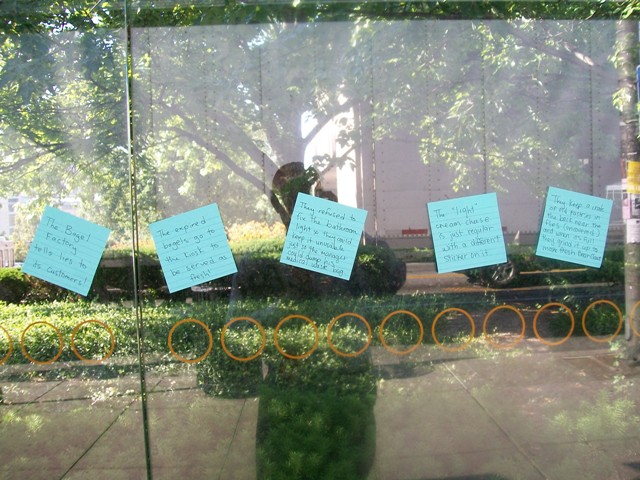 If the complains are credible the charges brought anonymously against Bagel Factory are very serious especially regarding food safety standards.
Just to be on the safe side, Pittsburgh Standard requests the Allegheny County Health Department (ACHD) to investigate the anonymous charges posted at the bus stop.
Food service customers depend on the establishments they go to, to ensure the food they are getting is safe to eat and not mislabeled or falsely advertised.
If the charges are false, the employee should be ashamed of him/herself for trying to defame the name of a company because of his/her personal vendetta.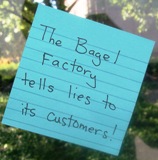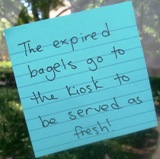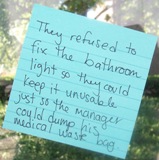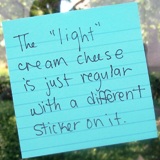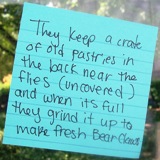 Not only should Bagel Factory investigate to find out who could have written those notes in their company but the person should be sued for punitive and compensatory damages for defaming Bagel Factory.
We cannot know until an investigation is completed by the Allegheny County Health Department.
Until then we need to use Bagel Factory with caution if we are a customer or food service company that orders from them.