"NICU Nurtured Child Celebrates Five, Faithfully Seeking Savior!"
Ramesh C. Reddy
Publisher

Evangeline Vajravathi Reddy coming into the world was a miracle for us. First and foremost, as much as my precious wife Chandraleela and I wanted a second child, I waited and waited and waited for different reasons. Two of the reasons I wanted to wait was so Chandra could have complete healing from her first C-section and also because we were planning to go to India. When I shared with Pastor Bucknell about the reason for the wait, he told me I should not lean on to my own understanding. I should have listened to Pastor Bucknell instead of keep waiting and waiting. Even though Chandra never took birth control pills, she was not conceiving. I fasted and prayed for the Lord's intervention.
In the Lord's wonderful grace and mercy, He answered our prayers and made my wife conceive that same month. Every month of pregnancy, she was always busy with cooking homemade Indian food for Indian Game Night because she loved to take care of the students giving them homemade food and showing the love of Christ. Even in her 9th month, she still cooked for IGN for the April 2015 graduation edition of IGN by herself when my mom could not be available.
Now the time came for Chandra to give birth but Evangeline was not coming out. Her head kept getting stuck. After 4 hours of laboring, the doctors told us that Chandra needs to get an emergency C-section. Even with the C-section, the doctors were having a hard time to bring her out.
On Friday, May 29, 2015, at 9:46 pm, when she finally came out of the womb, she was not crying. This scared Chandra and me so much. Then, we were told that her APGAR score was 1 out of 10, she swallowed a lot of meconium into her lungs, and was having trouble breathing. They rushed her to the Neonatal Intensive Care Unit. When we got to see her, she had a breathing tube, iv tube, and feeding tube on her little body.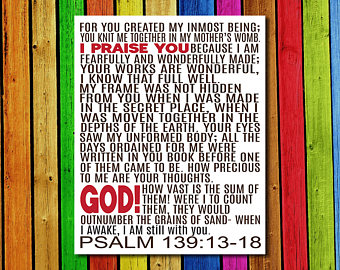 Pastor Hugo of Oakland International Fellowship and other members of OIF prayed and prayed even as our family prayed to the Lord Jesus. I continued to pray Psalm 139:13-18 for her and was so thankful to the Lord Jesus, her APGAR score went to 8 out of 10 within 10 min and within 24 hours, her breathing tube was removed. She continued to stay in the NICU for 5 days and then was

moved to the Children's Pediatric Unit for 3 days.
Finally, by the Lord's grace we were able to take Evangeline home 8 days later. When discharging her, the doctor told us not to treat Evangeline any differently than her 2+ sister Esther just because she had to be in the NICU. The doctor did not want us to limit her. We prayed and prayed and took it to heart.
The early years of her life were filled with respiratory sickness through the years including this past March 2020. But, the Lord Jesus brought her through each and everyone. We continued to pray Psalm 139:13-18 for our daughters through the years.
A week ago, we were so excited to celebrate her 5th birthday indoors as we reflected on how the Lord Jesus brought her through the first 60 months of life that the Lord Jesus brought her through.
We are so thankful for all the prayers and support family and friends have brought before the Lord Jesus.
We hope you as our family and friends enjoy this musical slideshow as a testimony to Evangeline's 60 month journey reaching 5 years. What made me want to do this is because my daughter asked me for a slideshow but most of all as a testimony to remember how the Lord Jesus brought Evangeline through the hours, days, weeks, months, and years of her life to where she is now.
"Evangeline's Musical Testimonial Slideshow for 60 months!"
It is the mercies of the Lord that comfort us and encourage us to hold on to His promises especially experiencing the different miracles through prayer. Prayer is the work and moves the Hand of God.
As she grows, she misses having a grandpa because both of our dad's went to be with the Lord due to sickness. We know the Lord can stop death if he chooses too but we also know we live in a fallen world and every miracle that touches our heart is a miracle to celebrate. Thank you Jesus! May you find your comfort and trust in the Lord!