The motorcoach transportation finally arrives in Orlando, Fl on Dec 19, 2001 at 8:52 a.m. Many students then buy discount tickets for a price of $38 to the Tangerine Jam which included free admissions to Universal Studios, Universal's Island of Adventures, City Walk, and a Pep rally.
Around 11:39 a.m students lined up to receive their wristbands for the Tangerine Jam and left the Ramada Inn Resort.
Michelle Wydra, Executive Board Director of the Pitt Program Council said, "We got here and went to the Universal Studios, spending the rest of the day there, walking around, meeting people for dinner, and hanging out on City Walk."
Couple of PPC members enjoyed the 'Spiderman' ride and felt the 'Hulk', a roller coaster was a total surprise. Brother and sister, Jeremiah Miller & Jenny Lin Miller also enjoyed the ride.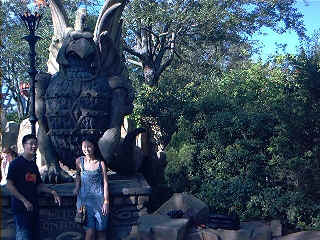 A statue stands tall at the Island of Adventures. Many students found themselves spending some time at the theme park before and after the bowl game.
While people were enjoying the rides and sight seeing, many decided to go to Sinbad's adventure show to see Sinbad, Amoura, and Shish Kabob perform death defying feats. Later, they posed for audiences to take pictures and sign autographs.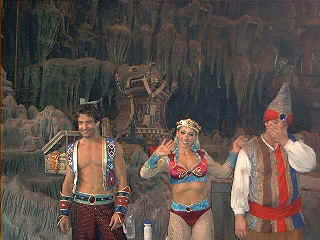 Performers put on a show for an audience at the Island of Adventures. Many of the Audience members were students from the University of Pittsburgh who were in Florida for the Tangerine Bowl.
Photo By: Ramesh C. Reddy
Many students later visited the Hard Rock Café at the City Walk for music and dinner.
As night approached, Pittsburgh Panthers cheerleaders, Golden Girls, dance team, and band members were enjoying their own adventures in the park before they got ready for the pep rally that was held at 7:00 p.m. where Sinbad's Adventures took place earlier in the day.
At the pep rally, Pitt fans shouted, "NC State sucks" as the Pitt band played and the cheerleaders & dance team performed.
Larissa Miller, a Pitt student enticed the crowd to cheer Pitt with enthusiasm.
Later, North Carolina State's band took the floor and played musical themes from the Olympic ceremonies, Star Wars, and much more.
The pep rally ended with North Carolina State's cheerleaders, the National Champions performing. Later, fans from both sides went to enjoy the rides in the park once again.