"Book Review of 'War of Words: Getting to the Heart of your Communication Struggles!"
Ramesh C. Reddy
Publisher
Book Release Date: 2000
Publisher: Presbyterian & Reformed Publishing Company
Author: Paul David Tripp

'War of Words: Getting to the Heart of Your Communication Struggles' (2000)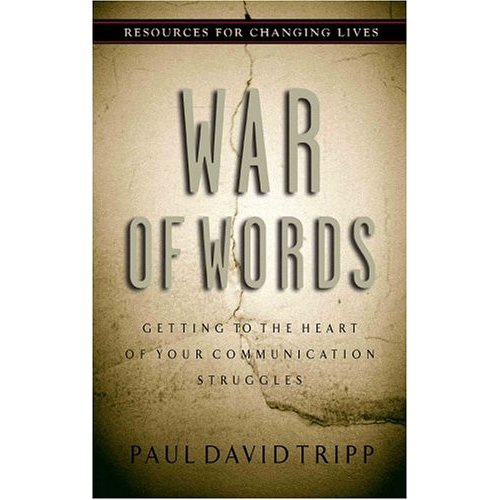 Source: http://www.amazon.com

Pages: 245

Time taken to read approx: 367 minutes (6 hrs 7 minutes)

Available at Oakalnd International Fellowship Library

Book Synopsis:
"War of Words: Getting to the Heart of your Communication Struggles!" is one of the best books I have read that shows the influence our words can have on those around us depending on the words we use and to whom we give our allegiance to, whether it is Jesus Christ or Satan.
Paul Tripp uses poignant examples from his own life as a pastor, husband, and father to make us reflect on the value of our own words whether they will build others up or destroy them. But more than that, he lays out biblical solutions to living a walk that shows a Christian can live a Redemptive life showing grace because of what the Lord Jesus Christ already has done and will continue to do in a believers life as they yield to Him. He uses times of failure to show how the Lord can restore especially in those moments.
This is a must read book for every husband & wife, employer & employee, pastor & congregation members, parent & child, layperson, etc to help us rethink the words we say and how every word we say can be reflective of us as an Ambassador for Christ and His representative to do His work or acting as a minion of Satan. After reading this book, our own outlook on the words we use will change when we allow Jesus Christ to work in us and through us even as we work through the exercises after each chapter. This is a book that can be read over and over again.
Recommendation: *****/5

Poem of Reflection after reading War of Words:

Talk Dependent on the Rock!
(c) 2011, By Ramesh C. Reddy
When your talk reveals your every word
That stabs others like a fiery sword
Knowing poisonous venom you have poured
Into a soul marred like a burning coal
Destruction will become your goal
When you let your tongue take that role
You will always hurt
Feeding others dirt
From a fallen earth
Revealing words that hack
Causing some their dreams to pack
Because encouragement they lack
How different it would be
For you and me
Powers of words if we can come to see
Realizing how weak we are on our own
Not having an encouraging tone
But it does not have to be this way
When we turn to the Lord Jesus each day
And upon him our scorching tongue lay
Then He will guide us what to say
Words that will encouragement build
And evil words will be killed
Cause with Lord's grace talk will be filled
Wanting to grace show
And the Lord's love to know
Now words won't be your foe
And you won't fill others with woe
Cause words will show love
That is revealed from above
From a Lord of Grace
To help you win life's word race
With whomever you talk
Whether you sit, stand, or walk
Now you will be dependent on Christ, the Solid Rock
Cause the Lord will help you fight every sin
And on the War of Words win
Now you can use words to heal
Making others Lord's encouraging love to feel!