"Light Up Night's Nativity Creche Christened Colorfully!"
Ramesh C. Reddy
Publisher
Editors Note: Coverage for this article has also been taken from the Pittsburgh Standard archives!
Located at the U.S. Steel Plaza in downtown Pittsburgh, the Pittsburgh Creche is the world's only authorized replica of the creche that stands in front of Saint Peter's Basilica in Rome.
First erected in 1999 through the work of the Christian Leaders Fellowship, the creche appears again through generous gifts from Pittsburgh labor unions, businesses, religious organizations, and other community members.
The creche features larger-than-life-size renderings of the Holy Family, the Magi, an angel, shepherds, animals, and a stable, along with a professional sound and lighting system.

From left to right: Neha, Mitra, Tanuja, Jenil, Poovaiah, Shivam, Omkar, and Pastor Hugo
Ramesh narrates the Christmas story related to the Nativity Creche By Ramesh C. Reddy (Nov 21, 2014, 11:02 a.m.)
Audio: Christmas Story with Sing Along Songs By Ramesh C. Reddy (Dec 2005)
The stable design is taken directly from Vatican blueprints. Pietro Simonelli, sculptor of the original Vatican creche, created the initial figures for the Pittsburgh display and the new figures added in 2000 and 2001.
In 2002, local artists from JE Scenic Technologies, in affiliation with the Pittsburgh Civic Light Opera, assumed this intricate task. Like Simonelli, they will create figures with lifelike hands, feet, and faces. Each sculpture is made from weatherproofed paper-mache and placed on a wooden frame.
As we seek to find peace in our world, this spectacular outdoor nativity scene is a powerful reminder of the true meaning and purpose of Christmas.
Source: Brochure called "THE PITTSBURGH CRECHE"
Share the Love
U.S. STEEL PLAZA
THE CHRISTIAN LEADERS FELLOWSHIP
The Pittsburgh Creche was dedicated at noon on Nov 17 with performances by the students and staff of St. Athanasius, St. Mary, and St. Ursula followed by messages, prayer, blessings, and songs by the Christian Leaders Fellowship.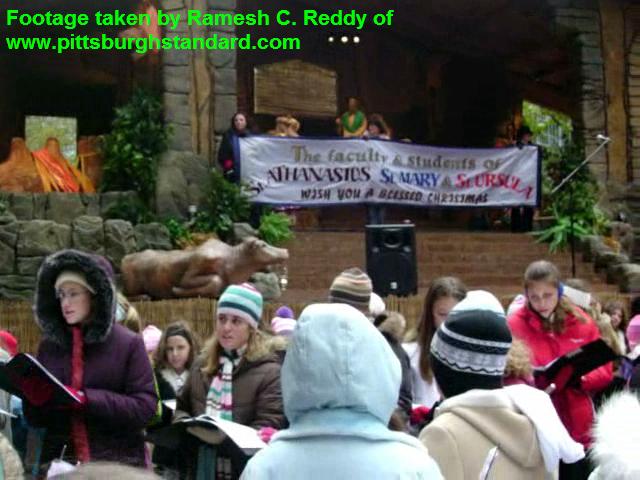 Video: Students sing 'Glory to God in the Highest' (Nov 17, 07, 9:08 p.m.)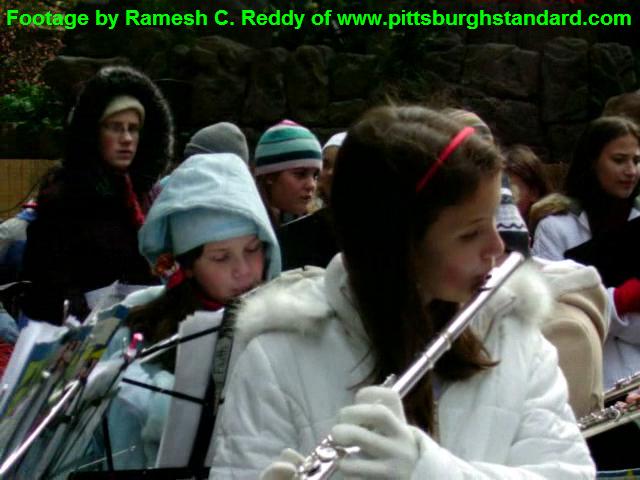 Video: Students use flutes for Christmas melody! (Nov 17, 07, 11:36 p.m.)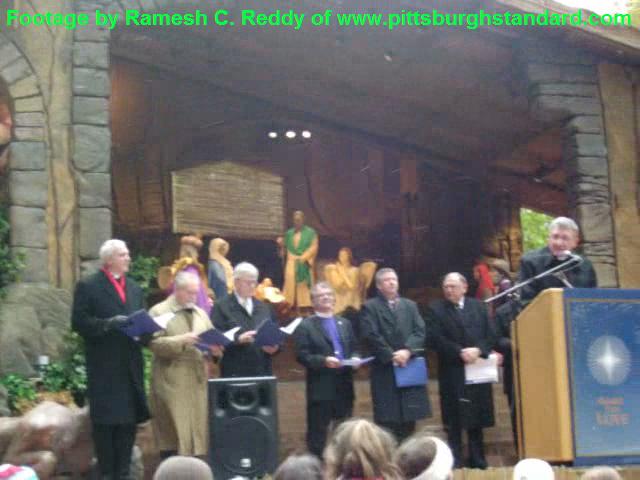 Video: Christian Leaders Fellowship Christens Christmas Creche! (Nov 17, 07, 10:57 p.m.)