Athletes train their mind at AIA
Ramesh C. Reddy
Managing Editor
Many University of Pittsburgh athletes are in action not only on the field, but also of the field. A group calling themselves 'Athletes in Action' (AIA) meets every Thursday night in Trees Hall at the University of Pittsburgh.
On January 17, 2002 athletes from baseball, basketball, softball, tennis, track, and volleyball met in the Trees Hall lounge to get a different kind of training and conditioning.
About 50% of the athletes present there were from the men's Visit Florida Tangerine Bowl Champions football team.
The training had nothing to do with lifting weights or doing different types of drills and practices. Rather, the training had to do with the mind of the athlete.
Around 9:00 pm, the training began by Chuck Sanders, one of the chaplains for the Pittsburgh Steelers and one of the leaders of the Pitt AIA group.
Sanders started out the training by telling them the importance of the Word.
"Discipline yourself to stay in the Word; God will get you through. If I was not in the Word, it would've been easy to lose focus", said Sanders.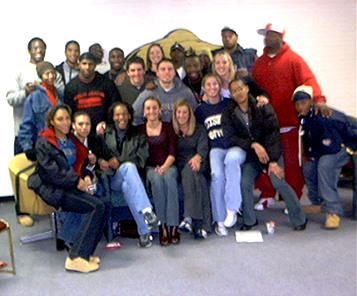 Photo By: Ramesh C. Reddy
Later, Sanders asked participants of the group to read Bible verses from Philippians 4 so the spiritual training of the mind could begin.
Sanders said, "When we are saved we are equipped to do everything Christ wants us to do but we have to put the training on. Mindset is something that has to be worked on daily. We need to have a Christ mindset and do the work"
The group learned that reading the Bible and praying are important spiritual disciplines to have the right mindset.
Brandon Miree, a Pitt football player said, "I have struggles too but am saved by the grace of God. Staying in the Word and prayer is important to get yourself of the flesh mentality."
Sanders challenged the group by asking the question, "Do I really have an interest in the things of God?" and remarked, "Stand Firm."
Sanders wanted the group to know that others need to see that they are not of the flesh mentality.
"We should be different and are called to be different. You can say whatyou want but people are looking at you. Correct thinking leads to right living. How you think and your attitude dictates how you live your life. Light is always going to overtake darkness", said Sanders.
The training emphasized action in a Christian's life.
Sanders asked, "Why don't we act, why are we in the Witness Protection program for Christ?"
Miree stated that it was because of allowing feelings to dictate whether people are going to witness for Christ. The group was told that feeling tired, embarrassed, and fearful stop people from witnessing for Christ and they choose to be in the witness protection for Christ.
Sanders stated, "People are living by their feelings and it is not right."
Sanders continued the training by talking about spiritual growth and standards.
"Measure your spiritual growth to see how you are doing. Do not set your standard based on other people. Your standard should be compared to your own previously set standard", said Sanders.
Aaron Mascoro, a Pitt baseball player did not want the group to live in the past no matter what their standard was then.
"One of the greatest things, when you become a Christian, is that you are not determined by your past anymore. [You are] living by a new nature. It is a whole new ball game. When God becomes your Father, He works in you and you will experience things for the better. Everyday is a new beginning", said Mascoro
Later, Mascaro announced about the 'Athletes in Action' retreat occurring February 08-10.02 in Lima, Ohio.
Lousaka Polite, a football player encouraged the athletes to go to the retreat as he went last year
"You get to see athletes from different universities doing the same thing", said Polite.
Antonio Bryant and David Priestly called Sanders with their prayer request so the group could pray for them. A former Pittsburgh Panther, Latef Grim had called Sanders that week with a prayer request regarding being signed by the Detriot Lions.
Lamar Slade, a football player informed the group on Thursday that Detroit did have him signed prompting the group to give praise to God.