Panthers stun 10th ranked Syracuse
After beating the Georgetown Hoyas 68-67 on Jaron Brown's tip of Knight's basket with 8 seconds left in the game at the MCI Center in Washington on Saturday, Jan 18, 2002, Pitt's victory over 10th ranked Syracuse in front of a sellout crowd including the quickly growing Oakland Zoo fan group on Tuesday, Jan 22, 2001, proved to the world that they could win the Big East and make a significantly deep run in the NCAA tournament.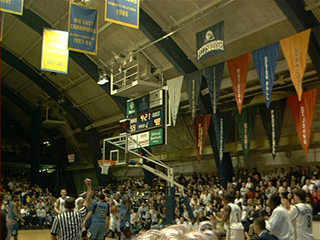 Panthers take a 11-point lead with less than 5 minutes to play in a rematch against the Georgetown Hoyas on January 26,02

As of January 23, 2002, the Panthers record improved to 17-3 overall and 5-2 in the Big East, while Syracuse fell to 5-1 in the conference and 16-4 overall.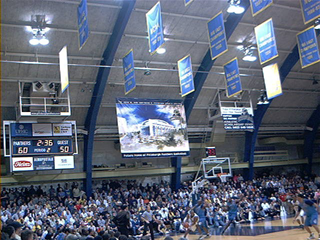 Panthers improve to 18-3 overall and 6-2 in the Big East after sweeping the Hoyas this season
Pitt coach Ben Howland talked about the victory saying, "It was a great win — any time you beat Syracuse, you have to be happy." "It's as big a win as I've had in my short (three-year) tenure here. We did a great job rebounding the basketball and making that extra pass, which I thought opened up some things and made a difference in the game," said Howland.
Pitt's victory alone is impressive, but the manner in which they dominated Syracuse is incredible. Pitt finished the game with 43 rebounds and actually grabbed one less rebound than Syracuse's 17. Sophomore Jaron Brown pulled down 10 rebounds of his own, including 7 offensive rebounds.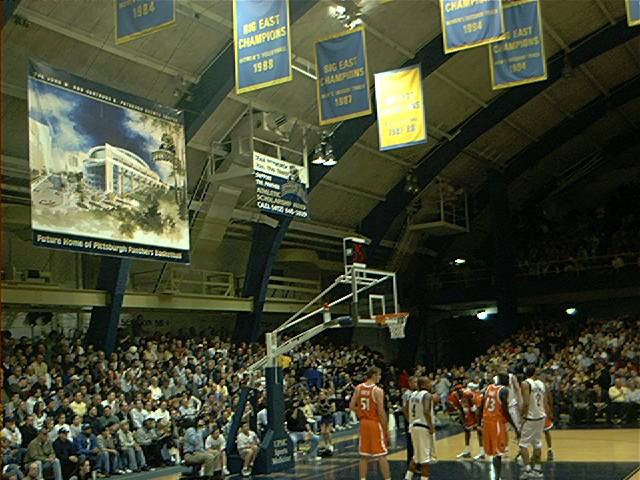 Fans watch in anticipation as the Panthers play tough against the 10th ranked Syracuse Orangemen ,on Jan 22,02 giving them their first loss in the Big East .
Not only were the Panthers terrific on the glass, but they also played extremely well on the defensive. The Pitt defense held Syracuse to 20 points under their season average and a very modest 43% from the field.
Pitt also held Syracuse leading scorers Preston Shumpert (17 points on 7 of 15 shooting), Deshaun Williams (12 points on 4 of 12 shooting), and Kueth Duany (5 points on 2 of 8 shooting) to 20 points less than their combined season average of 54 points per game.
Pitt won the game in an easier manner down the stretch because their offense performed very well. Sophomore guard Julius Page displayed further signs that his outside shot is returning in full force with a career-high 21 points.
Page's 4 of 8 three point effort and his aerial acrobatics that earned him 9 free throws (he converted 7) showed the crowd his potential scoring ability.
Page did not do all of the scoring, eight other players scored for the Panthers in a very balanced attack. Page was definitely aware of his career night, but he also knew Pitt's biggest reason for victory saying, "We're going to have to win games with defense, especially in the Big East."
The consistency of their defense may be the key to the season for Pitt. The old saying, "defense wins championships" is not always true, but more often than not it is the most important component of championship success.
In Pitt's case defense could win them a Big East championship. Defense could also take the Panthers deep into the NCAA tournament and nobody knows how well they could do if their offense is fulfilling its potential.
Jon Sobolewski is also the editor of SOBEBALL.com (a comprehensive site for college basketball located at http://sobeball.i8.com).
Photos by Ramesh C. Reddy