"Unequivocally United States Stuns Soccer World With Triumphant Tie!"
By Ramesh C. Reddy
Publisher
On the afternoon of Sat, June 12, 10, hundreds of spectators gathered at the World Cup 2010: Pittsburgh Style event in the Vietnam Veterans Pavilion were shocked to see their beloved U.S. trail England by 1 point in an uncharacteristic goal.
As the English fans celebrated, there was a sense of disbelief from the U.S. fans. However, with resilience the U.S. fought back to tie the game before half time making the die hard fans cheer on top of a table.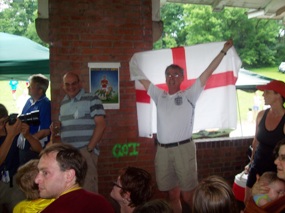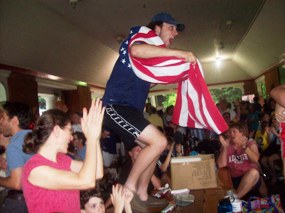 In the second half both teams had multiple opportunities to take the lead and win the game but instead the game ended in a tie. The tie was a disappointment to England because they were the favorites to beat the U.S. To the U.S., the tie was a triumphant accomplishment against England.
What you will see in a few minutes is a musical slideshow from the World Cup 2010: Pittsburgh Style event sponsored by Dynamo Soccer and the City of Pittsburgh. Click right mouse button for replay.
Photogallery from World Cup 2010 Pittsburgh Style Event
(June 13, 10, 6:10 a.m.)

Downloadable version of the musical slideshow (June 13, 10, 7:25 a.m.)