"Savior Teaches All New Deliverance! (S.T.A.N.D)"
Ramesh C. Reddy
Publisher
SCRIPTURE:
"Therefore, my brothers, you whom I love and long for, my joy and crown, that is how you should stand firm in the Lord, dear friends! (Philippians 4:1, NIV)

OBSERVATIONS:
I asked myself what stuck out to me right away?
The word "Therefore" stuck out to me!
I asked myself what is 'Therefore' referring to?
"But our citizenship is in heaven. And we eagerly await a Savior from there, the Lord Jesus Christ, who, by the power that enables him to bring everything under his control, will transform our lowly bodies so that they will be like his glorious body." (Philippians 3:20-21, NIV)
By being citizens of Heaven, Paul wants them to stand firm in the Lord.
I asked myself what 4 things does Paul let the Philippians know before telling them to stand firm in the Lord?
1. You whom I love
2. You whom I long for
3. You whom are my joy
4. You whom are my crown

INTERPRETATION:
I asked myself the significance of Paul's statement?
The apostle Paul is not just focusing on citizenship but also love and longing. Paul is in love and longing for the Philippians. I found that very significant because it was not a sexual or romantic kind of love or longing, but a family kind of love and longing for the Philippians. They have become his joy and crown to him.

For Paul to be able to describe them as his joy and crown, they must be acting as true citizens of heaven. His love and longing for them shows that love can be in different language and does not always have to be the sexual or romantic language. It is through love and longing for others that Paul wants them to take a stand.
IMPLICATIONS:
I asked myself what are the implications for my own life?
As a believer in Christ, I should not back down to write to others that I love them and long for them. I should not fear people getting the wrong message. Sadly in society many times the whole concept of love is twisted.

"I love you" usually signifies that "person is interested in a person romantically". That is not always the case. This passage also shed light on King David's relationship with Jonathan. People who are for homosexuality love to use David and Jonathan's relationship to insinuate a sexual kind of love. That is so far from the truth!

Loving one another and longing for them is so biblical and does not have to be sexual or romantic. I also realize when love is verbalized between sexes, there should be clarity in how that love is being expressed so mixed signals are not sent.

It is Paul's love and longing for the Philippians that prompts him to write a letter to them and exhort them to stand firm in the Lord as citizens of Heaven.
HOW GOSPEL GIVES ME TESTIMONY REGARDING S.T.A.N.D:
There are a lot of you I do not know really well personally but I share these devotionals with you because of Christ's love for me and my love for each of you. I long for each of you to know Jesus Christ more and more and allow Him to get you through your college years, career, and life itself. For me it started because of how Jesus Christ showed His love for me on the cross! Jesus has used my mom to help me come to know Him! Jesus has continued to use my mom to show His love for me in wonderful ways even through the years. Most of all, it is amazing how the Lord Jesus now uses my wonderful wife Chandra to show me love in wonderful ways. Thank you Lord Jesus.
I have experienced the love of Christ through others in my life and it is that love that gives me a longing for others because Jesus loved me enough to place people in my life to make a difference after He paid the ultimate price for me on the cross, shedding His precious cleansing blood for my redemption. Thank you so much Jesus.
I want to show love and longing for others too. I long for each and every friend of mine on facebook and outside of facebook to come to know Jesus as their Lord and Personal Savior experiencing His abundant love, joy, and peace through His grace.
It is my love for Jesus, longing to love you all that I began the process of writing devotionals to express the love of Chris! That is one of the reasons that Pittsburgh Standard continues to exist.
In Christ, you too can be loved so much especially by the Lord and others he places in your life. I am amazed the amount of time that Pastor Hugo Cheng and Edwin of Oakland International Fellowship have spent in my life mentoring me and showing love for me. Thank you Jesus!

I ask you now dear friends, where do you S.T.A.N.D on love in your life?
Dear friends, love in any language reaches the heart and it goes on and on. It is exciting to know that we are capable of loving because God loved us first. I don't know where you stand on love but I want you to know this passage gives us an example that there is nothing wrong writing to people that they are loved and longed for. As it is done in the right context without mixed signals, it can be powerful.

Also, a person's love can change someone else. I have seen that happen. Because they are loved they want to make the other person happy and it serves as an external motivation to change their lifestyle. You can be that one that can help someone as you let them know they are loved by you and most of all loved by the Lord. It is others love that has changed me in different areas because that love was the love of Christ exhibited through them I feel.

Love is really strong and can make people stand firm for their beliefs. Because of Paul's love for Jesus Christ which flowed out of him to the people, he is able to stand firm in his belief in Jesus w/o renouncing Christ though he is shackled in chains. Paul knows he is loved by Jesus and is able to stand firm.

No matter what happens to the Philippians, Paul wants them to stand firm in the Lord Jesus Christ which is what we should do too. We can love others and long for them as we stand firm in Jesus Christ.
Friend, won't you take a stand for Christ in love by giving Him your heart?
You can do it right now! Now is the time of Salvation! There is no need to wait. You may not have all the answers. No one does but Christ will reveal all the answers to you in His timing and now offers Himself to you to give you a new beginning and hope! It is an everlasting hope!
For only Christ can save others through His pardon, purpose, power, and promises giving others peace.
May you know you are loved by the Lord Jesus Christ more than anyone else loves you! May you also come to stand on the promises of the Lord Jesus Christ knowing His love for you! Amen!

"Savior Teaches All New Deliverance! (S.T.A.N.D)/"Where do you S.T.A.N.D on love in your life?"

PRAYER:
Dear Lord Jesus, thank you so much for loving us first before we loved you. You love us and acted on our behalf. You long for us to come to you Lord as you have prepared the Way for us to come. Thank you for being our Truth and Life. Thank you that I am able to love Jesus because you loved me and poured out your love in my life in so many different ways. I want to thank you for all those that you put in our lives to show us love. Help us Oh Lord to reciprocate your love to those around us. Thank you Lord when we know we are loved, it gives unbelievable motivation to stand up in support of those who do love us. You love us more than anyone and can help us stand firm in you Lord Jesus as citizens of heaven without giving up. Thank you Jesus you have heard our prayers and you answer us. Come Lord Jesus and help us see the answer. Thank you that we can stand firm. Thank you so much Jesus for your deliverance in our lives. In Your Name I Pray Jesus! Amen!
You are my all in all. You are my Prince of Peace, Rock, Savior, and Friend. You are my Holy Father guiding me through to live a life of righteousness, holy righteousness. Oh God, I need you more than ever. I need to feel your hands around me holding me tight. I need your love to surround me so that you can glow in my life. Help me please Jesus. I desire in your presence. Thank you for guiding me to live a life of righteousness. Oh God you love me more than ever. You hear my voice when I cry out to you. When I seek your face, you fill me up. You are my all in all. Thank you Jesus so much for your help no matter what I face, your grace is available and you take my case. Thank you for hearing us and answering us. In Your Name I Pray Jesus! AMEN! (Most of the prayer is from a vineyard song called "All in All")
No matter what you feel in your heart, know that Jesus has come in and resides with you! You are not alone! To make your walk strong with the Lord, spend time in prayer talking to Him as you would to a friend. You don't need special words to talk to the Lord. Spend time in His Word reading Psalms and turning them into prayer. Next allow God to heal you and speak to you through the Gospel of John or Gospel of Mark before moving on to other Books of the Bible! Slowly, let the Lord show you to which Scriptures He wants you to go to next. It is also important to be part of a body of believers to help you grow in the faith. Find a Bible believing church that preaches the Word of God from Genesis to Revelation proclaiming Jesus Christ our crucified and risen Lord who brings us hope, healing, and help by His grace alone.
May the Lord Jesus guide you in His love leading you! Amen!
Feel free to email me at reddy4hisglory2004@yahoo.com if you want to meet to study the Bible, pray with, talk about Spiritual issues or whatever is on your mind! My number is 412-641-9426
"This is my work and I can do it only because Christ's mighty energy is at work within me." (Colossians 1:29, TLB)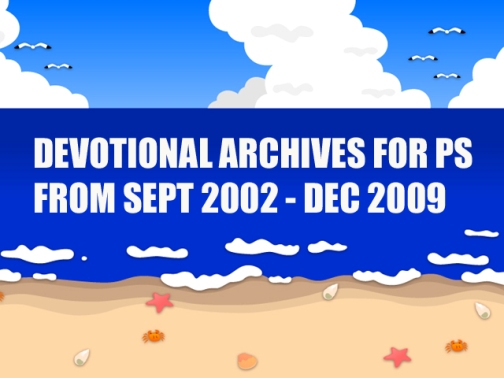 2012 DEVOTIONALS:
Philippians 3:20-21: "What C.I.T.I.Z.E.N.S.H.I.P should you desire the most?" By Ramesh C. Reddy (June 21, 12, 07:28 a.m.)
Philippians 3:18-19: "Why shed T.E.A.R.S for others in life?" By Ramesh C. Reddy (June 20, 12, 08:37 a.m.)
Philippians 3:15-17: "Who or what are you willing to P.A.T.T.E.R.N your life after?" By Ramesh C. Reddy (June 19, 12, 07:30 a.m.)
Philippians 3:12-14: "How can you deal with the P.A.S.T in your life?" By Ramesh C. Reddy (June 18, 12, 11:43 a.m.)
Philippians 3:1-11: "Why for R.E.F.O.R.M.A.T.I.O.N do you need the transaction of the cross?"
By
Ramesh C. Reddy
(June 16, 12, 8:57 a.m.)
Philippians 2:25-30: "When will your H.O.M.E.C.O.M.I.N.G begin?" By Ramesh C. Reddy (June 15, 12, 6:43 a.m.)
Philippians 2:19-24: "How can you Q.U.A.L.I.F.Y well in other people's lives?" By Ramesh C. Reddy (June 14, 12, 8:18 a.m.)
Philippians 2:17-18: "How do you live out your F.A.I.T.H in life?" By Ramesh C. Reddy (June 13, 12, 6:58 a.m.)

Philippians 2:14-16: "How is your B.E.H.A.V.I.O.R. in life?" By Ramesh C. Reddy (June 12, 12, 8:15 a.m.)
Philippians 2:13: "How do you W.O.R.K out your Salvation?" By Ramesh C. Reddy (June 11, 12, 8:36 a.m.)
Philippians 2:12-13:"What path have you taken for S.A.L.V.A.T.I.O.N in your life?" By Ramesh C. Reddy (June 09, 7:50 a.m.)
Philippians 2:12-13: "What is the point of O.B.E.D.I.E.N.C.E in life?" By Ramesh C. Reddy (June 08, 7:51 a.m.)
Philippians 2:9-11:"How do you handle the N.A.M.E of Jesus in life?" By Ramesh C. Reddy (June 08, 7:47 a.m.)
Philippians 2:8: "Why should you make a C.R.O.S.S transaction in life?" By Ramesh C. Reddy (June 06, 7:26 a.m.)
Philiippians 2:5-7: "How do match Jesus' A.T.T.I.T.U.D.E in life?" By Ramesh C. Reddy (June 05, 9:09 a.m.)
Philippians 2:3-4: "How do you respond to C.O.M.M.A.N.D.S in life?" By Ramesh C. Reddy (June 03, 6:19 a.m.)
Philippians 2:1-2: "What C.O.N.D.I.T.I.O.N are you in?" By Ramesh C. Reddy (June 02, 6:52 a.m.)
Philippians 1:29-30: "How do you handle S.U.F.F.E.R.I.N.G in life?"By Ramesh C. Reddy (June, 01, 6:52 a.m.)
Philippians 1:27-28:"How do you C.O.N.D.U.C.T yourself in life?"By Ramesh C. Reddy (May 31, 12, 7:32 a.m.)
Philippians 1:22-26: What are your C.H.O.I.C.E.S based on?"By Ramesh C. Reddy (May 30, 12, 6:27 a.m.)
Philippians 1:21: "Why D.I.E for Christ?"By Ramesh C. Reddy (May 29, 12, 4:59 a.m.)
Philippians 1:20: "Where do you need to have C.O.U.R.A.G.E in life?"By Ramesh C. Reddy (May 25, 12, 8:08 a.m.)
Philippians 1:19:"Who do you C.A.L.L often in life?"By Ramesh C. Reddy (May 24, 12, 8:32 a.m.)
Philippians 1:19: "What reason do you have to R.E.J.O.I.C.E in life?"By Ramesh C. Reddy (May 22, 12, 8:21 a.m.)
Philippians 1:15-18: "How are your M.O.T.I.V.E.S in life?"By Ramesh C. Reddy (May 22, 12, 8:21 a.m.)
Philippians 1:13-14:"What have your C.H.A.I.N.S done to others in your life?"By Ramesh C. Reddy (May 21, 12, 9:04 a.m.)
Philippians 1:12: "How can you feel so S.P.E.C.I.A.L when things are going so wrong in your life?"By Ramesh C. Reddy (May 18, 12, 8:20 a.m.)
Philippians 1:9-11: "What is your L.O.V.I.N.G response in life based on?"By Ramesh C. Reddy (May 18, 12, 8:20 a.m.)
Philippians 1:8: "How can your A.F.F.E.C.T.I.O.N grow towards others in life?"By Ramesh C. Reddy (May 17, 12, 6:32 a.m.)
Philippians 1:7: "Why cannot you be saved by G.R.A.C.E. alone?"By Ramesh C. Reddy (May 16, 12, 9:55 a.m.)
Philippians 1:6: "Where are you C.O.N.F.I.D.E.N.T in?"By Ramesh C. Reddy (May 15, 12, 10:54 a.m.)
Philippians 1:3-6: "How can you attain a P.A.R.T.N.E.R.S.H.I.P in the Gospel?" By Ramesh C. Reddy (May 14, 12, 08:38 a.m.)
Philippians 1:3: "How will others R.E.A.C.T towards God when they remember you?" (May 11, 12, 09:53 a.m.) By Ramesh C. Reddy
Philippians 1:1-2: "When do you B.L.E.S.S others in life?" (May 09, 12, 7:30 a.m.) By Ramesh C. Reddy
Philippians 1:1: "Why bother to let others T.R.A.I.N you when you are already a leader?" (May 10, 12, 9:01 a.m.) By Ramesh C. Reddy
Philippians 1:1: "Why should you believe you are H.O.L.Y instead of being a sinner?" (May 08, 12, 8:05 a.m.) By Ramesh C. Reddy
Philippians 1:1: Who will you be a S.L.A.V.E to in life? (May 07, 12, 7:06 a.m.) By Ramesh C. Reddy