November 2001

---
NEWS
Former Survivor contestant visits Pitt
Homecoming elections carried SGB flavor
IMPRESSIONS
Editorial: The Standard Lives On
Save American pride with peace
Not all Middle Easterner's are suspect
Homosexuals are still people; deserve same respect
C-side "swiper" responds to many nicknames
FEATURE
Pitt students of different ethnic heritages react to Anthrax scare
Pitt student assimilates into Delta Zeta
ENTERTAINMENT
Review of Tortured for Christ by Richard Wurmbrand
EXPRESSIONS
Homosexual activity is sinful in God's eyes
Bodies should be used as temples for souls
Passion concert results in spiritual sensation
Thanksgiving celebration because Gospel is given to all ethnicities
SPORTS
Pitt's dance team shakes their way into the spotlight
NEWS
Former Survivor contestant visits Pitt
Ramesh C. Reddy
Managing Editor
As Survivor Outlast in Africa began last month, the University of Pittsburgh students had the opportunity to meet one of the contestants from Survivor: Australian Outback.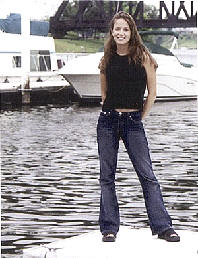 Amber Brkich, 22 a native of Beaver Pennsylvania made an appearance at Pitt to sign autographs from 2:00-4:00 pm on October 04, 2001. She also hosted a Survivor: Australian Outback trivia challenge for 10 contestants who were chosen before hand.
Brkich saw that one of the contestants kept cheating and told him he will not win anything.
"Cheating is never allowed", said Brkich
The trivia challenge consisted of 40 questions from the shows. Two students got 38 questions right and had to face of in a sudden death matchup. A student calling himself Dave won the trivia challenge and won a Survivor: Australian Outback DVD and a certificate for $25. All contestants received a Survivor t-shirt for participating. The top 4 also received a DVD.
The winner had his picture taken with Brkich. As she signed autographs and talked with students, the Pitt Hockey Club was trying to get students interested in their club. The club had sponsored the event in getting Brkich to Pitt.
Express Your View
Volume I, Issue III

---