When my darling wife Chandraleela came to the USA, she only knew my mommy and me! Her first encounter with two members of Oakland International Fellowship (OIF) occurred when we landed at Pittsburgh International Airport on New Year's Eve of December 31, 2011. The couple that came to pick us up were Calvin Chiang and Elise Lee.
But their encounter with my loving wife did not stop there because they wanted her to feel part of the OIF community. So, they decided to give her a 'welcome to the USA party' at the Taj Mahal Restaurant with the help of the small group Transformers that they were leading including leaders of OIF. At the party, we were treated to a wonderful dinner, wonderful gifts, and most of all wonderful brothers and sisters.
They tried their best to take away any homesickness she had especially a sister named Yvonne Hwang who would frequently come over to our place to spend time with her. She then became very close to Suzanne Fu who helped her do the baby registry, etc. Kristen Lippert helped her be part of the worship team as Heather Cheng encouraged her to join.
Her experience in feeling loved and being part of a community, we wanted to duplicate with the help of Pastor Hugo Cheng. So with his help we decided to host the first Indian Game Night for students at our place on Saturday, June 01, 2013. But soon the group grew in numbers that we needed a new place to host game night.
Thanks to Pastor Hugo, Edwin & Marie Chan, Wei Dai, Johannes Kutten, and Karis Dorfman, we have been able to host students from all parts of India at Oakland International Fellowship since Saturday, August 24, 2013 to show them the love of Jesus Christ exhibited through us. The final episode of season 1 of game night ended on Saturday, May 17, 2014.
"Download Season I of Game Night: 20 Episodes here!"
Now in it's second season, we are so happy to have hosted the season 2 premiere of game night on Saturday, August 23, 2014 with episode 2 of it on Saturday, September 06, 2014.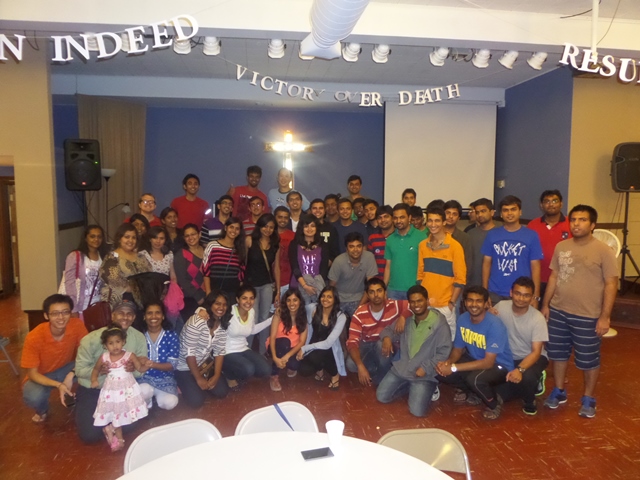 We want game night to be a place where students can come to church and have a time of fun, food, and fellowship with each other. So, we have two sets of Carrom Board, two sets of UNO, four sets of cards, Pittsburgh Bingo, the UNGAME, etc. Most importantly, we want them to eat a home cooked Indian dinner prepared by my Leela, my mommy, and the Chan family while they are away from their loved ones.
We love when we have an opportunity to play games with them, listen to Christian music in the background, pray for them, and provide rides for them if they need to go shopping. If the students we reach out to get interested in knowing about the Jesus we serve that is so awesome too and we provide dinner and a Bible study to learn the claims of Jesus every alternate Friday when there is no game night scheduled.
It is never ever easy going away from home to a new country where we have no immediate family most of the time. My wife knows because she experienced it first hand when she came to the USA. I am so thankful to the Lord Jesus for my prayerful, loving, understanding, and supportive (P.L.U.S) wife who loves the Lord Jesus so much and wants to show the love of Christ to all those around her. Without her help we could not host game night because she gets up early in the morning usually to prepare the dishes for game night. We are very grateful for the Cheng family as Pastor Hugo has been extremely helpful when we first started hosting it at our home to now hosting it at church.
For those of you interested in Game Night, we have it every other Saturday for the month. So, the next game night is scheduled for Saturday, September 20, 2014 from 6:00 pm – 8:00 pm followed by dinner at Oakland International Fellowship, 134 North Dithridge Street. This coming Friday, September 12, 2014, we will be having Indian dinner at the Chan Family followed by a Bible study investigating the claims of Jesus! Please let us know if you are able to come this Friday.
ADVENT DEVOTIONALS:
Audio: "How do you relate to the S.H.E.P.H.E.R.D.S this Christmas season?" By Ramesh C. Reddy (Dec 26, 13, 11:55 a.m)
"How has your L.O.V.E influenced others in life?" By Ramesh C. Reddy (Dec 20, 13, 06:15 p.m)
"What does your P.R.A.I.S.E report consist of?" By Ramesh C. Reddy (Dec 18, 13, 07:23 a.m)
"What does God do with your D.O.U.B.T.S in life?" By Ramesh C. Reddy (Dec 17, 13, 10:47 a.m)
"What K.I.N.G.D.O.M will you be part of in life?" By Ramesh C. Reddy (Dec 16, 13, 10:55 a.m)
"What does it mean to experience the F.A.V.O.R of the Lord ?" By Ramesh C. Reddy (Dec 14, 13, 7:17 a.m)
"What can G.R.E.E.T.I.N.G.S do for you and others in life?" By Ramesh C. Reddy (Dec 07, 13, 6:19 a.m)
2013 DEVOTIONALS:
"What are A-Z things you have witnessed that you can give T.H.A.N.K.S.G.I.V.I.N.G to the Lord for?"By Ramesh C. Reddy (Thurs, Nov 28, 13, 11:51 a.m.)
Mark 8:34: "Why D.E.N.Y youself in the one life you have to live?"By Ramesh C. Reddy (Sat, Nov 16, 13, 08:13 a.m.)
Philippians 4:9: "How do you know your P.E.A.C.E is real?" By Ramesh C. Reddy (Sat, Oct 19, 13, 08:17 a.m.)
Philippians 4:9: "What kind of S.O.L.D.I.E.R will you be?" By Ramesh C. Reddy (Sat, Oct 12, 13, 11:29 a.m.)
Psalm 139:13-18: "Who cares for your B.I.R.T.H.D.A.Y in life?" By Ramesh C. Reddy (Sat, Oct 05, 13, 1:00 p.m.)
Philippians 4:8: "What is your T.H.I.N.K.I.N.G based on?" By Ramesh C. Reddy (Mon, Sept 25, 13, 10:29 a.m.)
Philippians 4:6-7: "How do you handle A.N.X.I.E.T.Y in life?" By Ramesh C. Reddy (Sat, Sept 21, 13, 08:18 a.m.)
Philippians 4:4: "When do you R.E.J.O.I.C.E in life?" By Ramesh C. Reddy (Sat, Sept 14, 13, 12:36 p.m.)
Philippians 4:5: "What measure of G.E.N.T.L.E.N.E.S.S do you have?" By Ramesh C. Reddy (Mon, Sept 09, 13, 12:03 p.m.)
Philippians 4:3: "How have you C.A.M.P.A.I.G.N.E.D for Jesus Christ in life?" By Ramesh C. Reddy (Sat, Sept 06, 13, 07:17 a.m.)
Copyright 2014 Pittsburgh Standard
Reproduction or reuse for profit prohibited without written consent from Pittsburgh Standard