"Unashamed Under Lord's Love!"
Ramesh C. Reddy
Reviewer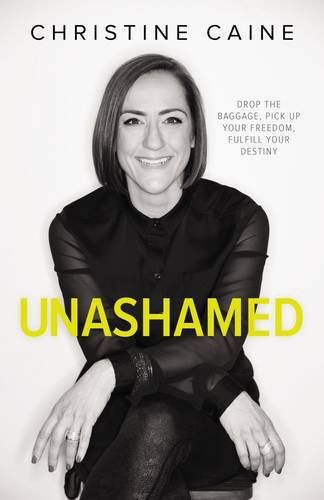 Publisher: Zondervan (2016)
Author: Christine Caine
ISBN: 9780310340706
LoC Classification: BV4527 .C24 2016
LoC Control Number: 2015049864
Dewey: 248.8/43
No. Pages: 224
"What would it do to your world if you found out that you were adopted?"
"Why would a child turn A grades into D grades before a parent sees it?"
"When you cannot live up to people's expectations, what does it do to you?"
"What does constant abuse do to a woman?"
A five letter word called 'SHAME' addresses all those questions for a woman who lived it.
Very honestly from anecdotes after anecdotes from her personal life experience, Christine Caine shares what her shame did to her, others, and how she overcame shame.
In her book, 'Unashamed: Drop the baggage, pick up your freedom, fulfill your destiny', Caine shares how she got schooled in shame and the power of shame in her life.
The wonder of it is that it did not stop her from moving forward because she was able to reach for freedom being a woman on purpose.
Cain reminds her readers no matter what the shame, we get to choose what we do with that shame and the beauty of the wilderness is there to move us forward!
If the reader wonders how, she reminds us when we turn upward instead of inward, 'God moves in so we can move on'. When God moves in, He is the One that heals the mind of it's shame and tears down the walls of shame in us. But for that to happen, we need to relive the bungee cord of shame instead of putting it under the rug so we can have a new image of ourselves.
But how does that happen?
The answers are revealed powerfully by her own testimony of what the Lord did in her own life and how he helped her move on to help others who were faced with shame, whatever their shame was.
The most powerful part of the book was when she shared about the importance of forgiveness given to those that have shamed us.
Once you pick up this book of 224 pages and start reading, you won't want to put it down. Even though she mainly addresses how a woman can overcome shame in her life, it is a book that a man can even read and learn important principles of how to overcome shame.
If you have ever been shamed by someone or felt shame in your life because of what others did to you or what you caused yourself, this is a must read book. It is not a self-help book but relies on the power of God's Word to deliver and the power of love, especially the love of Jesus Christ and a community of believers in a person's life.
Pick up your book of 'Unashmed' which can be read in less than 4 hours.