'Jews for Jesus' Justified or Jilted!
Ramesh C. Reddy
Publisher
Many Pitt students and those interested in religious dialogue congregated at the Holiday Inn in anticipation of a debate between Rabbi Shmuley Boteach and Dr. Michael Brown on one of the most controversial issues of all time, "Why Jews cannot believe in Jesus"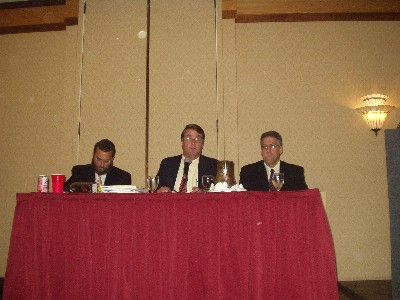 Photo by Ramesh C. Reddy
Left to right: Rabbi Shmuley Boteach, Rev. Canon John A. Macdonald, and Michael Brown
The debate began around 7:15 p.m. on the night of Sept 20, 05 for an audience of between 350 – 400.
Rabbi Shmuley Boteach who is a nationally syndicated talk show host, the international best-selling author of 14 books, and an acclaimed syndicated columnist held to the position that Jews cannot believe in Jesus as Messiah.
Dr. Michael Brown is a Jewish believer in Jesus and is active in Jewish evangelism and has debated rabbis on radio, TV, and college campuses. He is the author of more than 15 books, including the widely acclaimed multi-volume series, Answering Jewish Objections to Jesus. Brown held to the position that Jews should believe in Jesus as Messiah.
The debate was moderated by Rev. Canon John A. Macdonald, Assistant Professor of Mission and Evangelism at Trinity Episcopal School for Ministry.
During opening statements Dr. Brown wanted the audience to remember Psalm 119:30 which says, "I have chosen the way of truth; I have set my heart on your laws."
After giving Psalm 119:30, Dr. Brown said, "My prayer tonight is that God would open your hearts to truth. Those that do not know Jesus have been robbed. In the beginning only Jews followed Jesus as Messiah. If Jesus is not the Messiah of Israel then He is the Messiah of no one. We have every reason to expect Him to return. It is not just you are waiting for Him but He is waiting for you"
Dr. Brown went on to talk about atonement through blood sacrifice, repentance, and forgiveness can only come because of Messiah. He quoted verses from Malachi, Haggai, and Daniel 9:24-27.
Dr. Brown said, "He [Jesus] is the embodiment of the Torah itself."
Dr. Brown compared mass murderers such as Saddam Hussein and Adolph Hitler when talking about forgiveness.
"You do not need to be a Saddam Hussein or Hitler to receive forgiveness. We all need forgiveness. We all fall short; the same God who hates murder also hates lies. When we repent of our sins, we experience transformation. Messiah's death is essential. Yeshua [Jesus] fulfills what is written in the Prophets and Psalms. There are no two Messiah's, only one. Messiah rose from the dead."
Dr. Brown ended his opening statements with questions for the audience to ponder on:
"Are you right with God here and now?
"Are you right in this world?"
During opening statements, Rabbi Shmuley wanted the audience to know that racism and bigotry is still alive. He talked about what David Duke, a former Ku Klux Klansmen wrote on his website DavidDuke.com
Rabbi Shmuley said, "What could I have done to illicit such response. It turns out that I tried to integrate poor black folks after Hurricane Katrina. History of bigotry is an ancient one. Only we can change it."
Rabbi Shmuley went on to say that the Holocaust was a result of nights like tonight and blamed Dr. Brown for the Holocaust.
"Ladies and gentleman, his [Brown's] repugnant views and spiritual inferiority of his people led to the holocaust. It is not important how we get to God but that we get to God", said Rabbi Shmuley.
Rabbi Shmuley went on to address the issue of 'why have Jews rejected Jesus and said, "God can be human in any form is repugnant. Be very careful of evenings like tonight God is not a man. Because He is father of all mankind, God has no masculine or feminine."
Dr. Brown had 8 minutes to rebut Rabbi Shmuley's response and disagreed with him that the Holocaust was a result of nights like these where there is grace and courtesy.
Dr. Brown also wanted the audience to know that the notion of him making Jews feel inferior is not true and has written a book on "Our hands are stained with blood" as a call to repentance to address the injustice done to Jews by those calling themselves Christians.
"Jesus died for everyone; Blacks, White, Jew, Gentile. The problem with society is the absence of God. God can reveal Himself in flesh. The Word became flesh. God manifests Himself in flesh and blood while remaining God in Heaven because He is God"
Rabbi Shmuley adamantly held to the belief the Messiah has not come yet and Jesus is not the Messiah.
"Mike wants you to believe Messiah has come even though the world is a toilet. It is offensive to say Messiah has come. People try to convert us to their religion. I look at Evangelical Christians who love Israel! Respect us as spiritual brothers. Stop telling us we are going to Hell", said Rabbi Shmuley.
Dr. Brown responded and said, "If he [Rabbi Shmuley] is perfectly righteous, he is going to heaven; if he has never sinned, will go to Heaven."
"We believe you are going to Hell because you are not a Christian. Seeing Jews as spiritually inferior is the basis of racism", said Rabbi Shmuley.
Dr. Brown was appalled how a message of infinite love can be turned into a message of bigotry and hatred towards the Jews by the way Rabbi Shmuley was addressing the audience.
He wanted Shmuley and the audience to know there are more Gentiles going to Hell than Jews because they do not believe in the saving grace of the Messiah.
"I know my own sin and fall short; don't reject God's mercy! The one who says, 'I don't need mercy is self-righteous. God hates self-righteousness", said Dr. Brown.
Rabbi Shmuley went on to share his views on the Messiah.
"The only way to know who Messiah is that they do what Messiah is supposed to do. For Christians this world is only a lobby to next world. Christians use Jesus to get to heaven. There is no reason to believe the Messiah has come", said Rabbi Shmuley.
Dr. Brown remarked by stating, "If people do not live holy lives with Scripture, they do not enter heaven. The greatest number of charities and educational institutions, and Christian ministries were founded by God-fearing professing Christians. This world matters. The only proof of new birth is new life. He [Jesus] is light to the Gentiles. He is the One returning. I was into heroin and Jesus opened my eyes to truth."
Rabbi Shmuley said, "There is a God. Action is everything and belief is subordinate. Mike tonight denied the fundamentals of Christianity with or without your actions. Their core doctrine is if you do not believe in Jesus you are going to Hell but now belief in Jesus is not enough, Mike is finally saying."
Dr. Brown rebutted Shmuley's response by saying, "All of us have fallen short. God knows every thought to thought today. He knows all of it. We all fall short and God offers us mercy. He changes us and we become transformed. Look at Matthew 3, 4, Luke 5, Acts 2:38, Acts 3:19. Faith and repentance go hand in hand. It is justification by faith. That is why I am living for God and not shooting heroin."
Rabbi Shmuley felt the idea of man being forgiven is morally repugnant.
"Jesus would absolve killers that each of us reject! Righteousness is everything. We do not need blood of any Messiah. Evangelical Christians are good for America but there were Christians responsible for inquisitions, popes were corrupt, intolerant, and pigs", said Rabbi Shmuley.
Rabbi Shmuley went on to say how Evangelical Christian's efforts to convert them will bring about the spiritual annihilation of the Jewish race to which a member of the audience objected.
"You will wait and respect me. You guys think Jewish community will be silenced. Learn some manners. Love to see Christianity spread throughout the world. We have God already. Bring Him to those who do not have Him", said Rabbi Shmuley.
The audience was given an opportunity to ask both speakers questions.
The first question went to Dr. Brown regarding, "Why would God allow suffering?"
Dr. Brown went on to express that God designed this world but this world got messed up because man used his free will for wrong reasons. There were consequences of man's actions. He wanted the audience to remember two things from the Book of Job during suffering: 'Don't judge them and don't judge God.'
"He [God] is good and will bring light out of darkness", said Dr. Brown.
Rabbi Shmuley felt that our job is to challenge God when people suffer. He went on to cite Scripture passages where Abraham and Moses questioned and challenged God.
The second question went to Rabbi Shmuley regarding, "Is hell and devil a Jewish concept?'
Rabbi Shmuley told the audience that he would tell the devil, "I don't believe in you, I am outta here."
Rabbi Shmuley went on to express how the idea of eternal hell is sadist and only a God who believes in cruelty will punish someone for eternity and talked about Satan.
"God is opposed by Lucifer. We believe Satan is a prosecution. We are not religion of night but light. Man is not corrupt", said Rabbi Shmuley.
Dr. Brown disagreed with Rabbi Shmuley and cited multiple Scriptures such as Daniel 12:1-2, Isaiah 66, and Job 1:2 to make the point that hell is real and all authority belongs to Jesus because He rose from the dead and Satan is still subservient to Jesus.
Dr. Brown said, "Consider what we have to say, when you go home get on your knees and say, 'I am just a human being. Show me the truth and I will follow it with my heart.'"
Rabbi Shmuley responded by stating, "We know what is wrong with this world, not born guilty or bad. Everything in life is dependent on actions. Your actions determine everything.
Dr. Brown wanted people to believe in one God, the Scriptures, and what Jesus did on the cross for humanity because of His identification with us.
"Membership of Yeshua manifests self and suffers in our midst. One who can relate to us is Messiah. We can identify on deeper level with Him. Embrace what is written in the Bible. Most people are not terribly good or bad. What if you are not so good and perfect and ask to be judged by your actions. We grow up and inevitably mess up. God has great love for us and reaches down; it is not us reaching out to God but God reaching out to us. Love of God expressed through the Messiah", said Dr. Brown.
Rabbi Shmuley asked the question why Christianity is radically popular and remarked because of the message that we are really bad people and must lead a righteous life for which there is no escape except in Jesus to which he disagreed.
"We believe being made in image of God. No one needs to die for another to stand before God. Not one of you need a martyr because you are capable of being good people."
Later, Rabbi Shmuley gave his closing statements talking about religion and its division in America.
Rabbi Shmuley said, "Many in Jewish community oppose my presence because bolsters 'Jews for Jesus'. I have come here to show respect and not fear. Show respect to the Evangelical Christians. Jewish community will be heard, we are not arrogant, we are your equals, we don't walk into gas chambers, we don't take orders from Christians anymore. We fear no religion. Treat us as such. Fact of all the good the Evangelical Christians do and America becomes a Christian nation, between red and blue, the nation is dividing. You can disagree but agree to be brothers. Leave room respecting Jews. Jews, come back to Jewish religion, your religion is Jewish community, come back and never stray again."
Dr. Brown ended the debate talking about God's love and mercy for all.
"God loved the entire world. We live to share what is done for us. In my goodness or God's goodness, where do I put my trust? Biblical position is always humility. I appeal to you tonight. The issue is the message of Scripture, what has he [Messiah] said and done. Don't let anyone rob you of the truth. Just because others are hypocrites as Christians should not stop you from hearing the truth. Is it wrong to ask, do you know where you are going? All of us stand before God! Make sure, you are ready. Don't trust in your goodness but God's goodness.
Students from Campus Crusade for Christ who have a men's Bible study at their house every Tuesday night decided to go to the debate and expressed their views among the other views.
Chris Lynch, a Pitt Sophomore said, "I liked the dynamics of the debate and how Rabbi Shumley asked us to challenge God; wished more interaction with the audience took place, only negative thing I can think of."
Jeff Jagoda, a Carnegie Mellon sophomore said, "It gave the second side to the story. It was interesting to hear the Jewish side and made it more balanced. [What I took out of it is], I need to be careful of what I say making sure I understand what I believe."
Dan Moosa, a Pitt Sophomore said, "[what he took out from tonight is Rabbi Shumley's remarks that] there is anti-Semitism against Jews. We need to love them as brothers."
Jason Robeson, a Pitt Junior said, "I think this is something the university can do more, about having more debate on spiritual issues and external issues. Both were good debaters but Rabbi Shumley was too passionate, would be great listening to a sermon but in this context, it put him out. It takes away credibility when defensive and puts doubt on position."
Evan Fairey, a Pitt Senior and member of Chi Alpha ministries at Pitt said, "I thought it was awesome to have both sides presented in intelligent manner and great to see both sides passionate about their position. I hope people's eyes were open to the loving message of Jesus and that the past hypocritical actions of "Christians" would not hinder people from seeing the true message of love."
Denise Rodriguez, a Pitt alumnus of Christian Student Fellowship at Pitt said, "It was interesting but expecting more discourse than drama. I wanted free exchange of ideas than pounding the podium and speaking on the top of your lungs."
Dara DeChellis, a Pitt student and one of the organizers of Jesus Week last semester said, "I learned more from the Jewish perspective. What brought me out tonight is , 'What is this Jews for Jesus all about.' What I really learned tonight is more about Jews. I have never heard someone tell me why they don't believe in Jesus."
The event was sponsored by 'Jews for Jesus' for which more information can be found at www.jewsforjesus.org.
You can find out more about the debaters at their respective websites:
Rabbi Shmuley Boteach at www.Shmuley.com
Dr. Michael Brown at www.icnministries.org or www.realmessiah.org