"Dad Delivered Daily, Delighting Family of Five Forever!"

By Ramesh C.Reddy
Pittsburgh Standard


Saturday, Dec 22, 2007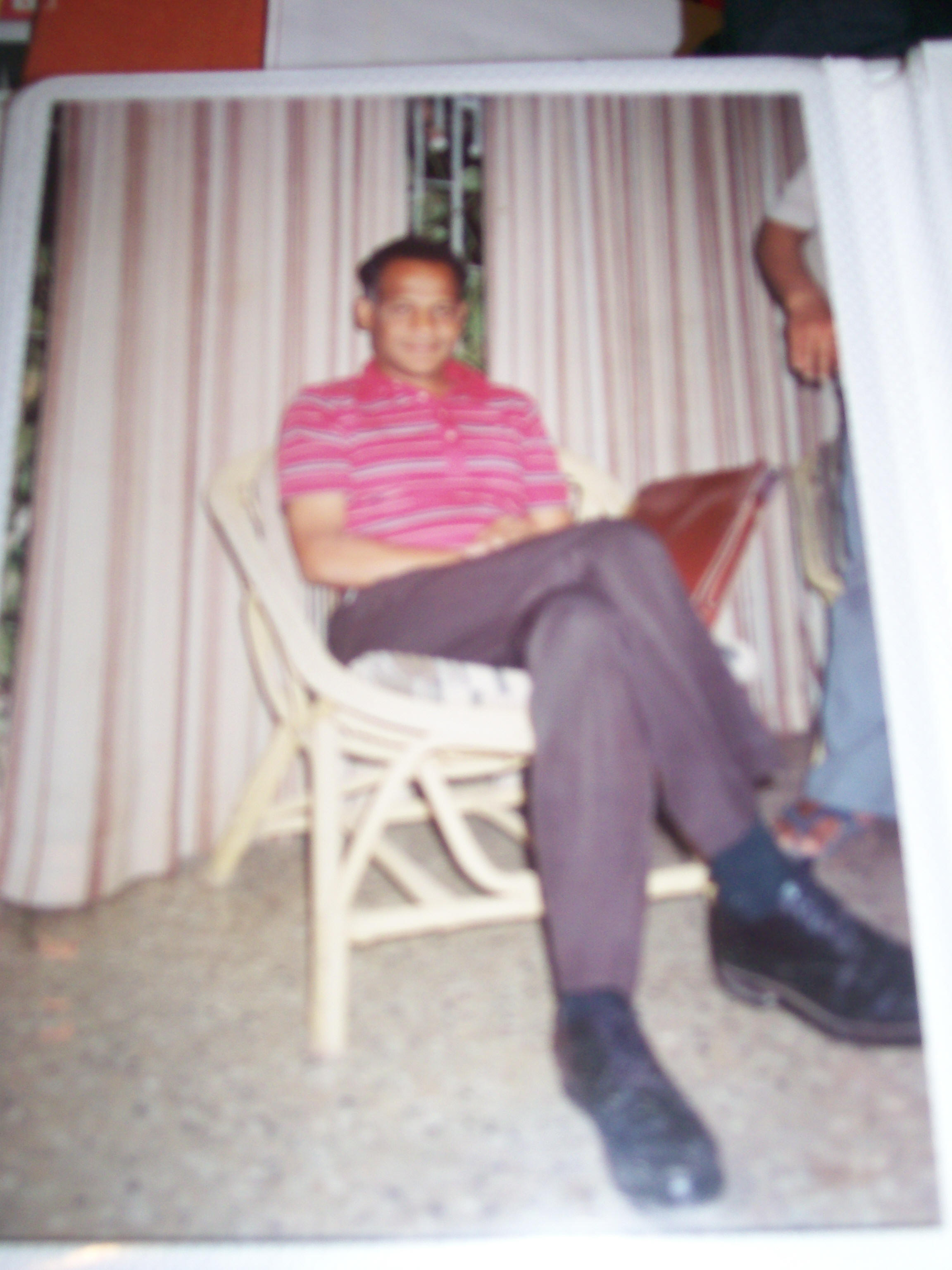 In memorial of Dr. A. R. Reddy, our beloved dad, and our mom's beloved husband for 37 years and a friend to many!
NOV 01, 1941 - DEC 17, 2007
We remember our dad for the wonderful caring person he was towards all five of us: My mom, my 3 brothers, and myself. My dad loved to take care of his loved ones so much.
May the Lord Jesus Christ take care of you in His arms of love!
My dad was the one who helped one of his brothers become a lawyer. My dad made sure his parents were well taken care of when he finished college even if it meant he had to go without food so money could go to his parents. When my grandfather passed away, my dad made sure his mom was well taken care of through the years too.

My dad was so intelligent and had knowledge on any topic you could think of except sports. My dad was not really into sports but would watch the NCAA Tournament with us with excitement when the games were thrillers. I remember when we first came to USA my dad and most of us would watch the Chicago Bears pulverize the New England Patriots in the Super Bowl of 1985. Those were fun times!

My dad was one of the best Professors of Mathematics and toured the country and world giving talks on Mathematics and publishing papers with the best. My dad became a professor when he was 30 years old. My dad always helped people come up and do well. I remember my dad never wanted to fail people no matter how bad they were doing so he would look for anyway he could give a point here and there to see if they could pass. My mom told us that he would even ask my mom how many points to give so and so students.
Years ago, I remember he took us to Wendy's in Oakland and then took us to his office in Thackery Hall when he was a visiting professor there at the University of Pittsburgh.

Because of my dad, I got minors in Computer Science and Math. I did not get majors in them because my heart was not there. My dad encouraged me that I would become a great lawyer one day and wanted me to study at Harvard Law School even before I went through middle school. Things happened along the way that I chose the University of Pittsburgh even though I graduated 22nd out of 435 in my high school class and my dad wanted me to go elsewhere. I wish I had chosen the places my dad wanted me to go as I look back but by the Lord's grace and mercy, I have been blessed where I have been at.
My dad used to tell me that one day I would become a great journalist and wanted me to win the Pulitzer Prize in writing. The Pittsburgh Standard is dedicated to the memory of my dad from this day of December 22, 2007.

My dad made sure that all of our education was covered. My dad never wanted us to worry about money and did not want us to work while in school because he said he would take care of us. I was really touched. My dad took care of everything for us and in essence did spoil us in a nice way. I miss my dad so much.

My dad used to love bringing us white powdered donuts and candies. Every time dad would come home from work, I knew I would have sweets for my sweet tooth! My dad rarely ever wanted to spend money on himself. My dad was so unselfish. My dad hated when people spent money on him because he always felt that money could be spent for his children and his wife.

My dad did not believe in the 18+ years old and you are out of the house concept but on the contrary no matter where we lived, he wanted to make sure we were always provided for. My dad would ask my mom to always call us home for dinner so we could get a home cooked meal by mom as dad did most of the shopping.

One time my dad lost his job in India because he did not want to leave us by ourselves here. My dad was so overprotective in a good way. My dad could have taken us back to India when we were young but did not want to uproot us from here because he knew how much all of us loved America.

My dad was always thinking of us how to help us. My dad would never want to watch TV too if we had a programming. My dad always put all of us first including my mom. My dad always made sure my mom was eating well and all of us were eating well.

My dad never complained regarding his dialysis but took it so strongly. My dad loved shopping for us and seeing us all happy. I miss my dad so much and wish I could have told him, 'I LOVE YOU DADDY' before he collapsed. I wish I could have turned the time back to that night before he collapsed but I cannot. I pray Jesus lets my dad know how much he was appreciated even when we could not always show it.

My dad was the best when it came to putting his family first always. Everything he wanted to do reflected how best it would serve his family. My dad was married to my mom for 37 faithful years and leaves my wonderful mommy and all 4 of us brothers behind. But, we do know my dad is in the loving arms of Jesus Christ our Lord and Personal Savior.
We have been blessed to have a wonderful daddy who knew so much knowledge that he did not want to keep it to himself but always share it with us. My dad did not want to stop learning even when he was sick. My dad put it to practice the old saying, ' A mind is a terrible thing to waste!'

With our dad we never had to worry about finances when we were strapped for money because he would make sure we were taken care of. My dad loved to save and pleaded with us to save money instead of squandering it away. My mom would encourage me to save because my mom would say 'if you don't put money in your account, dad will have to use his money to put it in'. My mom did not think that was right and I agreed with her.

Anything dealing with finances, accounting, math, statistics, world politics, national politics, religion, etc, my dad could teach a nation. My dad was so good, he could have become a great consultant in any topic but the Lord Jesus had other plans for him.

We thank the Lord Jesus for saving our daddy before he passed away. We thank the Lord Jesus for all the time he gave us to spend with our dad in the UPMC Shadyside ICU and Kindred Hospital where he was in the later days.

My dad's desire was to see his children prosperous and always happy. My dad was not too thrilled when I did not want to do a prestigious job but work in food services until my mom explained to him and then he understood even though he did not agree. My dad spoiled us because he would take care of everything at home including the chores so we could focus on our studies and also enjoy the rest of the time.


We all miss our dad so much! I want to take this time now to ask anyone who has not told their dad, 'I LOVE YOU DAD' to call their dad and let them know that, write to their dad, talk to their dad, and if their dad has passed away to let Jesus Christ know what they would have wanted to tell their dad.

Don't put it off thinking you will do it one day. After my dad passed away, it made me realize how many things I have taken for granted! I have been blessed by the Lord Jesus Christ to have seen my dad everyday since October 08, 2007 when he was admitted to the UPMC Shadyside ICU.

I was also blessed that my dad and mom stayed with my older brother and I before my dad collapsed. It would have been so much harder if they were back home in India when this happened. Our Lord in His faithfulness spared us the agony of not being able to see our dad everyday as would have happened if he was in India hospitalized since most of our work has been in the states.

My dad is the one who bought my mommy her first Bible when my mom became a born-again Christian even though my dad did not believe at the time. My dad loved to play card games and Carrom games as a family with us. My dad loved to take us to places when we were young. We would all go as a family shopping, etc.

My dad loved us so much that no matter where we lived, he would want mom to call us to talk to us. My dad loved talking to us over the phone and share what is happening around the world.

I could share so much more about my dad but if I leave you with one thing about my dad, it was that he loved his family so much. FAMILY always came first over everything including HIS JOB, FUN, FAME, OR FORTUNE.

Family was the world to him and it would make him so mad when he found out families that were abusing each other whether it was a husband abusing the wife, being unfaithful to her, or kids being abused.

So, from my dad and mom, I have learned the importance of family life. My mom would tell us even now that my dad would have been so pleased to see all his sons together with my mom even though he was in the hospital. It was his desire to see his family always together figuratively even though distance wise it would not always be possible but these past few days it was.

My dad always wanted to move to Maryland but because of his family, he chose to stay in Pittsburgh even though his heart's desire was to be in Silver Spring, Maryland. So when my dad passed away, we as a family decided to honor his desires and have his final resting place in Maryland.

We had a wonderful private viewing time and a wonderful funeral time for our beloved dad on December 20, 2007 after my dad passed away on December 17, 2007. My dad's body is resting in peace near a statue of 12-year old Jesus at the temple. His soul is with Jesus Christ! May his soul rest in peace!

May you never take anyone for granted and whoever you come across, show them the love of Christ and happiness so you will not have regrets. May the Lord Jesus guide you this wonderful blessed Christmas season where God is with us through Jesus Christ our Lord filling His children with the Holy Spirit.

Express Your View
Christmas Archive:
Luke 1:26-31: What does God do with your G.E.N.E.A.L.O.G.Y? (Dec 01, 07, 11:12 a.m.)
Luke 1:26-28: Can you say the P.R.E.S.E.N.C.E of the Lord is with you? (Dec 23, 07, 4:22 p.m.)
Luke 1:29-30: What do your G.R.E.E.T.I.N.G.S do? (Dec 23, 07, 5:55 p.m.)