"Coulter Comments Concerning Liberals Leaving Land!"
Ramesh C. Reddy
Pittsburgh Standard
As JESUS WEEK was underway in Benedum Engineering Hall Auditorium with 'Some of God's Children (SOGC)' performing to a crowd of worshippers around 6:00 p.m., a group of about 20 protestors gathered outside the David Lawrence Hall to protest the arrival of Ann Coulter, a conservative commentator, brought in by the College Republicans and Young America's Foundation. The protesters eventually increased to around 40 as the 7:00 p.m. approached.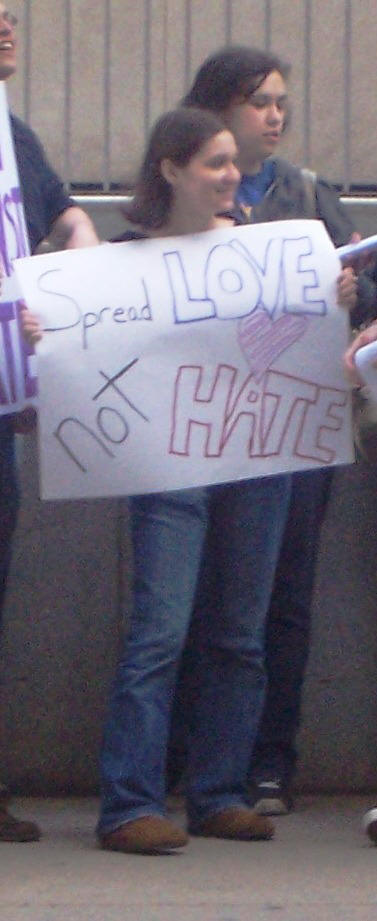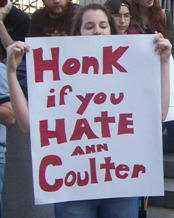 They held signs such as 'Homegrown Terrorist', 'Pitt Against Hate', 'Spread Love Not Hate', 'Honk if you hate Ann Coulter', and shouted chants such as 'Hey, hey, ho, ho, right wing hate has got to go', 'trap Ann Coulter', and ', 'Racist, sexist, anti-gay, right wing bigot go away!'
Watch a clip of the protestors chant against Ann Coulter
The auditorium was under tight security as students without tickets, general public without tickets, and those with tickets waited to go in as ushers reminded everyone to leave their coats, books, and bags behind.
Watch a clip of students without tickets waiting in expectation to go see Ann Coulter
Watch a clip of students without tickets rushing in to see Ann Coulter
Lauren Dumm, the Vice President of the College Republicans introduced Coulter to a jam packed audience of about 850 – 1000 people.
Watch a clip of Lauren Dumm thanking all responsible for making Ann Coulter's appearance here a reality!
"With so many Democratic women taking the forefront in today's actual political sphere, we are extremely fortunate to have Ms. Coulter speak at the University of Pittsburgh as a strong conservative female voice in our time. Please join me in welcoming Ann Coulter", said Dumm.
Watch a clip of Lauren Dumms's introduction of Ann Coulter
Coulter received a standing ovation from the majority of the crowd that was conservative in nature!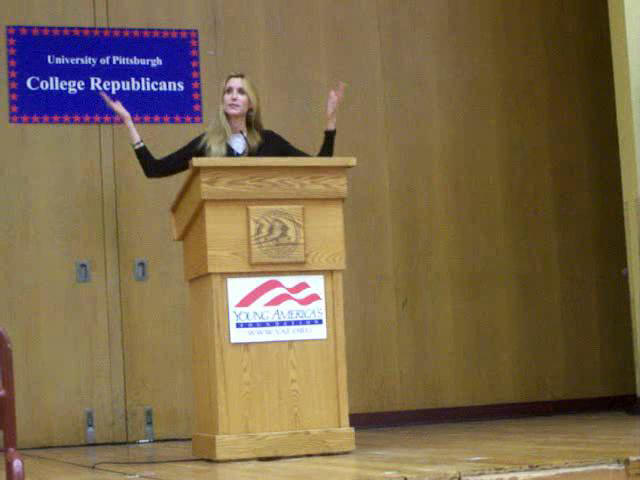 Coulter started her speech thanking the audience members for being there on Palm Sunday even as many Christians were worshipping the Lord Jesus at the SOGC concert.
"I really appreciate you all being here on Palm Sunday. Next Sunday is Easter! It is a big holiday for Christians. It is BIG ONE! Christ got the c_ _ _ beaten out of Him for punishment we deserved and then rose from the dead giving us Eternal Life so it is a big week for Christians. Passover for the Jews celebrating when Moses led the Jews out of Egypt, and for liberals it is known as the first week of April", said Coulter.
Coulter went on the talk about the presidential campaigns beginning too early now!
"On the bright side we get to see Democrats pretending to believe in God ahead of schedule. It's always fun to see Democrats faking a belief in God. I called liberals godless in my last book. Democrats are the opposition party to God. They are cold-blooded killers and abortion is their greatest sacrament", commented Coulter.
As the speech continued, Coulter reminded the audience the state of the Democratic Party and how pathetic their victory in the House and Senate was during the midterm elections because based on history, usually 60 House seats and a dozen Senate seats change but the Democrats could not even get that.
"It is a victory of a dying party and would have been nice to go away", said Coulter.
Coulter later remarked about Katie Couric turning CBS News into the TV equivalent of Air America radio.
Watch new excerpts from AnnCoulters' speech at the University of Pittsburgh
Later, Coulter took stabs at the only two Democratic presidents that we have had in the past 20 years.
Regarding former president Bill Clinton, Coulter said, "With the exception of Bill Clinton whose library features adults only section."
Regarding former president Jimmy Carter, Coulter said, "A nuclear sub has been named after Jimmy Carter, its periscopes only work in hindsight."
Coulter also talked about liberals having a double standard! When it comes to fundamentalist Christians, they are ready to wave an attack and wage a war but not against fundamentalist Muslims.
"There is a war against fundamentalists [Islamic fascists] and they [liberals] don't want to fight it", remarked Coulter.
According to Coulter, when President Bush considers what is happening in Iraq to be evil and wants to stop it, closest thing to liberals that is evil is Wallmart! If there was a war against anti-choice and anti-environmentalists, liberals will be clamoring.
Coulter also reminded the audience that Democrats love talking about evidence and repeat the same things.
"Democrats capacity to say the same things over and over is mind boggling. Now we are getting it with we are losing in Iraq. Democrats were desperate for us to lose even before we went. When liberals start telling you there is no evidence, there is so much evidence, not just enough to convince an O.J. jury. Talking to liberals is like talking to a four-year old", said Coulter.
Coulter went on to talk about France and Germany and their contribution to the war which was basically nothing as she talked about the War in Iraq.
Coulter believes the American people do not know the progress we are making because the media only writes about the bombs and killings in Iraq without sharing the progress such as how steadily the loss of American lives is declining each year in Iraq compared to the previous years,
Speaking of progress, Coulter reminded everyone that it would be easier to see the progress we are making is to know how many we are killing but the Pentagon won't give the numbers so they don't have to get in an argument with Amnesty International.
As Coulter was speaking on the military an audience member shouted, "There are liberals in the Army too!"
Coulter said, "I don't think so! Liberals advised us not to retaliate, don't make their people mad!"
Coulter concluded with telling the audience that America is still being attacked.
"They have been attacking America for 50 years, and it is time for us to hit back, not the terrorists, but the liberals", said Coulter.
Coulter made time for Q&A from the audience.
Joe Pasqualichio, a former president of Student Government Board (SGB), a judge at the Greek Sing 2007, and this years' recipient of the ODK Senior of the Year Award asked Coulter regarding liberalism in college campuses.
Watch Joe Pasqualichio's response to Ann Coulter's answer
Aaron Arnold, the president of Rainbow Alliance, the support group on campus for gays, lesbians, bisexuals, and transgendered asked Coulter if she would consider using the 'N' word against blacks racist since she had no problem using the 'F' word against homosexuals.
Coulter responded to Arnold by saying, "Anyone who compares the 'N word' to the the 'F word' is a racist, so thank you Mr. Liberal."
Coulter was asked by a member of the audience where she sees our country 10 years from now?
"I am less worried about the media because it is now being broken, a drop in the ocean is what we have needed. The main problem is Republican politicians who live in fear. They want to forget that Democrats wants to lose wars and raise taxes. Bush is very good on the 'War on Terrorism' but not good with spending. Liberals come into power and the country punches back real hard.", said Coulter.
An audience member asked if elected president what Coulter would do.
Coulter remarked with confidence by stating, "That's easy, I would deport all liberals."
Speaking of deportation, an audience member insinuated that conservatives promote an attack against immigrants to which Coulter reminded the audience member that's not true.
"No one attacks immigrants! What conservatives care about is illegal immigration. Not the best way to choose our citizens is who drinks a lot of beer", said Coulter.
Coulter gave the answer, "Everything I talked about. Liberals are godless and they hate America", when an audience member asked, "what do you want people to take away from this talk today?'
Coulter also answered questions regarding pornography, drugs, federalism, and sexually transmitted diseases.
Watch Ann Coulter remark regarding masculine and feminine virtues asked by an audience member.
Watch Ann Coulter remark regarding Russia, China, and Korea after an audience member asks about Vladimir Putin.
Melissa Geiger, the vice-president of the College Democrats had reaction to Coulters' speech totally opposite from the president, co-vice presidents of the College Republicans, and their secretary.
"I really felt that Ann Coulter was just more of a comedian than actually giving any sort of true or any sort of profound statements. I mean her summary in response to one of the questions was just that Liberals were godless and hate America. I don't feel like that is a compelling message that was important for the Pitt community to get. So, I really felt like she was giving jokes and didn't really help a lot of people!", said Geiger.
Watch a College Democrat's reaction to Ann Coulter
Ryan Massolotte, the president of College Republicans said, "My favorite part of Ann Coulter's speech tonight was the fact that she stated a lot of facts about the death tolls in Iraq, what's really being going around with the war and what the response is for the people living in Iraq. I don't think a lot of people in America know the scenario that really exists over there because they are not getting it from the media and I think she was able to point that out really well."
Watch Ryan Massolotte's reaction to Ann Coulter
Natalie Hauser, the co-vice president of the College Republicans wanted Liberals to be open-minded.
"My reaction to the speech is that I like her now even more than I liked her before. I hope that [even though] I don't think people's minds were changed about their core values. I hope people got to experience a little more of the other side that they would not get to hear on a liberal college campus such as Pitt so I hope people learned a few things and at least be more open minded towards Republicans and Conservative values that I endorse" said Hauser.
Watch Natalie Hausers reaction to Ann Coulter
Dumm echoed Hauser's conservative ideas coming to campus.
"I think Ann was hilarious and I think she did a really good job and I think it was a really great event to present that we don't really hear on campus. I just liked all of her responses and questions. When she said she was going to deport all Liberals if she was elected President of the United States, I think that was my favorite", said Dumm.
Watch Lauren Dumm's reaction to Ann Coulter
Mark Ruffalo, the secretary of the College Republicans felt Coulter was the best when she was on the defensive.
"I think Ann Coulter tonight was a great event for the College Republicans, for the campus! I think the crowd here was surprisingly very diverse, not as many on the left here as I thought they would be but the people that were here on the left were respectable, most of them. I think their heckling of Ann made Ann a better speaker. I think she takes that in and she is better when she is on the defensive. She said some of her more memorable quotes when she is on the defensive. I think it was a really great night. Actually it [my favorite part of Ann's speech] was when one of the liberals from the crowd said that liberals are in the military too. And Ann kind of looked around and paused for a second and she said, 'No, they aren't!' That was my favorite part of the night", said Ruffalo.
Watch Mark Ruffalo's reaction to Ann Coulter
The leaders of the College Republicans were very happy with the outcome of their event co-sponsored by the Young America's Foundation.
"I thought that the speech went over very well tonight. It was accepted well by the majority of the people in the audience. Of course there were people who tried to express their voice louder than hers was but obviously they were in the minority in the group than the rest of the people. And actually, the majority of the people who asked questions tonight were asking questions to her being on the same side as her conservative standpoint or a moderate standpoint and much less of a liberal stand point being exposed. Probably, there were three questions that came out like that. It went very successful", said Massolotte.
Watch Ryan Massolotte's remarks regarding the outcome
"I thought Ann Coulter did an excellent job in her speech and at the reception beforehand. She is an excellent and personable woman. She is very funny, very smart obviously. I thought the turn-out was excellent. Pretty much every seat was filled. I think we had more Conservatives than Liberals which made us really happy. No one got too out of hand. We had few obnoxious people which we were expecting but we were expecting it to be lot worse than it was", said Hauser.
Watch Natalie Hauser's remarks regarding the outcome
Lauren Dumm, the co-vice president of the College Republicans said, "I think the event went really well. The auditorium was full and I think although there were a lot of liberals in the audience, they for the most part asked their questions and were respectful so I was really happy to see that.
Watch Lauren Dumm's remarks regarding the outcome
Watch the slide show of the Ann Coulter event online on Tue, April 03, 2007