"

Circle of Christians come to communicate with Christ at the Cathedral of Learning fountain"
Ramesh C.Reddy
Pittsburgh Standard



Thursday, October 12, 2006
As the Cathedral of Learning with its 42 floors was welcoming students for their 8:00 a.m. class, 33 students from all walks of life gathered near the fountain of the Cathedral to pray between 8:35 a.m. – 9:05 a.m. on a blistery, chilly morning of Thurs, October 12.
The cold shivers of the day and the rustling of the trees did not stop students from lifting their voices to the Lord Jesus interceding on behalf of the student body, the professors, the leadership comprised of student leaders and administrative leaders so decisions could be made wisely. They also prayed for those that are different than them, and for the Lord's will to be done in their lives and on this campus as they give Him first place in their lives.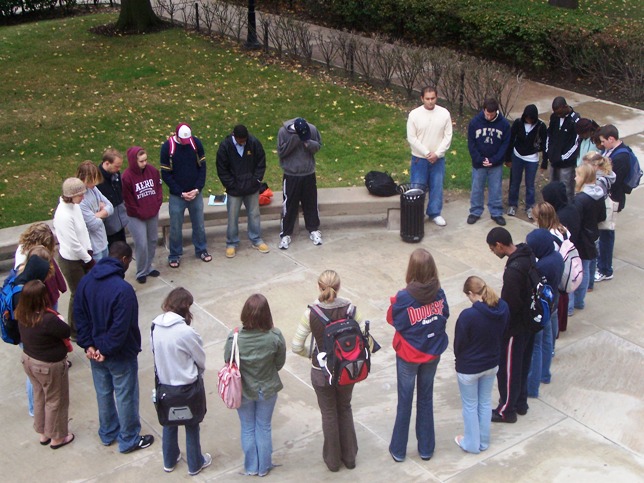 The prayer gathering opened with Student Government Board (SGB) member Shady Henien, asking a former campus minister of InterVarsity Christian Fellowship to open the prayer time who prayed for the blessings of the Lord for everyone gathered there as they lifted up the University of Pittsburgh campus and its student body in intercessory prayer.
Meghan Peterman, a member of Cornerstone Christian Fellowship earnestly prayed that followers of Christ would befriend those that are different from them.
"We pray that we can see them as you see them. Our hearts are yearning to befriend them that are different from us. Give us boldness to talk about our faith. You sent your son to die for us and we can be here as a body of Christ. Thank you for who you are", prayed Peterman.
Brianne Fleming, a junior at Pitt happened to be walking by the Cathedral and was curious what was happening.
"I actually saw them and figured they were praying and joined them. I am excited, very excited", said Fleming.
As prayers continued, a member of Ambassadors for Christ prayed, "We pray you will order our steps and you will be first in all we do and that we will live a life of integrity and be an Ambassador for Christ."
Others prayed that the Lord Jesus would use them this day to bring His Kingdom on this earth by their actions and that the Lord would give them what they need to finish the race.
The prayer time concluded with the students asking the Lord to help them to continually lift up the Pitt campus in intercessory prayer as they are guided and led by the Lord.
Board member Henien shared his reasons why he decided to have a prayer gathering at the Cathedral fountain.
"Back in high school, we had 'See you at the pole'. It was nice to see other Christians who were not afraid to show their faith come out and pray. Through my position as board member of SGB, I represent the students on this campus by doing things for different organizations including Christian organizations", said Henien.
Henien wanted to also see unity among the Christian groups on campus as everyone comes together to pray.
"Last year, when I went to speak to Christian organizations on campus, I felt that the Christian organizations did not collaborate with one another and I know all the Christian organizations are there for the same goal. What I wanted to do was build a network and bridge the gap between the organizations through a yearly prayer gathering outside the Cathedral of Learning called "See you at the Cathedral", said Henien.
As a member of Bellefield Presbyterian Church, Henien emailed the Executive Board of Christian organizations and contacted Christian facebook groups to make this prayer gathering a reality.
Students were blessed and excited to see other believers join them in prayer.
Shawn Agyeman, a senior said, "It is such a blessing to see all the students there wake up in this cold morning and pray. They don't have to do it but they take time to do it."
Brent Jackson, a fifth-year senior who came with his brothers and sisters in Christ to the prayer gathering echoed Agyeman's feelings.
"It was great to see so many people from all areas of ministry meet and pray together. It was powerful to see the areas of diversity", said Jackson.
Henien, who is also a member of Bellefield Presbyterian Church was so happy for all the help he received to make this prayer gathering before the Lord a reality.
"I appreciate all the organizations that told their members. We were there for about 30 minutes. The circle continued to expand as students joined the group to pray", said Henien.
There will be a prayer walk every Friday night at 7:00 p.m. EST time in front of the Bellefield Presbyterian Church facing the Litchfield Towers. Students hope this would draw crowds of students to come and pray for the University of Pittsburgh campus and its student body.
Students will pray walk across the campus for an hour lifting up the needs of students and the population of Oakland.
SEPTEMBER 2005
MARK: CHAPTER 1
How seriously do you T.E.S.T.I.F.Y to prophecy? (Sept 01, 05)
Who do you P.O.I.N.T to? (Sept 02, 05)
"Will you take a S.T.A.N.D?" (Sept 03, 05)
How is your loving P.R.A.I.S.E? (Sept 06, 05)
"How do you handle T.E.M.P.T.A.T.I.O.N?" (Sept 07, 05)
"Who controls your T.I.M.E?" (Sept 08, 05)
"What kind of P.R.O.F.E.S.S.I.O.N are you in?" (Sept 09, 05)
"Whose T.E.A.C.H.I.N.G.S do you listen to?" (Sept 12, 05)
"What C.A.P.T.I.V.I.T.Y are you facing today?" (Sept 15, 05)
"Where do you need H.E.A.L.I.N.G?" (Sept 19, 05)
"Where do you need an A.N.S.W.E.R?" (Sept 20, 05)
"Where do you find S.O.L.I.T.A.R.Y time with the Lord?" (Sept 21, 05)
"Where do you want to be C.L.E.A.N?"
(Sept 22, 05)
"What do you actions C.A.U.S.E?" (Sept 24, 05)
MARK: CHAPTER 2
"What kind of F.R.I.E.N.D are you?" (Sept 26, 05)
"Where does P.A.R.A.L.Y.S.I.S take hold of you?" (Sept 28, 05)
"What are you thinking in your M.I.N.D?" (Sept 29, 05)
"What do you represent by your A.C.T.I.O.N.S?" (Sept 30, 05)
OCTOBER 2005
"Where do you look for A.C.C.E.P.T.A.N.C.E?" (Oct 04, 05)
"Who Do You I.N.V.I.T.E?" (Oct 05,05)
When do you F.A.S.T? (Oct 24, 05)
How do you see your L.I.F.E? (Oct 25,05)
"What kind of L.E.A.D.E.R are you?" (Oct 26,05)
"What does the S.A.B.B.A.T.H mean to you?" (Oct 27,05)
MARK: CHAPTER 3
What are your N.E.E.D.S? (Oct 28, 05)
NOVEMBER 2005
What is your I.M.P.A.C.T? (Nov 01,05)
What S.P.A.C.E do you give yourself? (Nov 07, 05)
"What has E.V.I.L done to you?" (Nov 08, 05)
"How is your R.E.L.A.T.I.O.N.S.H.I.P with Jesus?" (Nov 14,05)
"Who will give God T.H.A.N.K.S.G.I.V.I.N.G because of you?" (Nov 25, 05) (Taken from Gospel of Luke)
"Where is your A.P.P.O.I.N.T.M.E.N.T in?" (Nov 29, 05)
DECEMBER 2005
"Where do you G.A.T.H.E.R?" (Dec 01, 05)
"How are your actions seen by your F.A.M.I.L.Y?" (Dec 02, 05)
"How do you handle S.L.A.N.D.E.R?"
(Dec 03.05)
"What is your V.I.E.W of Jesus?" (Dec 28, 05)
"What are you doing with G.O.D.'S W.I L.L?" (Dec 31,05)
JANUARY 2006
MARK: CHAPTER 4
"What do the P.A.R.A.B.L.E.S mean to you?" (Jan 04, 06)
"What kind of F.O.O.T.B.A.L.L receiver will you be for Jesus?" (Jan 05, 06)
"How is your W.A.L.K with God?" (Jan 17, 06)
"What kind of L.A.M.P are you?" (Jan 18, 06)
"What do you C.O.N.C.E.A.L?" (Jan 25, 06)
"What do you do with what you H.E.A.R?" (Jan 26, 06)
"What do you do with the W.O.R.D of God?"(Jan 30, 06)
"What will you do with the S.E.E.D?" (Jan 31,06)
FEBRUARY 2006
"What kind of F.O.O.T.B.A.L.L receiver will you be for Jesus?" (Feb 05, 06)
MARCH 2006
"What kind of S.T.O.R.M.S are you facing?" (March 11, 06)
APRIL 2006
"What does P.A.S.S.O.V.E.R C.R.O.S.S mean to you?" (April 13, 06)
MAY 2006
"What kind of P.R.O.F.E.S.S.I.O.N are you in?" (May 01, 06)
MARK: CHAPTER 5
"Where is your T.O.R.M.E.N.T coming from?" (May 15, 06)
"Where do you need H.E.A.L.I.N.G?" (May 16, 06)
"What do people R.E.P.O.R.T about you?" (May 17, 06)
"Are you A.F.R.A.I.D of Jesus too?" (May 18, 06)
"Will you T.E.L.L about Jesus?" (May 19, 06)
"What do you do with your T.E.S.T.I.M.O.N.Y?" (May 20, 06)
"Will you G.A.T.H.E.R before Jesus?" (May 22, 06)
"What place do you give P.R.A.Y.E.R in your life? " (May 23, 06)
"Where do you feel U.N.C.L.E.A.N?" (May 24, 06)

"Where do you need F.R.E.E.D.O.M?" (May 25, 06)
"Who's T.I.M.I.N.G are you following?" (May 27, 06)

MARK: CHAPTER 6
"Where do you seek W.I.S.D.O.M, in Jesus of the Bible or Dan Brown's Da Vinci Code?" (May 29, 06)
"What is your C.A.L.L.I.N.G?" (May 30, 06)
"Where is your I.D.E.N.T.I.T.Y?" (May 31, 06)
JUNE 2006
"Do you feel A.C.C.E.P.T.E.D?" (June 01, 06)
"How is your F.A.I.T.H?" (June 03, 06)
"What do you T.E.A.C.H?" (June 05, 06)
"Where are you S.E.N.T?" (June 09, 06)
"Where are you S.T.A.Y.I.N.G?" (June 10, 06)
"How is your Spiritual H.E.A.L.T.H?" (June 12, 06)
"What have people H.E.A.R.D about you?" (June 20, 06)
"What do you T.H.I.N.K about Jesus?" (June 21, 06)
"How do you handle D.O.U.B.T.S?" (June 22, 06)
When do you S.P.E.A.K out?" (June 24, 06)
"What has P.R.I.D.E done to you?" (June 27, 06)
What is your M.I.S.S.I.O.N? (June 28, 06)
"Where do you find your R.E.S.T?" (June 29, 06)
"Who is your S.H.E.P.H.E.R.D?" (June 30, 06)
JULY 2006
What kind of B.R.E.A.D do you eat? (July 03, 06)
"Whose C.A.R.E are you in really?" (July 05, 06)
"When do you P.R.A.Y?" (July 06, 06)
"What is the T.R.O.U.B.L.E you are facing?" (July 07, 06)
"What keeps you in F.E.A.R?" (July 08, 06)
"What causes your heart to be H.A.R.D.E.N.E.D?:" (July 10, 06)
"What are you R.E.C.O.G.N.I.Z.E.D for?" (July 11, 06)
"Who do you I.N.T.R.O.D.U.C.E to Jesus?" (July 12, 06)
MARK: CHAPTER 7
"How do you view H.Y.P.O.C.R.I.S.Y?" (July 13, 06)
"How does the Lord view your W.O.R.S.H.I.P?" (July 14, 06)
"Whose T.E.A.C.H.I.N.G.S. do you follow?" (July 15, 06)
"How do you honor your P.A.R.E.N.T.S?" (July 17, 06)
"What makes you C.L.E.A.N?" (July 18, 06)
"Do you wait for your C.R.E.D.I.T?" (July 20, 06)
Will you ask Jesus to S.A.V.E your loved ones? (July 21, 06)
"What is the A.D.V.E.R.S.I.T.Y you are facing?" (July 22, 06)
"Who do you B.R.I.N.G before Jesus?" (July 24, 06)
"Where do you need the Lord to W.O.R.K in your life?" (July 25, 06)
"Do you believe the Lord will make everything W.E.L.L?" (July 26, 06)
AUGUST 2006
CHAPTER 8:
"Who do you H.E.A.R?" (Aug 02, 06, 7:56 A.M)
"How do you handle your P.R.O.B.L.E.M.S?" (Aug 03, 06, 9:45 A.M)
"How is your T.I.M.E with the Lord?" (Aug 04, 06, 8:00 A.M)
"What do you know about your B.O.D.Y?" (Aug 05, 06, 11:23 A.M)
"How F.A.R will you go for Jesus?" (Aug 07, 06, 3:59 A.M)
"What do you F.O.R.G.E.T about the Lord?" (Aug 08, 06, 8:25 A.M)
"What do you W.O.R.R.Y about?" (Aug 09, 06, 9:35 A.M)
"Will you S.I.T before Jesus?" (Aug 11, 06, 8:53 A.M)
"What do you give T.H.A.N.K.S for?" (Aug 12, 06, 9:40 A.M)
"Who is H.E.L.P.I.N.G you?" (Aug 14, 06, 7:45 A.M)
"What do you W.A.S.T.E?" (Aug 16, 06, 9:26 A.M)
"Do you H.E.A.R from Jesus?" (Aug 17, 06, 9:14 A.M)
"How do you A.T.T.E.N.D to others?" (Aug 18, 06, 9:07 A.M)
"When do you look for a S.I.G.N?" (Aug 21, 06, 10:10 A.M)
"When is it ok for you to L.E.A.V.E?" (Aug 22, 06, 7:43 A.M)
"What do you F.O.C.U.S on?" (Aug 23, 06, 8:15 A.M)
"Whose Y.E.A.S.T should you beware of?" (Aug 24, 06, 8:10 A.M)
"What do you T.A.L.K about?" (Aug 25, 06, 9:11 A.M)
SEPTEMBER 2006

What do you S.E.E? (Sept 04, 06, 11:00 a.m.)
"How do you L.O.O.K at a situation?" (Sept 05, 06, 8:07 a.m.)

"Are your hearts H.A.R.D.E.N.E.D?" (Sept 06, 06, 9:51 a.m.)
"How do you use your E.Y.E.S?" (Sept 08, 06, 10:30 a.m.)
"What do you do with what you H.E.A.R? (Sept 11, 06, 10:04 a.m.)
"What do you R.E.M.E.M.B.E.R?" (Sept 14, 06, 10:35 a.m.)
"What are you B.L.I.N.D to?" (Sept 15, 06, 11:43 a.m.)
OCTOBER 2006
"How seriously do you take I.N.T.E.R.C.E.S.S.I.O.N?" (Oct 02, 06, 12:59 p.m.)
"Who do you want to be L.E.D by?" (Oct 03, 06, 12:16 p.m.)
"What stops you from receiving H.E.L.P?" (Oct 04, 06, 1:14 p.m.)
"How do you use your H.A.N.D.S?" (Oct 05, 06, 12:11 a.m.)