"Egyptian-American Ascends to SGB Presidency with INTEGRITY believing in Almighty!"
Ramesh C.Reddy
Pittsburgh Standard

Tuesday, November 14, 2006
Amidst a chilly, blistery day on the night of Nov 14, 06, the undergraduate students at the University of Pittsburgh elected their first Student Government Board (SGB) president from the continent of Africa. Shady Henien, an American citizen of Egyptian descent and a professing follower of Jesus Christ was supported by thousands of students to ascend to the presidency of SGB with his INTEGRITY slate.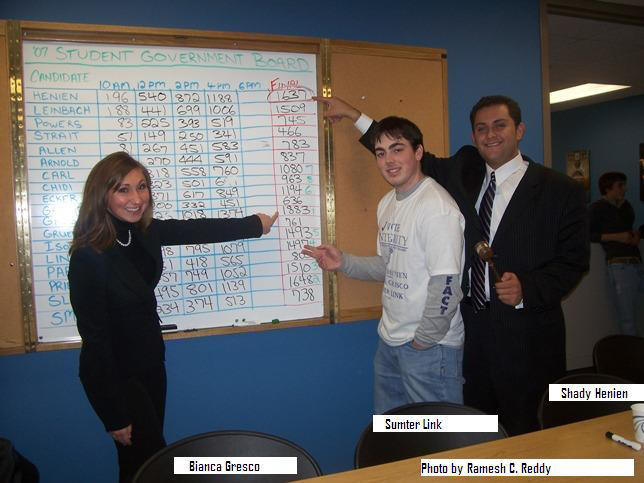 I had told Henien that it would be so hard for him to win against Powers, Leinbach, or Elan Strait because of his ethnicity since students had never elected a SGB president who had roots in the continent of Africa or any other continent other than North America or Europe.
Henien responded, "I have prayed to the Lord about it and feel confident that I should run for president. The board is so divided now and if I become president I want to work my best to unite the board and bring it together."
Henien not only ran for president but won the presidency with support from members of different organizations on campus such as religious Christian organizations, political, ethnic, Greek, academic, media, and athletic organizations.
I wonder if a verse from the Bible was resonating in Henien's mind: "There is neither Jew nor Greek, slave nor free, male nor female, for you are all one in Christ Jesus." (Galatians 3:28, NIV)
Usually Christian organizations on campus do not endorse candidates involved in SGB elections but it is a testament to the character and integrity of Henien who got endorsements from few of them including our own newspaper Pittsburgh Standard who many see as a Christian newspaper on campus that covers Christian events, Greek events, campus events, etc. Henien is part of Cornerstone Christian Fellowship and InterVarsity with ties to Ambassadors for Christ and Campus Crusade for Christ.
Henien had organized a prayer gathering on a blistery Thursday morning to bring Christians on campus together to pray which was a success: Circle of Christians come to communicate with Christ at the Cathedral of Learning fountain
No matter where you walked on campus during campaigning season, you could only hear good things being said about Henien except those who attacked him verbally because of his religious faith in Christ.
Henien's response to me was that he was proud of his faith in Jesus Christ but could not understand why they would ask him questions regarding him being a Christian since it has nothing to do with how he would vote since votes should be based on merits of each request.
I had told Henien that he should not run for SGB president because last year he was not the top vote getter for board and tradition states that the top vote getters for board should be running for SGB presidency the following year but was firm in his faith and decision regarding who he took on his slate no matter how many people tried to sway him from running for SGB president.
Henien's response was the same that he was running for president after praying about it.
Current board member Allison Winn of Chi Omega and chair of the Food Committee who ran last year on current SGB president Joe Pasqualichio's DRIVEN slate was the top vote getter last year with 1597 votes but decided not to run for president. Instead, her running mate Henien who ran with Winn and Pasqualichio on the DRIVEN slate decided to seek the presidency without having a top vote as he finished 6th last year with 1381.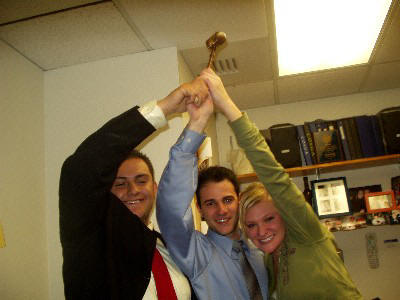 The other two top vote getters last year were Will Powers with 1592 votes of the RESOLUTIONS slate and Shiela Isong with 1541 votes of the OPEN MINDS slate. Isong made it back on board. Leinbach who had finished 5th on board last year did not make the presidency this year.
If Henien had received 90 votes less last year and had a total of 1291, he would not have even been on board. Yet, he decided to run for SGB president this year and made it.
Originally, Henien wanted to run on the DRIVEN slate but Pasqualichio who had been on it for the past three years was not running so he decided to run on INTEGRITY slate in respect of Pasqualichio. If he had run on DRIVEN slate, he may have still won and it would have been fours years in a row that the entire DRIVEN slate would have made it.
Henien had to overcome different obstacles to become the newly elected SGB president but did overcome them with support from his brothers and sisters in Christ, support from his Greek life brothers and sisters from different fraternities and sororities, and rest of the student body who put him there.
Few of the obstacles he had to overcome was not receiving the endorsements of Black Action Society, Asian Student Alliance, Pitt Program Council leaders, and the Pitt News. All of them are large student organizations which receive most of the SGB funding except the Pitt News which is an independently run student newspaper.
When many readers felt the Pitt News partially wrote in a negative way against Henien of INTEGRITY slate, Powers of TRUE slate, and Strait of NEW ERA slate instead of just stating why they were giving their endorsement to Joe Leinbach of DEDICATION slate, those presidential candidates were upset because they felt the Pitt News was misrepresenting their views. Henien was upset too!
As damage control we at Pittsburgh Standard felt we needed to get the real truth out regarding Henien and put out the article written by me called '"Pitt News wants you to believe Shady Henien is the wrong guy for SGB President, but we don't" , as we gave our endorsement on the same day of their endorsement. Lisa Griggs, a supporter of presidential candidate Strait's NEW ERA slate did the same thing in a 'Dear Pitt News Editor' letter which was posted on Facebook notes with ours too.
The Pitt News' misrepresentation of him or omission of the good things he had already done bothered Henien rightly so. As I sought the Lord Jesus Christ in prayer, what came to my mind on the morning of Nov 13, 06 was that it does not matter who the Pitt News endorses but what matters is who the Lord Jesus endorses.
I shared with Henien a Word of the Lord that came to me during prayer, "You have vindicated me; you have endorsed my work, declaring from your throne that it is good." (Psalm 9:4, TLB)
Henien is so nice that when he won the presidency of SGB he asked me, "What should I do for Joe Leinbach and all the groups that did not endorse me"
Leinbach had wanted Henien to run with him as a board candidate but Henien had felt he should go for the presidency to bring integrity and unity to the board. Henien should reach out to everyone including those that did not support him to be a unifying president-elect.
Henien's ascension to the presidency is a testament to his faith, friends, freshman, and faithful campaign supporters.
What is amazing about Henien's victory is that he did not have the mobilization campaign that other candidates had but he was told to remember the story of Gideon every time he got discouraged.
According to chapter 6 of the Book of Judges, 30,000 Israelites gathered together with Gideon to defeat the Midianites but the Lord reduced their number to 300 to fight the Midianites. In faith, Gideon went with the 300 and defeated the Midianities and the Lord got credit.
The point of the story was for Henien to do his part with all his supporters and not worry about how many supporters the other people had because victory could come to him as he depended on the Lord and did his part with integrity if the Lord instilled upon people to vote for him.
In the Book of Nehemiah, we learn that people's hearts and decisions can change if the Lord instills upon them what to do. I believe believers and non-believers in Christ are who put Henien into the SGB presidency with a victory of 128 votes over Leinbach. This is ironic because approximately 128 – 148 notebooks were passed out during election day and that is the margin he won by.
The bottom line is it is not how many people you know and how many connections you have to campus but who you know. Pittsburgh Standard as a newspaper is proud to have endorsed Henien for the presidency and is happy to know that he knows Jesus Christ as his Lord and Personal Savior and wants to serve the entire student body with INTEGRITY with the rest of the elected board.
The results of the 2007 Student Government Board elections can be seen in the pictures that follow that are based on the number of votes they got!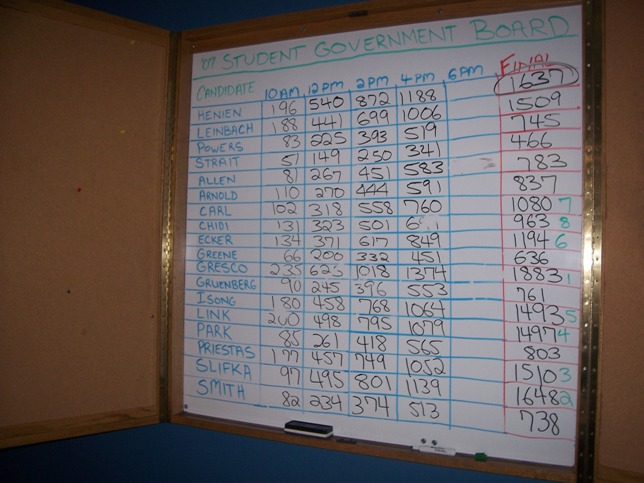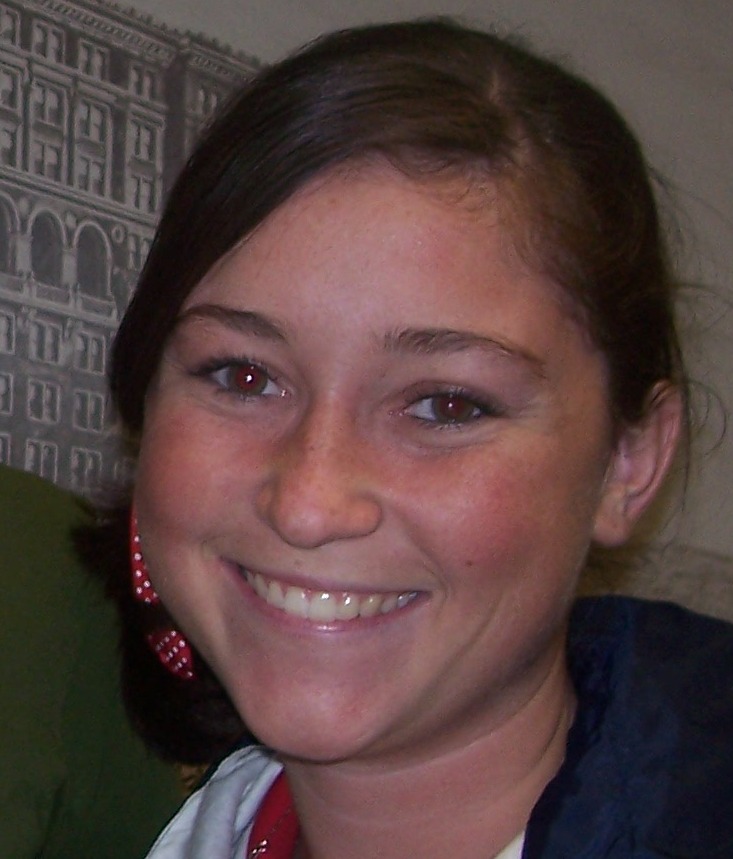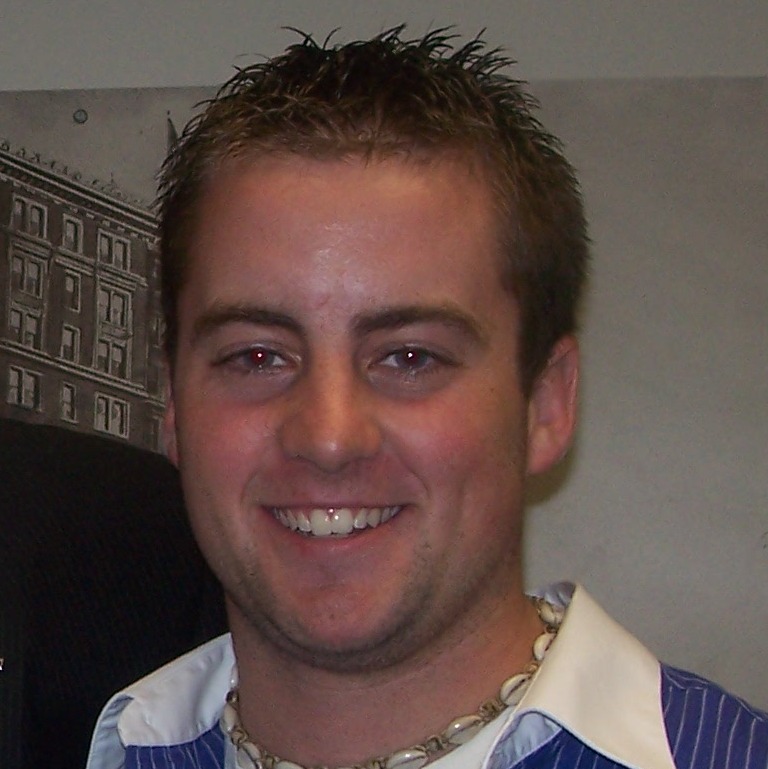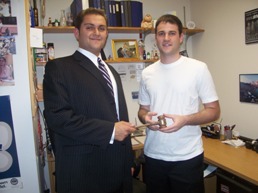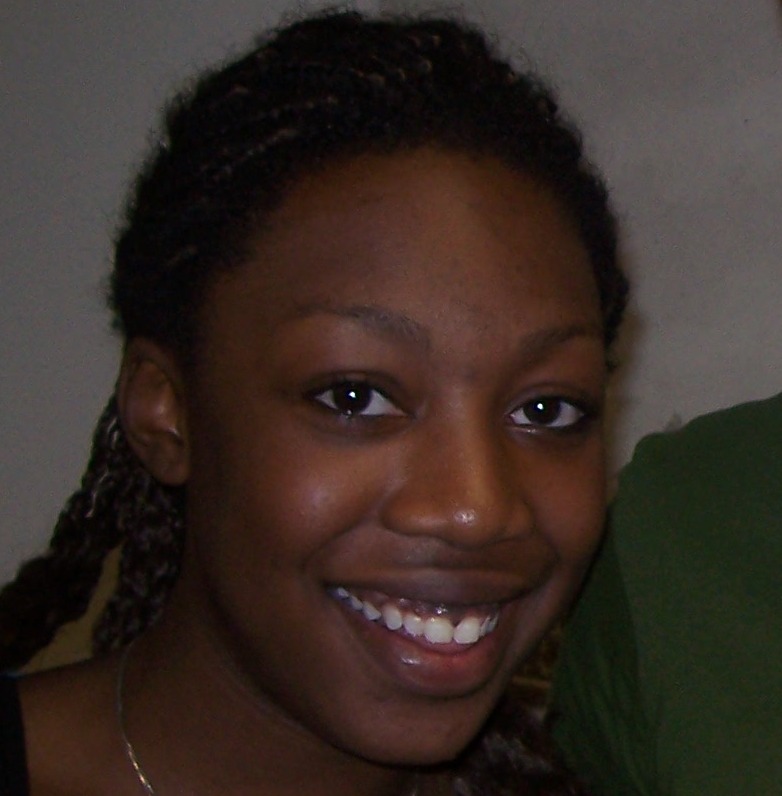 Analyzing the results, we see that the INTEGRITY slate is the only slate that got all of their members on board including Henien. The slates of DEDICATION, TRUE, AND INSIGHT won side by side. The DEDICATION slate got both candidates elected except their presidential candidate Joe Leinbach. The TRUE slate got both their candidates elected except their presidential candidate Will Powers. The INSIGHT slate got 2 out of 3 candidates elected except board candidate Aaron Arnold.
These results show that students want candidates who espouse integrity and dedication more than those who want to be true and have insight. With integrity comes trueness anyway.
This is a wonderful board to be representing the students in 2007 with it being dominated by woman 5 – 3. Gresco of Tri-Delta dominated the votes and broke the record of votes for a board candidate by receiving 1883 surpassing Jeanace Slifka of Chi Omega who received 1648 votes and broke the record for the number of votes received by last years first place board winner Allison Winn of Chi Omega. Pittsburgh Standard is proud to have endorsed the top 4 who made it to board.

Photos by Ramesh C. Reddy and Kamella Carmino Garraway except for Josh Carl's courtesy of Facebook.com