"Many Make Moon Festival Fabulous w/ Dances, Demonstrations, & Delicacies!"
Ramesh C. Reddy
Publisher
On a Saturday night of Oct 16, more than 200 gathered in the William Pitt Union to participate in the Chinese American Students Association and Vietnamese Students Association's celebration of the Mid-Autumn Festival from 6:30 p.m. - 9:00 p.m.
They were treated to different types of dances, demonstrations, and delicious delicacies.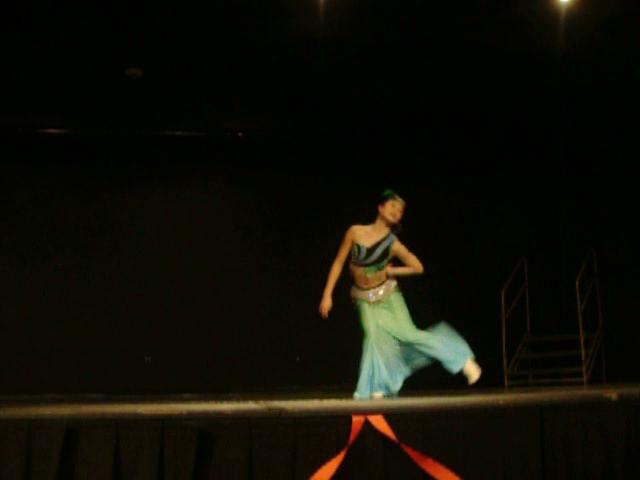 Sabrina Liu performs the Flying Peacock! In the Dai Culture of the southwestern region of China, the Peacock symbolizes luck and good fortune. Sabrina uses her body, head, finger to express the pretty peacock. It was choreographed by Yanlai Wu
Description courtesy of Mid-Autumn Festival Program!


Click on picture for video footage.

Coming Soon: More video footage from Mid-Autumn Festival!
Cultural Life Related Articles:
Photos: "Photos of Moon Festival's Sponsors, Participants, Lantern Walk, and Food Lovers!" (Oct 17, 10, 8:59 p.m.) By Ramesh C. Reddy

Photos: AIV Actively Serves Students And Anticipates Making Mafia Game Great! (Sept 09, 10. 1:39 p.m.) By Ramesh C. Reddy
Video: "TANAH's Triumphant Dances Deliver Audience's Amazement!" (Sept 05, 10, 4:07 p.m.) By Ramesh C. Reddy
Video: "P.R.I.S.M Provided Free Items Impacting Internationals!" (Aug 23, 10, 1:58 p.m.) By Ramesh C. Reddy
Video: "Captivatingly Charishma Soni Sings Love Lyrics!" (Mon, June 28, 10, 3:53 p.m.) By Ramesh C. Reddy
Video: "Proudly Pitt RAAS Renders Wedding Wonderfully!" (May 12, 10, 6:42 a.m.) By Ramesh C. Reddy
Video: "SAW Sinisterly Portrays Pitt's Zisha Zealously!" (May 05, 10, 9:05 a.m.) By Ramesh C. Reddy
Video: "Actively AIV Students Serve Offering OIF's Mercy Ministry Momentum!" (April 19, 10, 9:57 a.m.) By Ramesh C. Reddy
Video: "Holi Has Hill Hued Celebrating Color Festival From Flagstaff!" (April 12, 10, 4:15 a.m) By Ramesh C. Reddy
Videos: "Whites With Stepping Skills Should Beware Sprite's Step Off Offering!" (March 09, 10, 1:18 p.m.) By Ramesh C. Reddy
Video: "Joke Jovially Renders Rick Yao's 'YEAH' promoting Panda's Perkiness!" (March 03, 10, 3:48 p.m.) By Ramesh C. Reddy
Videos: "Hip-Hop Dances Display Diversity's Delight!" (Feb 15, 10, 1:27 p.m.) By Ramesh C. Reddy