"Evangelicals Exhort Trump To Treat Internationals Invitingly!"
Ramesh C. Reddy
Publisher
"You must not oppress a stranger in any way; remember, you yourselves were foreigners in the land of Egypt. Do not oppress foreigners; you know what it's like to be a foreigner; remember your own experience in the land of Egypt. Do not take advantage of foreigners in your land; do not wrong them. They must be treated like any other citizen; love them as yourself, for remember that you too were foreigners in the land of Egypt. I am Jehovah your God. You shall have the same law for the foreigner as for the home-born citizen, for I am Jehovah your God. For there is the same law for all, native-born or foreigner, and this shall be true forever from generation to generation; all are the same before the Lord. Yes, one law for all! I instructed them to be perfectly fair at all times, even to foreigners. He loves foreigners and gives them food and clothing. You too must love foreigners, for you yourselves were foreigners in the land of Egypt. Cursed is he who is unjust to the foreigner, the orphan, and the widow. And all the people shall reply, 'Amen'. All children born in the land-- whether or not their parents are foreigners - are to be considered citizens and have the same rights your own children have." (Exodus 22:21, Exodus 23:9, Leviticus 19:33-34, Leviticus 24:22, Numbers 15:15-16, Deut 1:16, Deut 10:18-19, Deut 27:19, Ezekiel 47:22)
When the Trump administration was responsible for the Immigration and Customs Enforcement (ICE) guidelines on July 06 that prohibited international students from staying in the US if they had to only take online classes, I did not think they were being oppressed but felt they were being helped out.
You see when my precious wife Chandraleela came to the states, she was so homesick because she did not know anyone but me and my mom. I got her a phone plan where she could make unlimited calls to India for a cheap rate. I also heard from different Indian students how homesick they were. There were students who even had tears when my precious wife provided them homemade Indian food because they told me it reminded them of their mommy's cooking. So naturally, I was so happy that the students can go back to their own countries and study online. Not only that, it made sense because Pres. Trump has been a law and order president. Trump wanted to ensure that there is no abuse when it comes to F-1 visas, etc. It would not be fair to give F-1 visas to students to study online when F-1 visas were never given to students to study at University of Phoenix, an online school.
Yet, I was still troubled to the point that I kept researching about this issue since July 06. On one hand, I felt the Trump administration was looking out for the welfare of the international students because it is safer to study from their own country than study in the US as the COVID-19 virus continues to cause havoc. On the other hand, I also felt Trump being a business man also knew it was not fair to charge international students out of state tuition only to study online. These reasons made sense to me. I hoped these reasons would make sense to a lot of Evangelical Christians and Christian organizations too.
But, instead of being supportive of the ICE directive, they were adamant regarding the oppression of the international student. This bothered me very much so I went through Genesis to Revelation every verse that dealt with 'foreigner' to see why atleast 12 Christian organizations opposed Trump's ICE directive.
I could care less what Harvard, MIT or any liberal leftist college, university, or 17 states were planning to do because haters of Pres. Trump will always look for ways to bring him down. So, they had no credibility with me. Yet, one of the Christian organizations that I had worked for 7 years also signed on to oppose the Trump administration directive. This organization had a lot of credibility with me so I had to look for ways the international student could have been oppressed to change course.
As an Indian-American Evangelical Christian who is registered as an Independent, I found my answers in Scripture that troubled me so much because for the most part, I have agreed with the policies of the Trump administration whether it had to do with protecting & saving the unborn, protecting the religious freedom of the persecuted, protecting the Supreme Court and federal courts from being savaged by judicial activism instead of constitutional jurists, protecting our national security, and Judeo-Christian values that America was founded on. Yet, this issue on immigration was against not only all our international friends but against Scripture.
I prayed about it and told the Lord Jesus that I was sorry for not opposing the Trump administration regarding this issue sooner. So, yesterday at 3:00 pm, I reflected on this issue and started writing my reasons for opposing this rule even though I have been an ardent supporter of Trump.
For I knew obeying God and the Bible is more important than staying silent regarding this policy. So after praying and studying Scripture, I set out to write against this policy regardless of what it would do to his election chances because of my love for international students.
"It is better to obey God than man!" (Acts 5:29, TLB)

This issue has been very close to my heart because for the past 7 years, Chandraleela and I have been doing International Game Night (IGN) for international students who come to the US for the first time to study on an F-1 visa. We have done this through the sponsorship of Oakland International Fellowship (OIF) church that loves our international students in Pittsburgh as much as we love them.
It all started because of OIF's love for my international wife who did not know anyone except my mom and me. Her first encounter with two members of OIF occurred when we landed at Pittsburgh International Airport on New Year's Eve of December 31, 2011. The couple that came to pick us up were Calvin Chiang and Elise Lee.
But their encounter with my loving wife did not stop there because they wanted her to feel part of the OIF community. So, they decided to give her a 'welcome to the USA party' at the Taj Mahal Restaurant with the help of the small group Transformers that they were leading including leaders of OIF. At the party, we were treated to a wonderful dinner, wonderful housewarming gifts, and most of all wonderful brothers and sisters.
They tried their best to take away any homesickness she had! Especially, a sister named Yvonne Hwang would frequently come over to our place to spend time with her even though she had to drive for more than 30 minutes. Chandra then became very close to Suzanne Fu who helped her do the baby registry, etc when she became pregnant. Kristen Lippert helped her be part of the worship team as Heather Cheng encouraged her to join while Pastor Hugo Cheng, Edwin, and Marie ministered to us.
Her experience in feeling loved and being part of a community, we wanted to duplicate. So with Pastor Hugo's exhortation, encouragement and help, we decided to host the first IGN for students at our place on Saturday, June 01, 2013 with other OIFer's. But soon the group grew in numbers that we needed a new place to host IGN.
Thanks to Pastor Hugo and now Pastor Josh and the leadership team of Pastor Mike, Pastor Bucknell, Campus minister Jesse, and Elder Calvin including their wives, we have been able to host international students for IGN for the past 7 years at OIF.
We wanted IGN to be a place where international students would know the love of Christ through our actions in their lives whether it was preparing them homemade Indian food that at first served an average of 40 students through my wife and mom's cooking, providing them airport rides through OIF, giving temporary accommodation through OIF, giving them free furniture or household items through OIF, playing games with them especially UNO through OIF, taking them coat shopping through OIF, but most of all through Bible teaching about the love of Christ for them. Jesus loves internationals so much.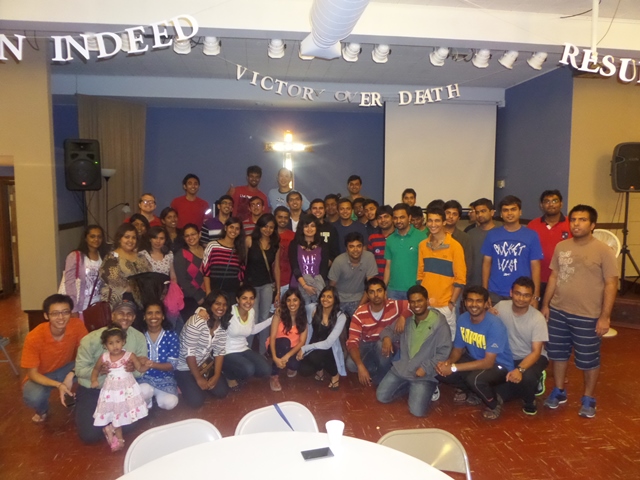 "He loves foreigners and gives them food and clothing. You too must love foreigners, for you yourselves were foreigners in the land of Egypt."
It is never ever easy going away from home to a new country where we have no immediate family most of the time. My wife knows because she experienced it firsthand when she came to the USA. It is hard enough to be in a new country for internationals having to deal with the COVID-19 virus and all the hardships without having to worry about the ICE's guidelines.
For a job that I had worked for 22 years, I had the honor of hiring international students who could only work on campus to come work for us at Pitt-Sodexo Dining Services year after year ensuring they could support themselves in the U.S while taking classes.
Expecting international students to go back to their own countries if they had to take online classes would have been an undue burden on many of them who may even have issues with electricity, internet connection, etc. I know because a village or city I visited in India would always lose electricity at a certain time. Not only that but expecting international students to take online classes of US colleges or universities from their own country has time zone issues too that would not be fair to them. We are commanded and asked to take care of internationals lovingly.
I realized if internationals were to be deported from the US, they would miss out on the love they could have been shown especially the love of Jesus Christ through our actions. Not only that, but if they planned to support their loved ones in India, it would be easier to send dollars there which would be worth more. I wanted all 1.1 million international students to stay unless they voluntarily wanted to go. I was reminded of Scripture: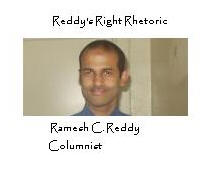 "I instructed them to be perfectly fair at all times, even to foreigners. Do not oppress foreigners; you know what it's like to be a foreigner; remember your own experience in the land of Egypt. Do not take advantage of foreigners in your land; do not wrong them. They must be treated like any other citizen; love them as yourself, for remember that you too were foreigners in the land of Egypt. I am Jehovah your God."

While working on the article, I was exhilarated when I found out around 4:00 pm Tues, July 14, that the ICE rules regarding international students studying online were rescinded by the Trump administration. Thank you Jesus!

It was not just me that was very troubled by this rule but so many Evangelical Christians that were 80% of Trump's support in 2016 were troubled by this.

As an alumnus of InterVarsity Christian Fellowship-USA (IVCF-USA), which is part of International Fellowship of Evangelical Students (IFES) around the world, where I was blessed to be a campus minister for 7 years in a voluntary capacity, I was pleased with IVCF's response.

According to Christianity Today, "Leaders of 12 Christian organizations [including IVCF] urged the Trump administration to rescind a policy requiring international students to leave the US or transfer if their colleges hold classes entirely online this fall, saying it "falls short of American ideals." (Christianity Today, Evangelical Leaders Ask ICE Not to 'Mistreat the Foreigner' with Student Visa Policy, July 13, 2020)

Moreover, "In a letter to Acting Secretary of Homeland Security Chad Wolf, shared with the Ass

ociated Press, the leaders wrote on Friday, that the policy 'robs our country of the significant contribution' international students make to their colleges on both a personal and economic level. 'It lacks compassion' and 'violates tenets of our faith to 'not mistreat the foreigner' (Lev 19:33) but to love these neighbors as ourselves (Lev 19:34, Matt 22:39)"

(Christianity Today, Evangelical Leaders Ask ICE Not to 'Mistreat the Foreigner' with Student Visa Policy, July 13, 2020)

How true that is! We as Evangelical Christians hold to the Bible as our first most Truth to live out our lives. We are so thankful to the Lord Jesus for hearing the prayers of Evangelical Christians all over the world who were praying for international students to stay in the US without being oppressed.



I am reminded of James 5:16 and Hebrews 4:16 which says, "Admit your faults to one another and pray for each other so that you may be healed. The earnest prayer of a righteous man has great power and wonderful results.

So, let us come boldly to the very throne of God and stay there to receive his mercy and to find grace to help us in our times of need."

We are so grateful to the Lord Jesus that He has answered our prayers and protected the international students. We are also so thankful to the Trump administration for rescinding this rule against our precious international students. International lives matter and the Trump administration was humble enough to realize their mistake and change the rule after the 12 Evangelical organizations intervened.

Of course, the liberal mainstream media will make you think it was because of the lawsuits brought by Harvard, MIT and 17 states that the Trump administration caved in. The Trump administration does not cave into the liberal mainstream media's views or leftist organizations views. President Trump takes seriously the views of Evangelical Christian leaders and lay people.

For evidence, Trump has the best White House press secretary in Kayleigh McEnany, an Evangelical Christian herself who does not cave into liberal mainstream media's views.

According to JOHNFEA's article

, McEnany wrote in her book that she was upset when a CNN viewer suggested she should tuck in her cross necklace "when showing support for someone who goes against so many things that the Bible teaches. She knows that no one is perfect, including politicians, she wrote. She bears her cross because she believes that it represents how 'humanity might have a chance at a salvation that we do not deserve." (TheWayOfImprovement.com, 'The Christian Right faith of Trump's press secretary Kayleigh McEnany, June 26, 2020)

In support of international students, she stated in a press briefing a better lawsuit

would be international students suing universities for having to pay full out of state/country tuition for online classes instead of in person instruction.

I agree with her because having to pay full out of state/country tuition for online classes would be oppressing foreign students. If they are taking online classes, they should not have to pay full tuition to the college or university.

"Do not take advantage of foreigners in your land; do not wrong them. They must be treated like any other citizen; love them as yourself, for remember that you too were foreigners in the land of Egypt. I am Jehovah your God. You shall have the same law for the foreigner as for the home-born citizen, for I am Jehovah your God. For there is the same law for all, native-born or foreigner, and this shall be true forever from generation to generation; all are the same before the Lord. Yes, one law for all! I instructed them to be perfectly fair at all times, even to foreigners. "

According to Christian Broadcasting Network News (CBN News), McEnany told David Brody and Jenna Browder, "

Look, I lean on my faith and I am convinced that one of the big reasons president won besides having a great agenda is Christians who showed up and prayed and you know people like my family did that and that was a big part of why I think president Trump is there because Christians prayed." (CBNNews.com, Kayleigh McEnany: My Faith Was "Indispensable to What I Did at CNN")

She also recently told CBN, "If I give [my daughter] Blake the same faith upbringing and relationship with Jesus Christ that my parents gave me, she will be an unstoppable woman of faith in whatever she decides to do."

(TheWayOfImprovement.com, 'The Christian Right faith of Trump's press secretary Kayleigh McEnany)

I wonder even though McEnany believed the law states that internationals cannot get a F-1 visa for online classes, if she privately asked the Trump administration to rescind the policy joining the 12 Christian organizations and even some Republican lawmakers.

As a registered Independent Indian Evangelical Christian, I am so proud of the Trump administration to rescind the order after 8 days only. This gives me more confidence to vote for Trump knowing he listens to Evangelical Christians.

In all my years of voting, Trump has been the only president that actually implemented the things he said he would do if he became president. Usually, when people come to power, they forget the little man. Not Trump because he has been stellar in making sure that promises were kept. The campaign was not just a get me in office and I will do my own stuff. On the contrary, he has listened to Evangelical Christians on what is important to them from a Biblical perspective. He is not perfect and definitely the lesser of the evil for me compared to Biden who has been a politician for 47 years but nothing to show for it. Biden's promises remind me of 'The Rich Man and Lazarus parable.'

"Then the rich man said, 'O Father Abraham, then please send him to my father's home---for I have five brothers--to warn them about this place of torment lest they come here when they die.' 'But Abraham said, 'The Scriptures have warned them again and again. Your brothers can read them any time they want to.' 'The rich man replied, 'No Father Abraham, they won't bother to read them. But if someone is sent to them from the dead, then they would turn from their sins.' But Abraham said, 'If they won't listen to Moses and the prophets, they won't even listen though someone rises from the dead." (Luke 16:27-31, TLB)

If Biden did not do anything to benefit Black people and others, his 47 years in office when he had opportunities but only hurt them, what makes you think, he will do it now?

I was so happy that IVCF put out a statement regarding Trump administration changing course as they listened to Evangelical Christian organizations.

According to Christianity Today, "We at InterVarsity are very pleased that ICE dropped its plan to deport international college students who only use online courses," said Tom Lin, president of InterVarsity Christian Fellowship. "In the coming week and months, InterVarsity and many faith-based organizations are working hard to help students navigate a chaotic and stressful time for us all; during this time, students and young people need more certainty and support, not less." (Christianity Today,

Evangelical Leaders Ask ICE Not to 'Mistreat the Foreigner' with Student Visa Policy, July 13, 2020)

My wife and I are excited that we can continue to serve the international students that will be here in the fall term with the help of OIF to meet them where they are at. We are especially once again thankful to the Trump administration of taking the exhortation of Evangelical Christians and acting upon it to protect the foreigner in this country.

In closing, God's Word would give us the best way to show love to internationals if we followed through and ask the Lord how He may use us to reach each international students that he puts in our path.

"You must not oppress a stranger in any way; remember, you yourselves were foreigners in the land of Egypt. Do not oppress foreigners; you know what it's like to be a foreigner; remember your own experience in the land of Egypt. Do not take advantage of foreigners in your land; do not wrong them. They must be treated like any other citizen; love them as yourself, for remember that you too were foreigners in the land of Egypt. I am Jehovah your God. You shall have the same law for the foreigner as for the home-born citizen, for I am Jehovah your God. For there is the same law for all, native-born or foreigner, and this shall be true forever from generation to generation; all are the same before the Lord. Yes, one law for all! I instructed them to be perfectly fair at all times, even to foreigners. He loves foreigners and gives them food and clothing. You too must love foreigners, for you yourselves were foreigners in the land of Egypt. Cursed is he who is unjust to the foreigner, the orphan, and the widow. And all the people shall reply, 'Amen'. All children born in the land-- whether or not their parents are foreigners - are to be considered citizens and have the same rights your own children have." (Exodus 22:21, Exodus 23:9, Leviticus 19:33-34, Leviticus 24:22, Numbers 15:15-16, Deut 1:16, Deut 10:18-19, Deut 27:19, Ezekiel 47:22)

"Reddy's Right Rhetoric is excited to report that the Trump administration took Evangelical leaders exhortation to treat internationals invitingly by rescinding the ICE July 06 guidelines."




Express Your View