"Thirty-Fifth Time, Thousands Towards Truth Memorialized 'March for Life'"
January 23, 2008
Editors Note: Video of the March for Life 2008, slideshows, and abortion related archives coming soon!
Washington, D.C. - Students from Carlow College, Carnegie Mellon University, Duquesne University, Robert Morris College, and the University of Pittsburgh left St. Paul's Cathedral Church in the early hours of Tues, Jan 22, to be a voice for the unborn during the March for Life 2008 in Washington, D.C, marking the 35th anniversary of Roe v. Wade that legalized the killing of the unborn in the U.S.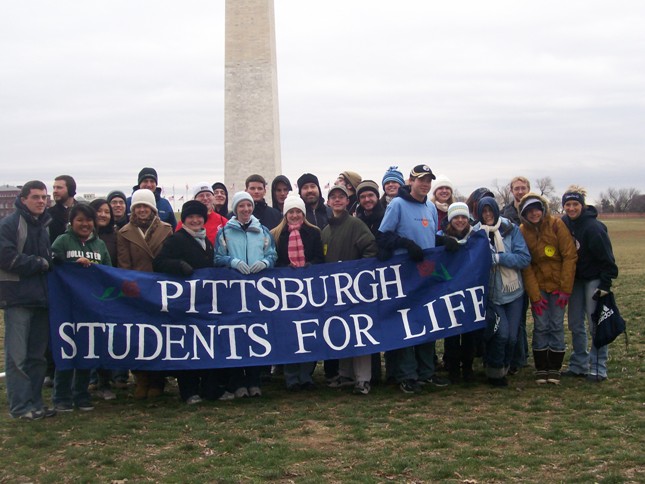 Pittsburgh students for life take a stand near the Washington Mall.
President George W. Bush addressed thousands of people gathered at the pro-life rally before the march began.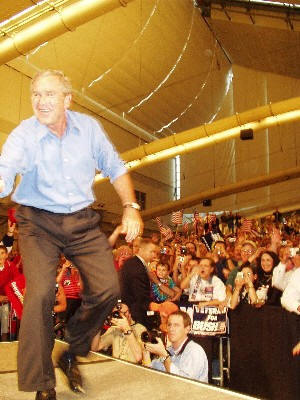 "Building a culture of life requires more than law, it requires changing hearts and as we reach out to others and find common ground, we can see the glimmerings of a new America on the far shore. This America is rooted in our beliefs that in a civilized society the strong protect the weak. This America is nurtured by people like you who speak up for the weak and the innocent. This America is the destiny of a people whose founding documents speaks of the right to life that is a gift of our Creator and not the grant of the state", said Pres. Bush.

Video: Listen to excerpts from Pres. Bush's speech during the March for Life 2008 rally!

Bush addresses a crowd in Pittsburgh in 2004
Nellie Gray, the president of 'March for Life Education and Defense Fund' was extremely pleased with Pres. Bush's address to the supporters at the rally and hoped to work with him this upcoming year to make sure more strides are made for the voice of the unborn.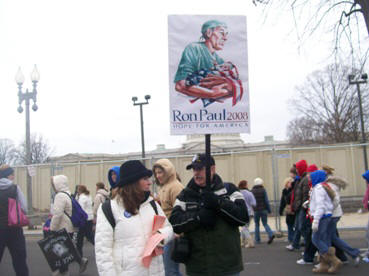 Many politicians for the plight of the unborn addressed the crowds including Texas congressman Ron Paul, who is vying for the Republican nomination for the president of the United States. Congressman Ron Congressman Ron Paul shared his experiences of being an doctor and vilified abortion.

"The debate over when life begins should not even be a debate. Let me assure you, all life begins at conception. I am also convinced that you cannot defend liberty without defending all life. We as tax-payers, we who believe in the right to life are taxed continuously still, to commit abortions. We should never allow any of our tax dollars to be used for abortion here or overseas", said Congressman Ron Paul.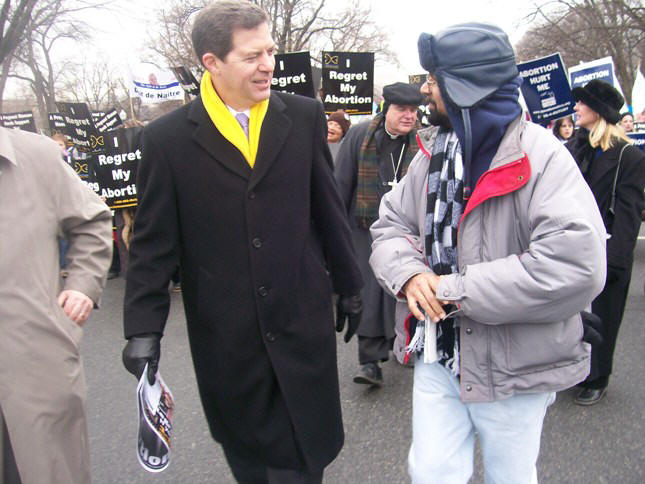 Senator Sam Brownback of Kansas joined in his support of the pro-life cause and wanted those under 25 years of age to raise their hands for the media.

"This is a young movement with strong legs and a strong heart. This is a movement that is going to win life for this country. I want you to remember that our enemy isn't the person having the abortion; our enemy is not the person providing the abortion; our enemy is not the activist who is pro-choice or pro-abortion; our enemy is death; our enemy is fear, our enemy is despair; that's who we are fighting, that's what we are fighting, and we don't fight with hate in our hearts. Our weapons are compassion & patience, peace & love, courage & commitment, prayer & long suffering. Yet 35 years is long enough; 50 million is way too many. It is past the time to overturn Roe v. Wade and end this night of death.", said Sen. Brownback.

Not everyone saw it Sen. Brownback's way. There were those who blamed Planned Parenthood and the pro-choice movement for the death of the unborn calling it murder.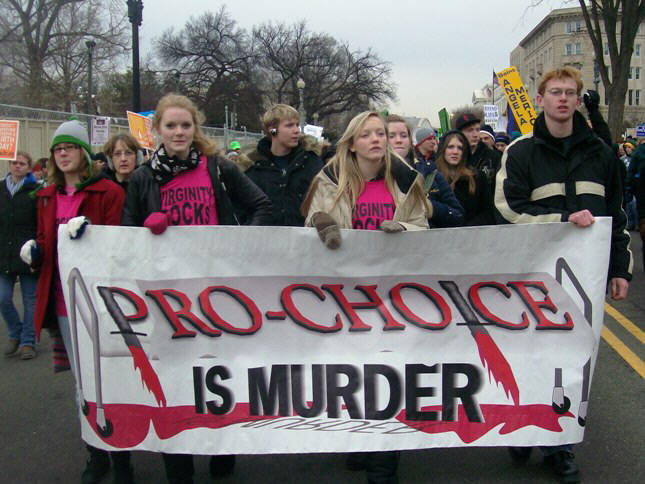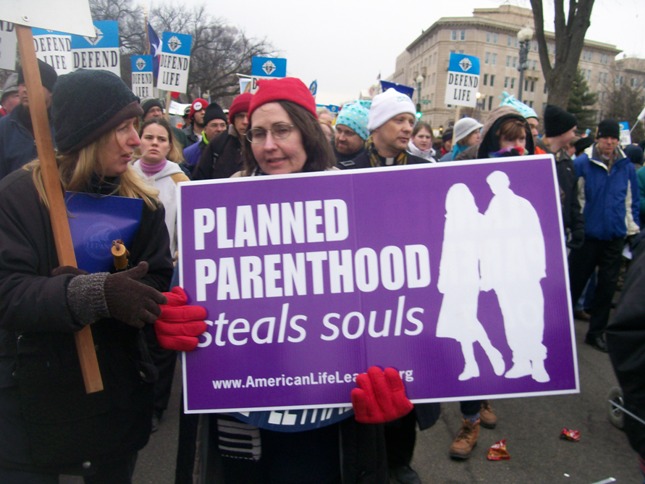 The fight to save the lives of the unborn was not just an issue for Catholics and Protestants but very important to a Jewish Rabbi too.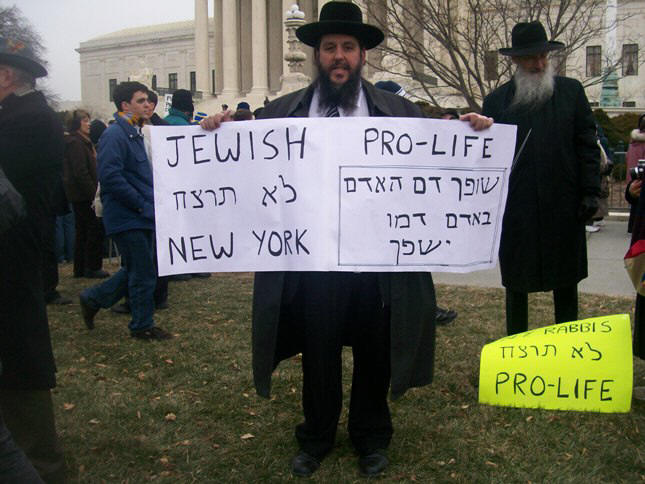 Rabbi Yehuda Levin, from Brooklyn, New York said, "Greetings pro-life America! Shalom! More than 10% of the U.S population cut, mangled, strangled, burned, discarded, maimed like no other group. Supreme Court, stop the barbarism now!"

Video: Levin Loudly Lets Pro-Life Promotion Resonate at Rally!

The March for Life 2008 began soon after the introduction of the Catholic clergy represented there.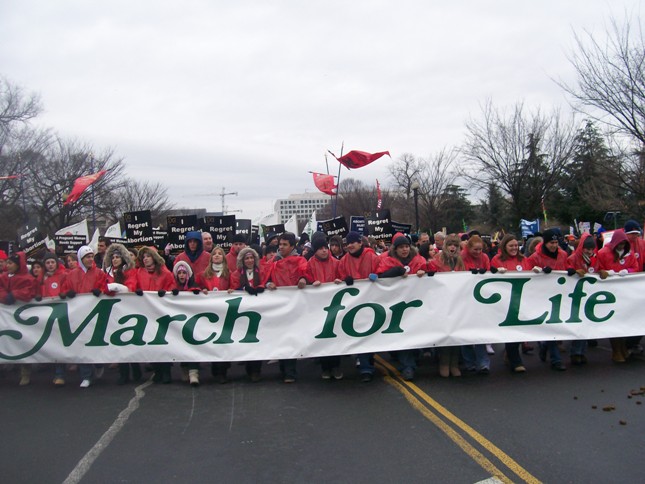 Pitt freshman Ashley Kim was excited to go to the March for Life 2008 and shared her views with the Pittsburgh Standard.

"March for Life in essence is the pro-life movement. For me it is just a way to gather and show support that pro-life issues are at the forefront of political debate and we need to show that it is important; we do that by the March", said Kim.

Video: Kim Keeps Killings in Mind Memorializing Marching for Life!

Kim was joined by Pitt freshman P.J. Gruber and Caitlin Conway who spoke to the Pittsburgh Standard. Conway addressed the issue of pro-choice groups calling foul because their privacy is being invaded.

"They [pro-choice groups] are invading other people's privacy because a child has their own life and that's their own privacy so it's not the mother's right to determine the fate of another person", said Conway.

Video: Conway confidently pulverizes pro-choice's privacy promotion.

Gruber wanted Pitt students to know that Pres. Bush is the right president for America.
"I thought he [Pres. Bush] gave an excellent speech. I think it served as a powerful point to the American people that we are first of all helping to bring a culture of life and we are doing the right thing and we definitely did the right thing putting him in the presidency. Many people disagree with his other policies but this is one policy you cannot sacrifice any other issues for. This is the issue of any election because the lives of the unborn are more important than any war, any tax-system, or any economic plan or education system. I would not think about having an official in there who thought killing of the unborn was ok. I would not trust that politician to make adequate decisions in any other area. I really respect Pres. Bush for what he has done for the pro-life cause", said Gruber.

Video: Gruber Galvanizes Politician's Pro-Life Presentation!

The pro-Life advocacy group called Beautiful Choice at the University of Pittsburgh provided transportation to Pitt students who went to the March for Life 2008. They were joined by members of the St. Paul's Cathedral which provided a chartered bus.



Students end the March for Life 2008 by going to Mass at Catholic University of America!
All photos and videos by Ramesh C. Reddy
.Click picture to read my dad's memorial: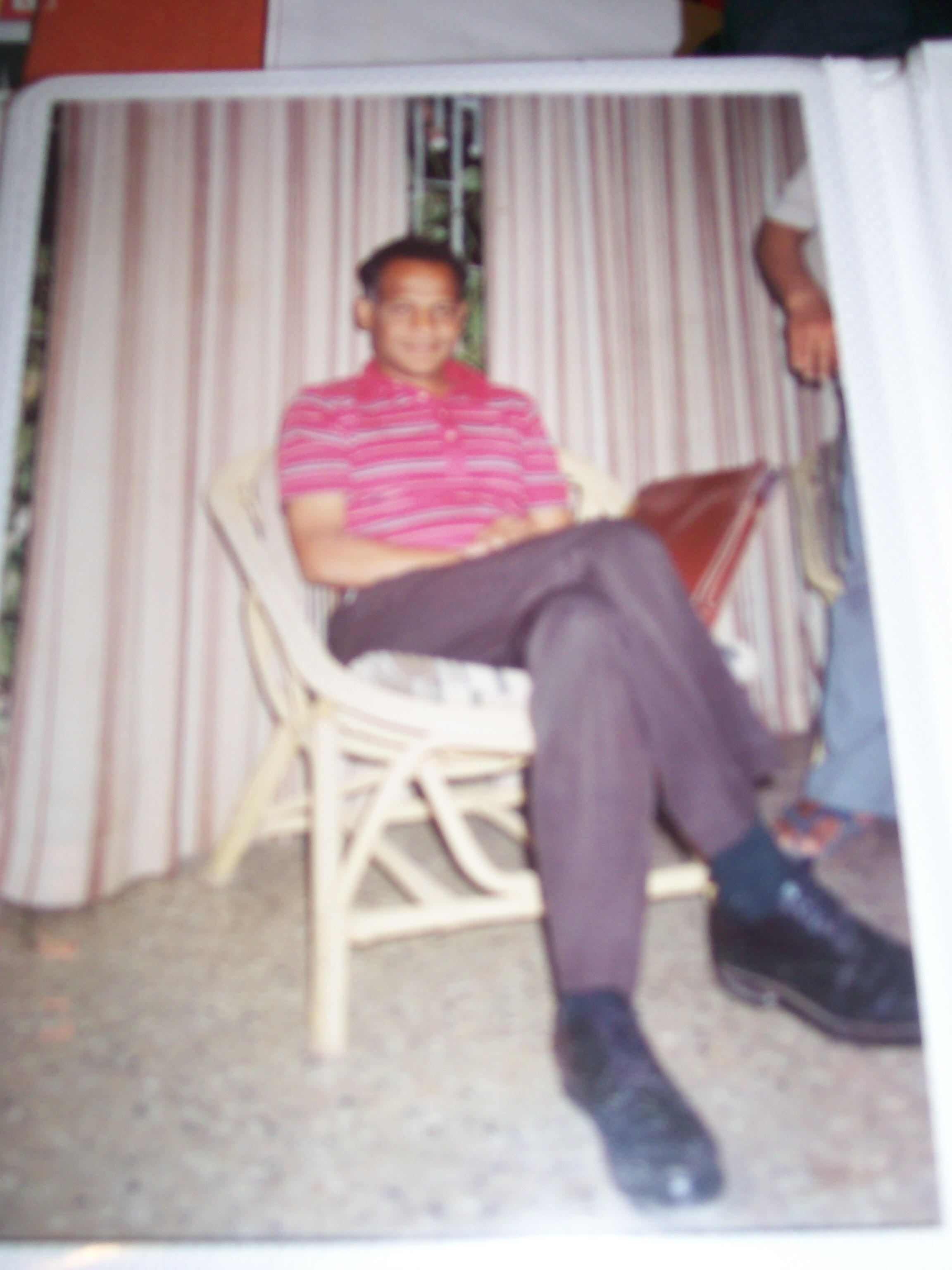 In memorial to my beloved dad: Nov 1941 - Dec 2007
Abortion Related Archives: