"Steel City Step Show 2011 Excites All Anticipators!"
Ramesh C. Reddy
Publisher
Editors Note: Click on the pictures for the video of the winning performances!
National Pan-Hellenic Council comprised of black fraternities and sororities at the University of Pittsburgh ended Black History Month with stepping, stomping, clapping, and dancing as the Steel City Step Show 2011 captivated audiences from all walks of life at the Soldiers and Sailors Memorial Museum this past Saturday at 6:00 p.m.
For the past two years and once again this year, the fraternity of Alpha Phi Alpha dominated the step show with their creativity and electrifying performance by repeating as the Step show champions for the third time in a row.

Alpha Phi Alpha brothers after their 3-peat winning performance at Steel City Step Show 2011
The sorority of Delta Sigma Theta won the step show for the woman's side.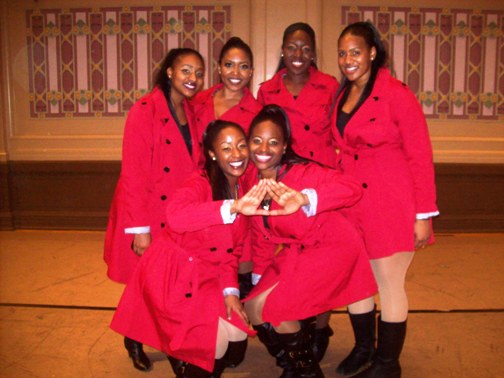 Delta Sigma Theta sisters show their excitement after their win at Steel City Step Show 2011
Cultural Life Related Articles:
Videos: "Many Make Moon Festival Fabulous w/ Dances, Demonstrations, & Delicacies!" (Oct 18, 10, 11:59 a.m.) By Ramesh C. Reddy
Photos: "Photos of Moon Festival's Sponsors, Participants, Lantern Walk, and Food Lovers!" (Oct 17, 10, 8:59 p.m.) By Ramesh C. Reddy

Photos: AIV Actively Serves Students And Anticipates
Making Mafia Game Great! (Sept 09, 10. 1:39 p.m.) By Ramesh C. Reddy
Video: "TANAH's Triumphant Dances Deliver Audience's Amazement!" (Sept 05, 10, 4:07 p.m.) By Ramesh C. Reddy
Video: "P.R.I.S.M Provided Free Items Impacting Internationals!" (Aug 23, 10, 1:58 p.m.) By Ramesh C. Reddy
Video: "Captivatingly Charishma Soni Sings Love Lyrics!" (Mon, June 28, 10, 3:53 p.m.) By Ramesh C. Reddy
Video: "Proudly Pitt RAAS Renders Wedding Wonderfully!" (May 12, 10, 6:42 a.m.) By Ramesh C. Reddy
Video: "SAW Sinisterly Portrays Pitt's Zisha Zealously!" (May 05, 10, 9:05 a.m.) By Ramesh C. Reddy
Video: "Actively AIV Students Serve Offering OIF's Mercy Ministry Momentum!" (April 19, 10, 9:57 a.m.) By Ramesh C. Reddy
Video: "Holi Has Hill Hued Celebrating Color Festival From Flagstaff!" (April 12, 10, 4:15 a.m) By Ramesh C. Reddy
Videos: "Whites With Stepping Skills Should Beware Sprite's Step Off Offering!" (March 09, 10, 1:18 p.m.) By Ramesh C. Reddy
Video: "Joke Jovially Renders Rick Yao's 'YEAH' promoting Panda's Perkiness!" (March 03, 10, 3:48 p.m.) By Ramesh C. Reddy
Videos: "Hip-Hop Dances Display Diversity's Delight!" (Feb 15, 10, 1:27 p.m.) By Ramesh C. Reddy