""Christ's Awesome Power Truly Invokes Valid Inspiration To You!(C.A.P.T.I.V.I.T.Y)"
By Ramesh C.Reddy
Pittsburgh Standard



February 01, 2008
SCRIPTURE:
"Just then a man in their synagogue who was possessed by an evil spirit cried out, "What do you want with us, Jesus of Nazareth? Have you come to destroy us? I know who you are--the Holy One of God!" "Be quiet!" said Jesus sternly. "Come out of him!" The evil spirit shook the man violently and came out of him with a shriek. The people were all so amazed that they asked each other, "What is this? A new teaching--and with authority! He even gives orders to evil spirits and they obey him." News about him spread quickly over the whole region of Galilee." (Mark 1:23-28, NIV)
Observations:
I asked myself who are involved in verses 23-28:
1. Man
2. Evil spirit
3. Jesus of Nazareth
4. People
Observations/Interpretations:
I asked myself what function do each play?
Point 1: Man
A man is in their synagogue.

The man was possessed by an evil spirit.

The man who was possessed questions Jesus 2 times .

The man who was possessed makes a declarative statement regarding Jesus.
I asked myself why it's significant that 'a man in their synagogue' is mentioned.
Reading about it really touched me because what came to my mind is that the synagogue was not just populated with people whose lives were going well. This man may have belonged to their synagogue and yet we learn that he was far from well. He was dealing with an evil spirit or demons in his life that were in control of him.
I am reminded that the man only questions Jesus after Jesus teaches with authority in the synagogue and the people are amazed. It is possible that the man was dealing with this captivity for a long time but kept attending the synagogue but for the first time, he saw a way out. He did not give up.
Point 2: Evil Spirit
The man cried out but the evil spirits seem to be doing the talking. There is a battle within the man. An evil spirit possesses the man and talks to Jesus through the man regarding 3 things:
What do you want with us Jesus of Nazareth?

Have you come to destroy us?

I know who you are—the Holy One of God!
I asked myself what is significant about these two questions!
I found it very significant that an evil spirit in the man felt that Jesus was interfering in the man's life. The evil spirit wanted to destroy the man but now felt opposition and names the opposition to be Jesus of Nazareth. The evil spirit does not seem to be speaking just on his behalf but on the behalf of all his demons and seems to be claiming that the man belongs to them. This is evident by the phrases 'with us' and 'destroy us'.
I asked myself what is significant of the declarative statement 'I know who you are—the Holy One of God!'
This is such a powerful statement that the evil spirit makes after mentioning the name of Jesus because the evil spirit is admitting to Jesus being 'the Holy One of God'. Let us remember that Jesus was tempted in the wilderness by Satan who sends out his evil spirits to do his dirty work but Jesus overcame the temptations of Satan by focusing on God and the Scriptures.
By admitting Jesus to be the 'Holy One of God', I get the feeling the evil spirit was telling Jesus not to bother with the man in their synagogue who is not holy. The evil spirit wants the man to be left to them. Yet, Jesus does not ignore the man's plight. Knowing it is an evil spirit that is controlling the man and making him captive, Jesus intervenes after the teaching.
Point 3: Jesus of Nazareth

I asked myself what Jesus does?
1. Jesus commands the evil spirit sternly to 'Be Quiet'!
2. Jesus commands the evil spirit sternly to 'Come out of him'!
I asked myself the significance of these commands!
First, Jesus quiets the evil spirits from revealing more about Jesus. It is interesting how much the evil spirits seemed to know about Jesus. Now, Jesus performs a miracle by removing the evil spirit from the man by commanding it to come out of him. The evil spirit had to obey Jesus and came out of the man with hesitation. This is evidenced by the verse, 'The evil spirit shook the man violently and came out of him with a shriek.'
Whatever the man was facing, Jesus healed him. This man was someone in their synagogue who was possessed and Jesus intervened. This causes a reaction among others in their synagogue which is evidenced by point 4.
Point 4: People
I asked myself what happened after the healing took place!
1. The people were all so amazed.
2. They asked each other, "What is this? A new teaching—and with authority!"
3. They announced that Jesus even gives orders to evil spirits and they obey him.
4. They spread the news about him over the whole region of Galilee.
What stuck out to me from these statements is the phrase 'He even gives orders'. This tells me that they recognized the awesome teaching with authority that Jesus had given before performing the healing. Now they know that Jesus can even heal people possessed with evil spirits.
Implications:
I saw important implications for my own life here. Just because someone is at church or coming to fellowships, etc I should not assume that everything is ok in their lives. I should be involved in their lives to see if they are troubled and need help. I need to make myself available to others who may want to talk and need help. Jesus calls us to be His Ambassadors and His servants to carry out His work here on earth. Not all are given the same gifts but when we are faithful, available, and teachable having a heart to reach out with the love of Christ, He will use us in mighty ways for His Kingdom.
At one time, it took me 33 days in a row to finish reading through the Bible as I spent a lot of time after and before work. One of the verses that stood out for me was in Acts 20:24 which has become my signature verse too!
"But life is worth nothing unless I use it for doing the work assigned me by the Lord Jesus --- the work of telling others the Good News about God's mighty kindness and love." (Acts 20:24, TLB)
I ask you now dear friend, what captivity are you facing today?
Dear friend, I do not know what captivity you are facing but Jesus Christ knows. The captivities we face are here to destroy us and to bring our hopes and dreams down. We do not have to allow them to take control of our lives. Yes, friend whatever you face or you know someone is facing, there is hope and the hope is in Jesus.
I do not assume anymore that if someone comes to church regularly that everything is okay in their lives and they are walking and growing strong in the Lord. This can be far from the truth. Many of them can be facing silent bondage that only the Master's Hand can heal. But the Master uses His servants' lots of time to bring His healing. At times the healing of Jesus comes directly.
Captivities can come in many shapes and forms. They do not just have to be demon possession but they can be an unforgiving spirit, living in the past, having trouble to move on because of things that have happened, loss of hope and dreams, guilt, etc. If we dwell in them, they will control us but the Good News is that Jesus wants to reach you where you are friend. Yes, He does! Allow Him to come and work in your life. Allow Him to be the Lord of your life.
Don't give up but keep holding on! If you know someone who seems to be in captivity to something, what they need is your understanding and love. This does not mean the action is condoned but allowing the person to share with you and working with the person to get help. There are couple of awesome churches I know that have done that very well. I want to invite each and every one of you to Oakland International Fellowship which meets on N. Dithridge Street in Oakland close to the University of Pittsburgh. It is part of Pittsburgh Chinese Church-Oakland.
I could not be writing this to you if the Lord Jesus did not deliver me from different types of captivities that gave me so much pain. Some pain does not go away overnight but the Lord Jesus in His love, grace, and mercy has given me the strength to endure through it all. When the pain resurfaces, I take it to the Lord in prayer. A particular situation in my life, that couple of my close church cell group members know, is what prompted me to read through the Word in 33 days. I pray our Lord gives each of you His strength to overcome what you face.
Whatever you are dealing with, allow Jesus to heal you and believe He will. He loves you friend. He will give you the strength and endurance to deal with these captivities. Yes, He will! His Blood was shed for you and can heal you where you are. Yes, He can! Don't give up! Jesus wants to be the Lord of your past, the Lord of your present, and the Lord of your future. As Jesus works in your life, you can be the one to bring light into someone's life with the Light of Jesus.
The people were amazed with Jesus not only because of His teaching but because He personally got involved in people's lives and brought healing to them. The news of what Jesus did started spreading across Galilee. If churches and individuals do that, the news will spread that something is happening there. It is not for our glory but for the glory of Christ.
May you know the Lord that can heal you and will heal you as you wait upon Him! May you know the strength He gives you as you depend on Him to endure through the issues that you are facing! Amen!
"Christ's Awesome Power Truly Invokes Valid Inspiration To You!"(C.A.P.T.I.V.I.T.Y)/"What captivity are you facing today?"
Prayer:
Dear Lord Jesus, I want to thank you so much for the healing you performed in the man's life. Even though you are Holy and the man was far from holy, you intervened in his life and healed him. You cared for Him in his weakness. You do that for us too. Thank you Jesus so much for what you have done and what you still do in our lives. I pray now for all those who are in captivity to different things in their life. Sometimes they feel they cannot go on and just want to give up but you Oh Lord are a God who heals the brokenhearted and binds up their wounds. You meet us where we are and we ask you for your healing in people's lives that need your amazing love. Help us be the vessels you want us to be to carry out your work in this broken world. May our actions bring your Light into people's dark and aching souls! Please be the Lord of their past, present, and future. Help us to be instruments of love and heal us in our own lives please Jesus. We want you to be lifted higher and higher. Help us to be sensitive to those around us and reach them with your love Jesus. Thank you so much Jesus for your help. Thank you for your healing power, for hearing and answering us! In Your Name I Pray Jesus! Amen!
No matter what you feel in your heart, know that Jesus has come in and resides with you! You are not alone! To make your walk strong with the Lord, spend time in prayer talking to Him as you would to a friend. You don't need special words to talk to the Lord. Spend time in His Word reading Psalms and turning them into prayer. Next allow God to heal you and speak to you through the Gospel of John or Gospel of Mark before moving on to other Books of the Bible! Slowly, let the Lord show you to which Scriptures He wants you to go to next. It is also important to be part of a body of believers to help you grow in the faith. Find a Bible believing church that preaches the Word of God from Genesis to Revelation proclaiming Jesus Christ our crucified and risen Lord who brings us hope, healing, and help! But beware of churches who do believe in the Word of God completely but there is no freedom in Christ but legalism involved.
As a student, it is not too late to join a fellowship on campus too this blessed New Year of 2008! May the Lord's presence and peace fill you with His love now and forever! Amen!
Feel free to email me at reddy4hisglory2004@yahoo.com if you want to meet to study the Bible, pray with, talk about spiritual issues or whatever is on your mind! My number is 412-720-4579.
"This is my work and I can do it only because Christ's mighty energy is at work within me." (Colossians 1:29, TLB)
Love in Christ,
Ramesh
P.S. If you don't agree on something that is written, please feel free to comment on it below for we learn from each other. Even if you agree, feel free to express your view :)
.Click picture to read my dad's memoriam: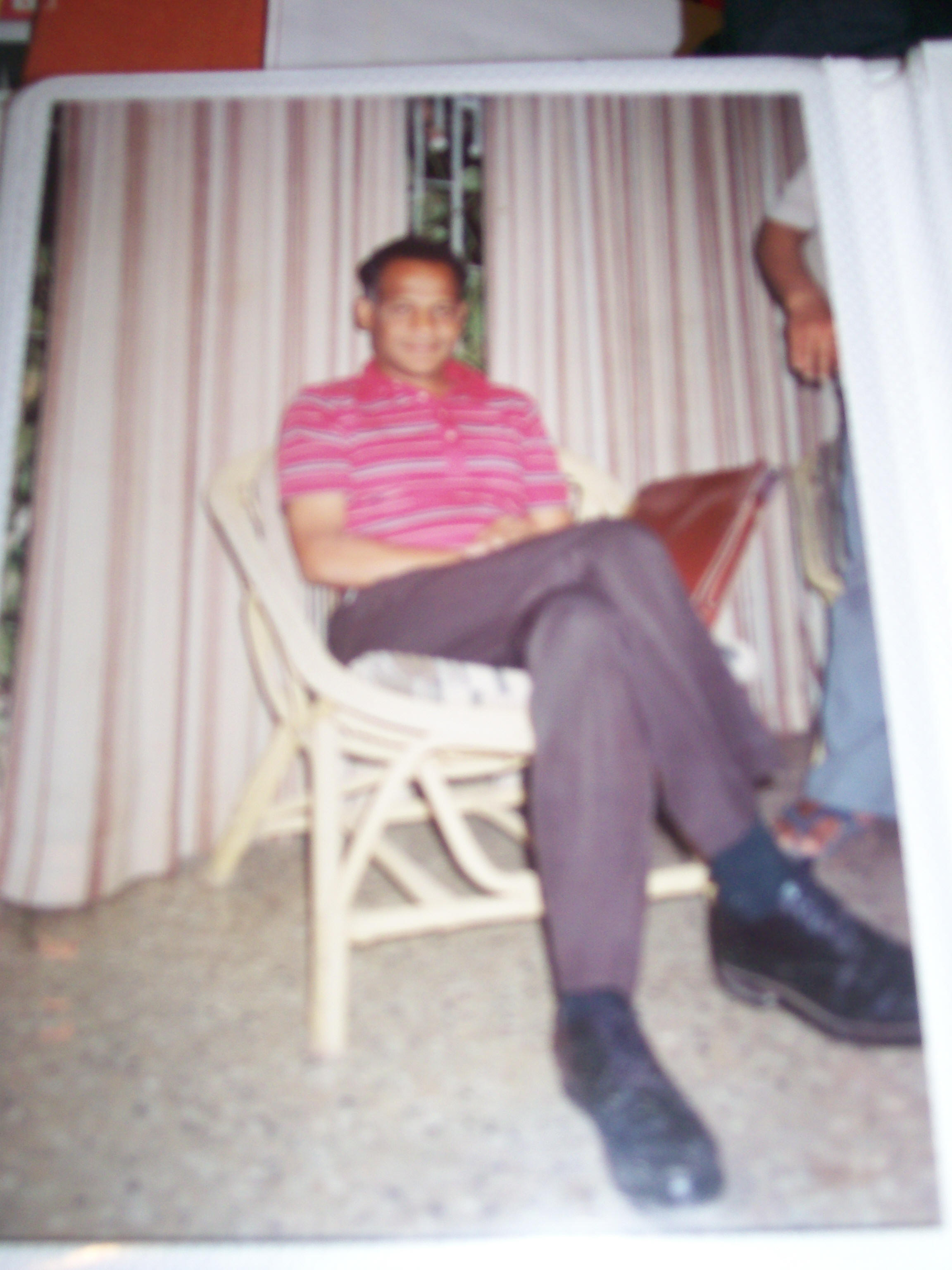 ' I AM ' Series Archives:
What kind of L.I.G.H.T do you follow? (Dec 13, 07, 10:09 a.m.)
"What kind of B.R.E.A.D do you eat?" (Dec 08, 07, 10:10 a.m.)
"Who is your S.H.E.P.H.E.R.D?" (June 30, 06)
Gospel of Mark Archives:
Mark 1:1: "What does the G.O.S.P.E.L mean to you?" (Jan 15, 08, 1:15 p.m.)
Mark 1:1-4: "How seriously do you T.E.S.T.I.F.Y about prophesy?" (Jan 12, 08, 11:18 p.m.)
Mark 1:5-8: "Who do you P.O.I.N.T to?" (Jan 16, 08, 8:48 a.m.)
Mark 1:9: How will you take a S.T.A.N.D? (Jan 17, 08, 11:21 a.m.)
Mark 1:9-11: "How is your loving P.R.A.I.S.E?" (Jan 18, 08, 8:53 a.m.)
Mark 1:12-13: "How do you handle T.E.M.P.T.A.T.I.O.N?" (Jan 19, 08, 12:27 p.m.)
Mark 1:14-15: How do you handle T.I.M.E given to you? (Jan 21, 08, 1:31 p.m.)
Mark 1:16-18: "What kind of P.R.O.F.E.S.S.I.O.N are you in?" (Jan 26, 08, 10:22 a.m.)
Mark 1:19-20: "Without having to P.R.O.C.R.A.S.T.I.N.A.T.E, what should you do?" (Jan 29, 08, 10:44 a.m.)
Mark 1:20-22: "How do you rate in the B.U.S.I.N.E.S.S of Jesus?" (Jan 30, 08, 11:29 a.m.)
Mark 1:20-22: "Whose T.E.A.C.H.I.N.G.S do you follow?" (Jan 31, 08, 11:52 a.m.)