"Popularity Offers People United Leverage Always; Readily Inspire Towards Yeshua!" (P.O.P.U.L.A.R.I.T.Y)
By Ramesh C.Reddy
Pittsburgh Standard



February 12, 2008
Editors Note: The devotional has a background song by Crystal Lewis called 'People Get Ready' which can be heard if you use Internet Explorer.
SCRIPTURE:
"A few days later, when Jesus again entered Capernaum, the people heard that he had come home. So many gathered that there was no room left, not even outside the door, and he preached the word to them. (Mark 2:1-2, NIV)
Observations:
I asked myself what happened when people heard Jesus had come home?
It is so awesome that when Jesus stepped foot in Capernaum, the news already spread like wildfire about Jesus coming home. The people heard where Jesus was staying and gathered there that there was no room left for anyone else to come in, not even outside the door.
Observations/Interpretations:
I asked myself why that happened and what does Jesus do?
It was the loving presence and power of Jesus that drew people to Jesus making everyone want to see Jesus. After the people gathered, Jesus could have done many things but Jesus takes it as a witnessing opportunity to preach the Word to them. It is very interesting that Jesus would spend time right away preaching the Word right after He comes home, emphasizing the importance of the Word and God's laws. Everyone there could have seen Jesus as their friend and Jesus did not want to disappoint but give them the Good News.
Implications:
I saw important implications for my own life. When people heard Jesus had come home, they gathered around Jesus and Jesus preached to them the Word of God. Jesus used his popularity to preach God's Word. I need to use my popularity to preach God's Word too so Jesus can be known to whoever I come in contact with.
I ask you now dear friend, what do you do with your popularity?
Dear friend, there are those that are popular who have used their popularity for selfish reasons instead of for the good of others. Jesus used His popularity for the good of mankind. Jesus could have done many good things when He came home but He focused first on giving the crowds gathered there God's Word, so they can be helped. We need to do the same if we ever become popular.
We should use our popularity to let others know about Jesus Christ. That should be our main goal. If we are given the opportunity to preach, we should take it depending on the Lord. If we are given other opportunities because of our popularity, whatever opportunities they are, they should be used for the advancement of the Gospel.
May you use your popularity for the Kingdom of God to make Jesus known and be known by Him! Amen!
"Popularity Offers People United Leverage Always; Readily Inspire Towards Yeshua!" (P.O.P.U.L.A.R.I.T.Y)/"What do you do with your popularity?"
Prayer:
Dear Lord Jesus, thank you so much when people heard that you had come home, they all gathered to see you and you used your popularity to preach the Word to them. Thank you Jesus for taking that opportunity and reminding me and all of us when we are popular, we can use that opportunity for advancing your Gospel so that people can be saved. Help me to do that and others to do that. Oh Lord, I also pray right now for those that are popular but have used their popularity for selfish reasons. Please forgive them Oh Lord and bring them to you. Forgive me Lord when I have gone my own way too. And Lord thank you for the importance of your Word. Help us to dwell in your Word richly Lord so we can be guided by you. Thanks so much Jesus. Thank you for hearing us and answering us! In Your Name I Pray Jesus! Amen!
If you would like to invite Jesus Christ into your heart and make Him a daily part of your life, you can this very moment. You will never be alone. You can claim God's promises for you in the Bible and see them come true, before your eyes, in His wonderful timing. You don't have to wait for a special time to come to the Lord. You can come right now as you pray the prayer below, meaning it in your heart.

Prayer:
God I am a sinner. I am invaded by this deadliest virus. Many times I feel so guilty and yucky inside. I need forgiveness. I am so sorry for my sins. I have not obeyed you with my whole heart! I have gone my own way and done my own things. I still struggle with sin. I need you Jesus in my life so I can receive forgiveness and a new beginning. In the process, I can forgive others as you help me to. Thank you so much Jesus. I accept the antidote you have sent me. I believe Jesus you died for me and your cleansing blood will cleanse me from all my sins. You came back to life to save me. Thank you God I am set free, free from the bondage of sin. Hear my cry Oh Lord. I accept you Jesus into my heart. I make you my Lord and Personal Savior of my life. Thank you Father God for giving me Salvation. Thank you Jesus for coming into my heart and making my heart your home. Thank you for living in me Jesus and I will live for you and serve you the rest of the days of my life. Thank you for being my Lord and personal Savior! I can live a life of peace with you on my side. Thank you that you have heard my prayer and answered me! In your Name I Pray Jesus! AMEN! Thank you Lord for answering my prayer. Amen!!!
Friend, if you have prayed this prayer and meant it in your heart, you are a new creation in Christ and all old things are passed away and everything has become new! You may feel something or may not but don't base it on feelings but base your new life in Christ on the promises of our Savior who will never leave you nor forsake you! Amen!
No matter what you feel in your heart, know that Jesus has come in and resides with you! You are not alone! To make your walk strong with the Lord, spend time in prayer talking to Him as you would to a friend. You don't need special words to talk to the Lord. Spend time in His Word reading Psalms and turning them into prayer. Next allow God to heal you and speak to you through the Gospel of John or Gospel of Mark before moving on to other Books of the Bible! Slowly, let the Lord show you to which Scriptures He wants you to go to next. It is also important to be part of a body of believers to help you grow in the faith. Find a Bible believing church that preaches the Word of God from Genesis to Revelation proclaiming Jesus Christ our crucified and risen Lord who brings us hope, healing, and help! But beware of churches who do believe in the Word of God completely but there is no freedom in Christ but legalism involved.
As a student, it is not too late to join a fellowship on campus too this blessed New Year of 2008! May the Lord's presence and peace fill you with His love now and forever! Amen!
Feel free to email me at reddy4hisglory2004@yahoo.com if you want to meet to study the Bible, pray with, talk about spiritual issues or whatever is on your mind! My number is 412-720-4579.
"This is my work and I can do it only because Christ's mighty energy is at work within me." (Colossians 1:29, TLB)
.Click picture to read my dad's memoriam: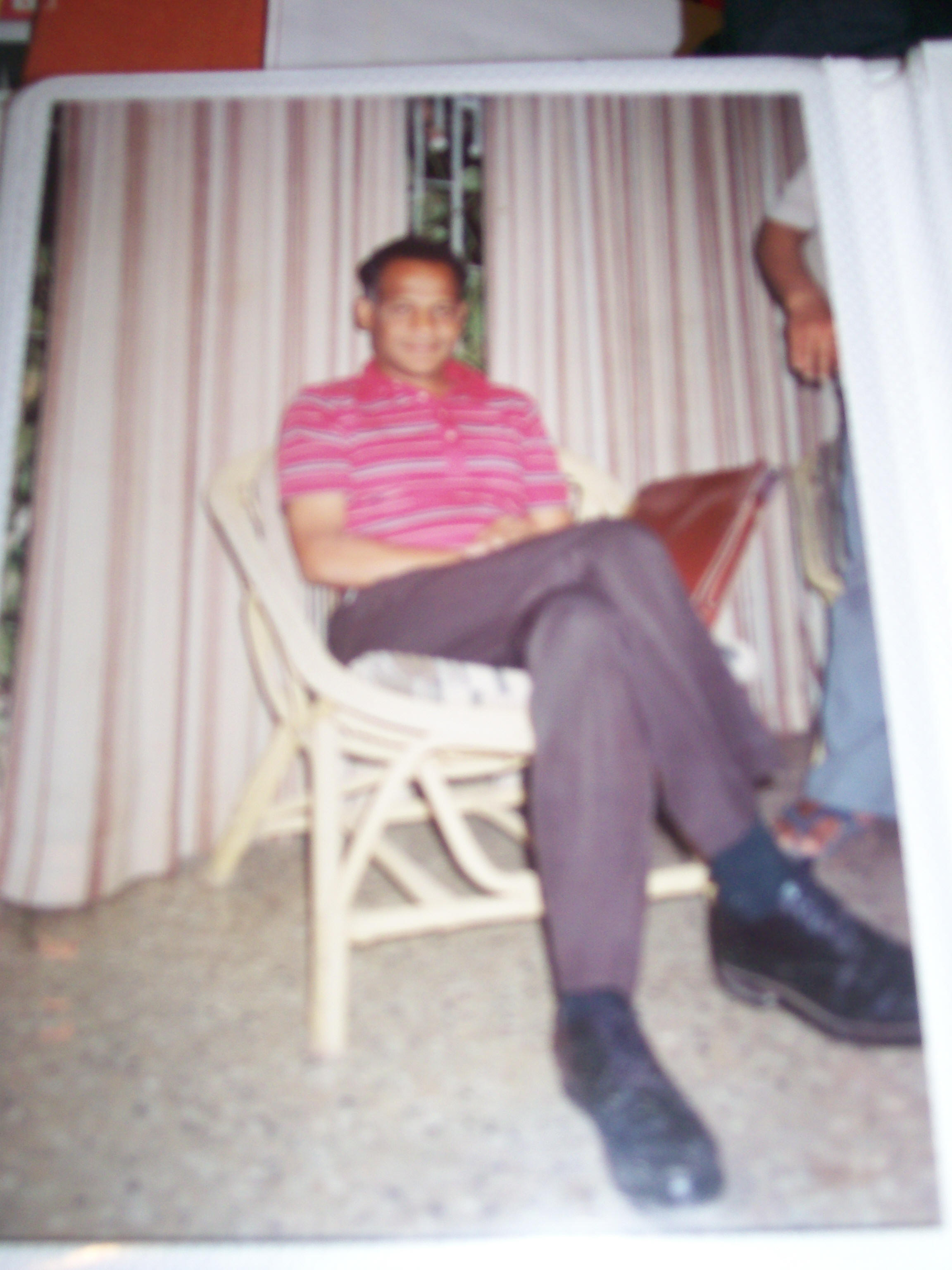 ' I AM ' Series Archives:
What kind of L.I.G.H.T do you follow? (Dec 13, 07, 10:09 a.m.)
"What kind of B.R.E.A.D do you eat?" (Dec 08, 07, 10:10 a.m.)
"Who is your S.H.E.P.H.E.R.D?" (June 30, 06)
Gospel of Mark Archives:
Mark 1:1: "What does the G.O.S.P.E.L mean to you?" (Jan 15, 08, 1:15 p.m.)
Mark 1:1-4: "How seriously do you T.E.S.T.I.F.Y about prophesy?" (Jan 12, 08, 11:18 p.m.)
Mark 1:5-8: "Who do you P.O.I.N.T to?" (Jan 16, 08, 8:48 a.m.)
Mark 1:9: How will you take a S.T.A.N.D? (Jan 17, 08, 11:21 a.m.)
Mark 1:9-11: "How is your loving P.R.A.I.S.E?" (Jan 18, 08, 8:53 a.m.)
Mark 1:12-13: "How do you handle T.E.M.P.T.A.T.I.O.N?" (Jan 19, 08, 12:27 p.m.)
Mark 1:14-15: How do you handle T.I.M.E given to you? (Jan 21, 08, 1:31 p.m.)
Mark 1:16-18: "What kind of P.R.O.F.E.S.S.I.O.N are you in?" (Jan 26, 08, 10:22 a.m.)
Mark 1:19-20: "Without having to P.R.O.C.R.A.S.T.I.N.A.T.E, what should you do?" (Jan 29, 08, 10:44 a.m.)
Mark 1:20-22: "How do you rate in the B.U.S.I.N.E.S.S of Jesus?" (Jan 30, 08, 11:29 a.m.)
Mark 1:20-22: "Whose T.E.A.C.H.I.N.G.S do you follow?" (Jan 31, 08, 11:52 a.m.)
Mark 1:23-28: "What C.A.P.T.I.V.I.T.Y are you facing today?" (Feb 01, 08, 10:35 a.m.)
Mark 4:3-20: "What if Jesus talked F.O.O.T.B.A.L.L?" (Feb 02, 08, 10:35 a.m.)
Mark 1:29-31: "Where do you need H.E.A.L.I.N.G?" (Feb 05, 08, 11:44 a.m.)
Mark 1:32-34: "Where do you need an A.N.S.W.E.R?" (Feb 06, 08, 11:16 a.m.)
Mark 1:35-39: "Where do you give your S.O.L.I.T.A.R.Y time to the Lord?" (Feb 07, 08, 11:41 a.m.)
Mark 1:40-42: "Where do you need to be C.L.E.A.N?" (Feb 09, 08, 11:00 a.m.)
Mark 1:43-45: "What do your actions C.A.U.S.E?" (Feb 11, 08, 9:23 a.m.)