"Light's Lovely Litchfield Towers iPDM Mural Loses Liveliness"
Ramesh C.Reddy
Pittsburgh Standard

Wednesday, November 29, 2006
For about 10 hours on a beautiful Tuesday afternoon of Nov 28, until 3:00 p.m. the Litchfield Towers wall facing Forbes Ave was graced with a paint mural of Pitt students in dance poses promoting the Pitt Dance Marathon (PDM) with the slogan 'iPDM' until the university administration decided to wash it away. The irong in all this is that the PDM will occur from Dec. 2 through Dec. 3 from 3:00 p.m. to 3:00 p.m. at the Fitzerald Field House with all the donations benefiting cancer research.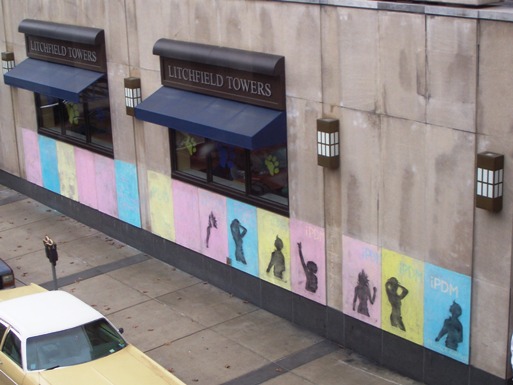 Evan Light's paint mural for the Pittsburgh Dance Marathon graces Litchfield Towers
Evan Light, a member of Lambda Chi Alpha had taken five hours of his time to paint the area. The paint would have washed away in seconds.
To Light's dismay and shock as he was putting up twelve banners, with his friend Brian Katze of Sigma Phi Epsilon, at the walk through between Litchfield Towers and David Lawrence Hall, he saw two people planning to wash away all his hard work.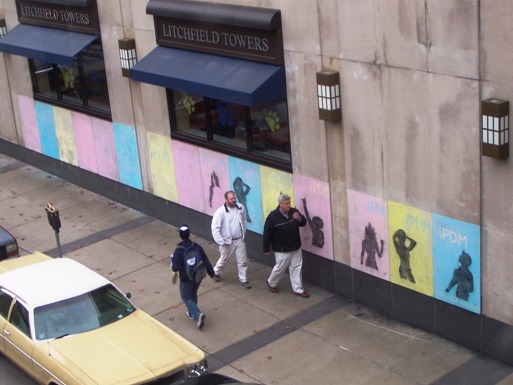 Two workers get ready to wash off the paint mural outside the Litchfield Towers

It should have never come to this stage and Light was justifiably disappointed. Light mentioned that he had spent five hours getting the wall ready after he had got permission but the university now claims there was a miscommunication so the paint must come down. Light had made paint mural with food coloring and other ingredients which would have come off right away with a touch of water. The paint did come down within minutes even though Michelle Turbanic from the Student Government Board Allocations Committee and a sister of Kappa Delta did her best to persuade the university not to wash it down.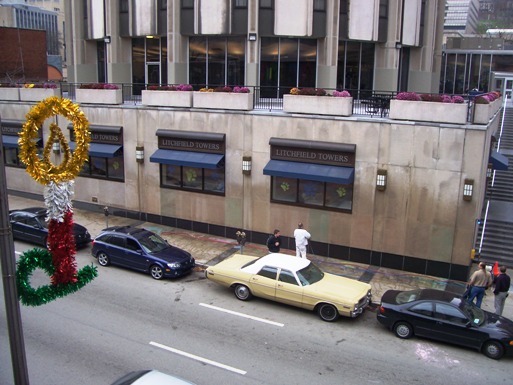 Light's Lovely Litchfield Towers iPDM mural loses liveliness
Watch a clip of the worker washing down the lively iPDM mural (Nov. 29, 06, 1:04 p.m.)
Watch a clip of Light coming to see his lovely lively mural being washed down but his banners bringing brightness to a walk through! (Nov. 29, 06, 1:05 p.m.)
The concern with this whole incident is that when Light was painting the wall in the middle of the night, he was not arrested or given a citation by neither the Pitt Police, whose mini station is located across the street, the Pittsburgh Police, nor was he stopped from painting the wall from Pitt's Housing department whose office is right next door so why was the paint taken down now?
What Light did was not illegal because if it was, what you would have been reading would have been that a member of Pitt's fraternity was arrested on charges of vandalism. A mistake and miscommunication should not have been used to penalize the work Light had done all night.
There were five hours during the night he could have been stopped and which would have saved him the time but he was not. Therefore, the painting to promote the PDM should have been left there until Sunday afternoon.
It is surprising the university went ahead with the washing because all the donations from PDM actually benefit the University of Pittsburgh Medical Center's Cancer Institute. Last year PDM fundraised close to $40,000 during the marathon.
According to Katze, the money raised comes from donations of student organizations who sponsor dances for a $1.00 and from those that come to watch the PDM.
Even though the paint mural came off within minutes which took hours to put together, Light and Katze did have a bright moment! They were very pleased with the twelve banners they put up at the walkthrough facing towards South Oakland. Light and Katze were briefly assisted by Alicia DeLuca of Delta Phi Epsilon, Kathyrn Fleegal of Alpha Delta Pi, and Megan Humphreys of Delta Delta Delta who were excited about the finished promotional at the walkthrough bridge.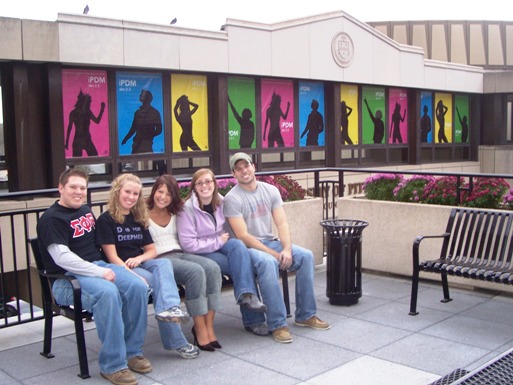 Left to right: Brian Katze, Alicia DeLuca, Megan Humphrey, Kathryn Fleegal, and Evan Light
Greek Life Archives:
"Egyptian-American Ascends to SGB Presidency with INTEGRITY believing in Almighty!" (Nov 15, 2006, 3:57 p.m.)
"Chris Meaner Communicates Concerning the A-Z's of Greek Life Community!" (Oct 16, 2006, 10:41 A.M)
Video: "Greek Life Gives Gifts of Giving through Greek Sing 2006!" (Aug 13, 06)
Video: Watch Cavallaro and her sisters of Delta Zeta take 2nd place at Greek Sing 2006
Video: Watch the winning performance from Greek Sing 2006!

Video: Watch Alpha Phi Alpha open Greek Sing 2006 with a stomp
Video: Greek Talent Show Online Winner is Claire Natale
Video: Vote for your favorite Greek Life Talent Show!
Video: Sorority Sisters Seek Students Selectively!
Photos: Chi Omega Sorority Sisters Sweep for a Sweet 3-Peat!
Video: Watch a clip of Chi Omega and Zeta Beta Tau celebrating their victory at Greek Sing (April 02, 05)
Photo: Student Government Board member Liz Blasi enjoys a meal at Schenley Cafe with her Chi Omega sisters (Jan 2005)
Photo: Kappa Kappa Gamma sister Jessica shows her Pitt spirit with her friends! (Dec 11,04)
Photo: Newest sisters of Delta Zeta sorority enjoy a meal at Schenley Cafe after their initiation! (Dec 06,04)
Photo: Greek communities can communicate charity and care! (Sept 09,04)
Photo: "Sorority sisters seek scrumptious sandwiches!" (Sept 2003)
Photo: Cavalier smashed in the Schenley Quad (Sept 2003)
Photo:Pitt student assimilates into Delta Zeta (Nov 2002)
Photo: What Kappa Delta means to me! (Sept 2002)
Photo: "Chi Omega rocks in student's life!" (Jan 2002)