Cavalier smashed in the Schenley Quad
Ramesh C. Reddy
Pittsburgh Standard

On a sunny afternoon, on Friday, Sept 19, 2003, Pitt Police officer Lasky smashed a Cavalier in the Schenley Quad. Yet, spectators were not horrified but watched in amazement!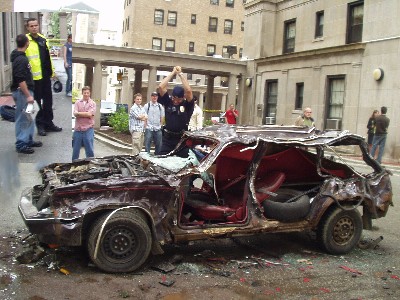 Photo by Ramesh C. Reddy
Officer Lasky is seen talking with Barron Sample, TKE secretary before taking time to smash the Cavalier.
The smashing of the Cavalier was a fundraiser event sponsored by the fraternity Tau Kappa Epsilon (TKE) to raise money for the Ronald Reagan Alzheimer's Association (RRAA). They were asking participants to donate whatever they could to smash the car with a sledgehammer. TKE started the fundraiser at noon and ended it at 8:00 p.m.
They wanted to sponsor the event because Reagan has Alzheimer's disease and he is one of TKE's Alumni. Last year, the national chapter raised $450.00.
Participants not only relieved their aggression by smashing the Cavalier but many of them got blisters and bruises on their hands for hitting it over and over. This however did not stop them from participating.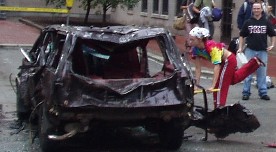 Kasia Bak, a 16-year old freshman said, "It feels great. It is good exercise first of all. I am just mad it was not me that took the door off."
Bak first hit the car at 12:30 p.m and then came back after her class and planned to stay until 8:00 p.m taking shots at the car with bruised hands.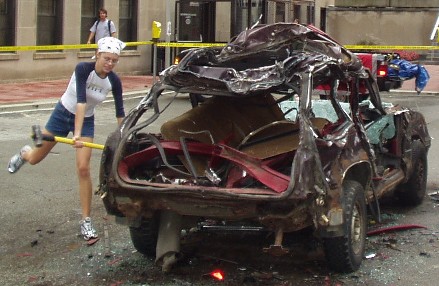 Photo by Ramesh C. Reddy
Bak continued to have fun smashing the Cavalaier
Nicole Hillman, a Resident Assistant (RA) said, "I think it is great. I feel bad for the people who have to clean up. It definitely fuels people's rage to destroy stuff."
LeChung Wang, a RA at Bruce Hall where the sound could be heard on the top floors did not have a problem with the noise.
"I thought it was interesting to watch people do that. It is quiet amusing. It's on a Friday, [so] it is okay; a weekday would be a disturbance", said Wang.
Not everyone took to the idea of smashing things for donating money.
Andrea Proie, a Pitt student said, "I think if you donate money you need to get a hug, not beat the [c….] out of something."
While participants used the sledgehammer to smash the car, they and spectators were exposed to Country music coming from a truck parked with a TKE banner.
Bak was getting tired of the country music and wanted the music to change.
Adam Tiernei, pledge master, rush chair, and social chair at TKE said, "Country music, that's all I listen to! That's my truck and I want to listen to it. If my brother brought another CD, I will put it on."
For those who wanted to listen to more than Country music, four students sang songs such as "God Bless America" and "Total Eclipse of the Heart."
Anita Triggs, the Fraternities and Sororities coordinator at Pitt addressed TKE members regarding the complaints received from staff who feared for their safety. To appease their fears more caution tape was used to block off the area.
The event also attracted those who were giving out free afternoon TRIB papers across campus.
The event is an annual fundraiser TKE does for the RRAA and got the idea from their other chapters. They had success last year and decided to do it again.
"Last year, we made $60.00 income after paying for the spot and the car. We are aiming to make $200.00 this year", said Sample.
Within three hours of the event, they had already raised at least $60.00.
Sponsoring the event was not free as they had to pay $42.00 to secure part of the Schenley Quad and $140.00 to get the car this year.
"It's a positive event to raise money for TKE philanthropy and it attracts a lot of students every year", said Triggs.