"PDM II Provides Promising Funding at Fitzgerald Fieldhouse to Fight Cancer"
Ramesh C.Reddy
Pittsburgh Standard

Monday, December 04, 2006
Student dancers from Greek Life and other organizations took a day from their life to fundraise for those families that have someone who loses more than day to cancer. The fundraiser was part of Pittsburgh Dance Marathon (PDM) II, organized by the Greek Life community, which occurred at the Fitzerald Fieldhouse on Dec. 2 and Dec. 3 from 3:00 p.m. to 3:00 p.m.
More than 60 dancers took to the floor of the fieldhouse to dance the 24 hrs away to raise thousands of dollars to give to the University of Pittsburgh Medical Center's Hillman Cancer Institute.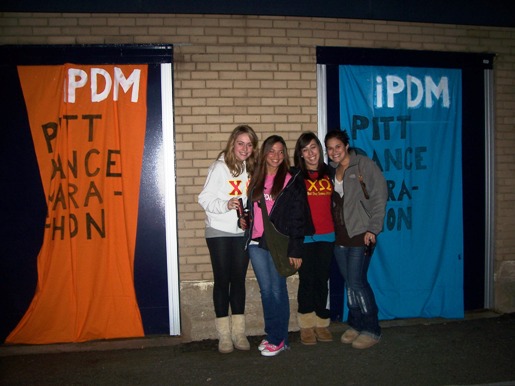 Chi Omega pledge sisters came to support their sisters Claudette, Janeace, and Katie
As the dancers started to do their moves on the afternoon of Sat. Dec 02, tables were set up for raffles, volunteer sign ups, Greek sign ups, and donations. Those tables were attended to by volunteers for the 24-hr marathon.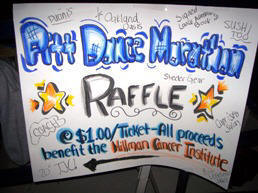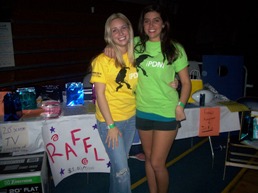 Shawna McCallin and Kaitlin Guarascio of Delta Delta Delta at the raffle table
Moralers who were there to give moral support to the dancers made sure their dancers were up and running to the beat of the music and also had posters throughout the fieldhouse to show their support. Chi Omega sorority had three dancers, Katie Rice, Claudette Dagorn, and Janeace Slifka who danced the day and night away to help the victims and survivors of cancer to find a cure one day with the money raised.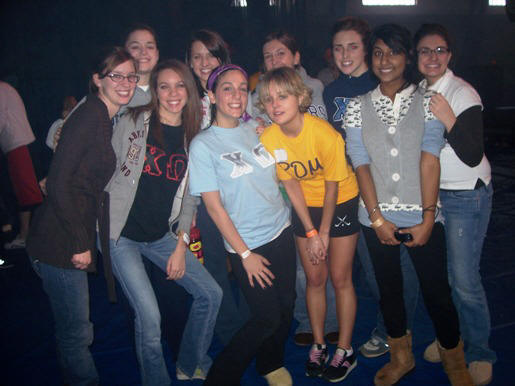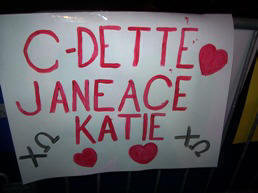 The dancers and their moralers from different organizations danced away to Michael Jackson's thriller, the Macarena, and to many other songs during the 24-hour marathon.
To help the dancers during the 24-hour marathon stay on their feet, Penny Sema, the emcee for the 24-hr marathon had them participate in different events such as a limbo dance competition, dodge ball tournament, red line competition, etc if they chose to. The Panther Mascot of the Pitt Cheerleading team made an appearance and started to dance too.

Dancers dance and dance away during the dance marathon
After and before the event was about to end, the staff and supporters enjoyed cakes provided for them and all those attending the PDM.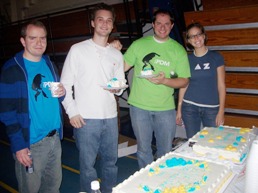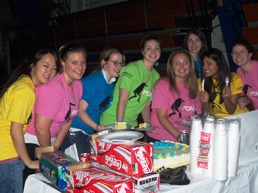 The event ended with the staff of the PDM having the dancers introduce themselves and the organization sponsoring them before they announced the total raised in this years PDM which was over close to 53,000 dollars and more than 15,000 from their inaugural year.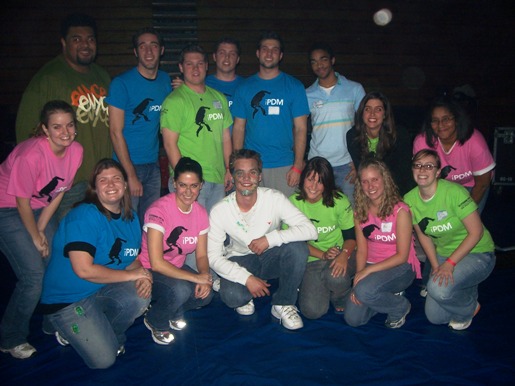 Many of the staff at the PDM II who made the entire event possible!
More coverage of the event will be available online in the future!
Greek Life Archives:
Video: "Light's Lovely Litchfield Towers iPDM Mural Loses Liveliness" (Dec 01, 06, 1:22 p.m.)
"Egyptian-American Ascends to SGB Presidency with INTEGRITY believing in Almighty!" (Nov 15, 2006, 3:57 p.m.)
"Chris Meaner Communicates Concerning the A-Z's of Greek Life Community!" (Oct 16, 2006, 10:41 A.M)
Video: "Greek Life Gives Gifts of Giving through Greek Sing 2006!" (Aug 13, 06)
Video: Watch Cavallaro and her sisters of Delta Zeta take 2nd place at Greek Sing 2006
Video: Watch the winning performance from Greek Sing 2006!

Video: Watch Alpha Phi Alpha open Greek Sing 2006 with a stomp
Video: Greek Talent Show Online Winner is Claire Natale
Video: Vote for your favorite Greek Life Talent Show!
Video: Sorority Sisters Seek Students Selectively!
Photos: Chi Omega Sorority Sisters Sweep for a Sweet 3-Peat!
Video: Watch a clip of Chi Omega and Zeta Beta Tau celebrating their victory at Greek Sing (April 02, 05)
Photo: Student Government Board member Liz Blasi enjoys a meal at Schenley Cafe with her Chi Omega sisters (Jan 2005)
Photo: Kappa Kappa Gamma sister Jessica shows her Pitt spirit with her friends! (Dec 11,04)
Photo: Newest sisters of Delta Zeta sorority enjoy a meal at Schenley Cafe after their initiation! (Dec 06,04)
Photo: Greek communities can communicate charity and care! (Sept 09,04)
Photo: "Sorority sisters seek scrumptious sandwiches!" (Sept 2003)
Photo: Cavalier smashed in the Schenley Quad (Sept 2003)
Photo:Pitt student assimilates into Delta Zeta (Nov 2002)
Photo: What Kappa Delta means to me! (Sept 2002)
Photo: "Chi Omega rocks in student's life!" (Jan 2002)