"Faithfully Answers Today Helpfully Everlasting Redeemer! (F.A.T.H.E.R)
"
By Ramesh C.Reddy
Pittsburgh Standard



June 15, 2008
Editors Note: The devotional has a background song which can be heard if you use Internet Explorer.
SCRIPTURE:
"To our God and Father be glory for ever and ever. Amen! Greet all the saints in Christ Jesus. The brothers who are with me send greetings. All the saints send you greetings, especially those who belong to Ceasar's household. The grace of the Lord Jesus Christ be with your spirit. Amen." (Philippians 4:20-23)
EXPOSITION:
What stuck out to me was Paul giving glory to God even after everything he's been through. His circumstances are not what he bases God getting glory. After letting the Philippians know that God will supply all their needs according to his glorious riches in Christ Jesus, he praises the Lord with the words 'be glory forever and ever'
What I found significant is that Paul addresses God more personally as Father. God is seen not only as his Father but the Father of the Philippians too. There is a son-Father relationship here. No matter what is happening to Paul, he knows that God deserves to be glorified. That is exciting! For me this statement also lets the Philippians know that God is their Father too.
I am so excited to claim the promise 'what great love the Father has lavished upon us that we should be called His dear children.' (1 John 3:1)
Isn't that amazing?
It is for me because whether we have an earthly father or not, we can always have a Heavenly Father we can depend on and turn to. I know no matter what Paul is going through, he has his trust and faith in His Heavenly Father and gives Him the glory.
The next I see Paul doing is speaking to the children of God. The exhortation is for one another to greet all in Christ Jesus even as they are greeted, especially those of Ceaser's household. This is very significant because he is letting the Philippians know there are children of God even in Ceasar's household now.
That becomes that much more significant when we realize that many people thought they had no king but Ceasar. Now there is a band of believers within Ceasar's household that do not give him the allegiance but to God, their Father. It is possible it could be those who are related to Ceasar too. God is their King now!
After talking about God and exhorting them to greet others, Paul ends the letter with a blessing. The blessing itself is very profound because it starts out with 'GRACE' and the entire letter is concluded with 'GRACE'
"The grace of the Lord Jesus Christ be with your spirit. Amen!"
What came to my mind is whether it is Paul, the Philippians, or Ceasar's household, they all have one thing in common. That is having God as their Heavenly Father so they can be saints in Christ Jesus and brothers/sisters to one another. But all this has only been possible because of GRACE. It is the Lord's grace that allowed them all to be His children and experience their Heavenly Father through Jesus Christ our Lord. That is exciting. Those are important implications for my own life that I learned.
IMPLICATIONS:
I saw important implications for my own life. I need to always have a personal relationship with Father God like Paul did no matter what is happening to me and around me. Paul is able to say, 'To God and our Father' implying that God is not only Paul's Father but also the Father of the Philippians because they have turned to Him.
God has been my Heavenly Father too as I have turned my life over to Him. I am excited to say that I have a personal relationship with my Heavenly Father.
This Father's Day, of June 15, 2008, children and churches celebrate and honor father's that the Lord Jesus has given to them to be leaders and shepherd's of the household. Yes, father's should be honored but not only this day but everyday which is what yesterday's devotional was based on regarding 'How do you honor your P.A.R.E.N.T.S in life?" to the right bar!
Sadly, not everyone will have an earthly father to honor and love this Father's Day because of death. This is what has happened to my family. This is the first Father's Day we have experienced without our dad because my beloved dad who was married to my mom for 37 years went to be with the Heavenly Father on December 17, 2007. It has been a sad time but also a time to remember what our dad did for us.
I hope you read the memoriam of my dad by clicking on the picture and are blessed by it!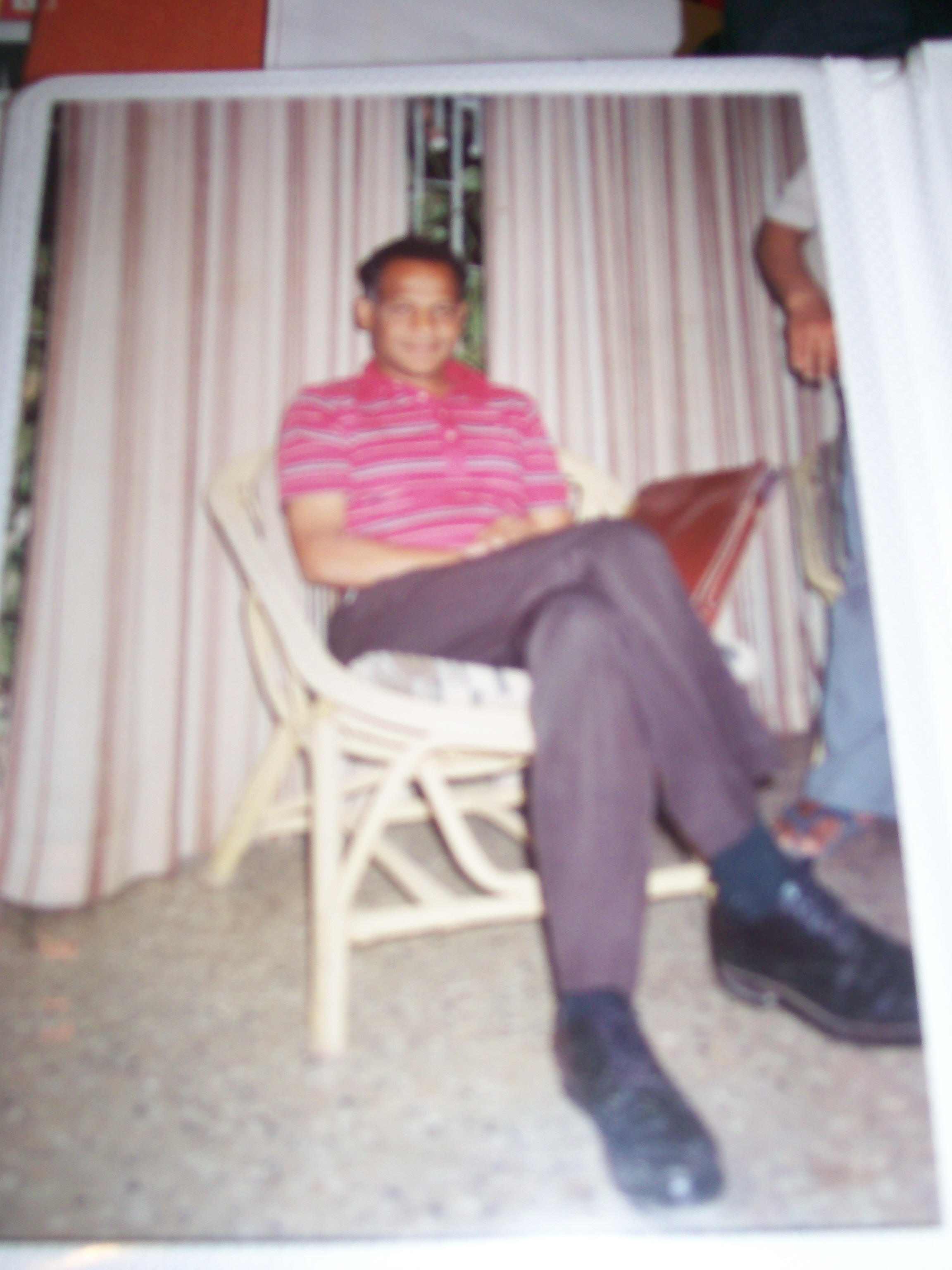 God promises to be the Father of the fatherless. It has not been easy for our family especially today but we also know our beloved dad is with Father God in Heaven. We also know that our Heavenly Father wants to always be our Father to take care of us, lead us, and guide us.
So this Father's Day, it is not only to celebrate our earthly dad that God has given to us, but also to celebrate our Heavenly Father. Everyone should have a reason to celebrate Father's Day even if it cannot be celebrated twice!
Our Heavenly Father loves us so much that He gave His only begotten Son, Jesus Christ to die for us so that whoever believes in what Jesus did for us will have Eternal Life. Jesus went to the cross to die for you and me. Jesus paid the penalty for our sins so we could be made right with God. Now when God sees us He sees the precious cleansing blood of Jesus covering over our sin, so we are seen through the righteous of Jesus.
This allows us to have that personal relationship with God because God wants you and me friend. He loves us so much that He made a way to restore our relationship to Him through the death and resurrection of Christ.
Yes, it is wonderful to know 'How great is the love the Father has lavished upon us that we should be called His dear children'. (1 John 3:1)
Whether we have an earthly father or not, we can always have our Heavenly Father with us who will take care of us and be with us. Yes, He will friend. I know beyond a shadow of a doubt.
I ask you now dear friend, what have you done for your F.A.T.H.E.R in life?"
Friend, we are to love and honor our father that God has given us here on earth because God has placed them in authority over us. I cannot directly honor my beloved dad because he went to be with Jesus on Dec 17, 2008 but I can still honor his memory.
I don't know what kind of earthly father you have been exposed to. I used the word exposure because any kind of exposure of anything or anyone can affect us positively or negatively. It could also affect how we perceive other areas of our life. No matter how your earthly relationship has been, I want you to know that your Heavenly Father loves you so much. Oh yes, He does!
It is easier for people who have had a good relationship or bad relationship with their earthly father to project those feelings upon Father God. The relationships we have with our earthly father determines many times our relationship with Father God.
No matter how your earthly relationship has been with your dad, know that it is nothing compared to the relationship your Heavenly Father wants with you. When we were separated from our Heavenly Father, our Heavenly Father took the initiative to bring us back to Him.
Now, when we acknowledge our sins before Father God and ask Him to forgive us of all our sin as we repent of them, we have taken the first step. Now we need to believe and know that Jesus Christ is the only one that could wipe our slate clean no matter how stained it has been. It is His precious cleansing blood that washes us whiter than snow.
You can come as you are and receive the love our Heavenly Father wants to bestow upon you. Friend, what better day to give your life to Father God than on Father's Day. You can give your life to God on any day but why wait.
It is appointed to man to die once and then the judgment.
None of us know when we will leave this earth. We can leave suddenly and may not have that opportunity to have that relationship with God so now is that time.
Come as you are and give your life to Father God no matter how your earthly life is going. God's love is never based on what we can give Him. We can never pay the debt of what God did for us through Jesus Christ. It is God's love that helps us go on.
God loves you! God loves you! God loves you!
Believe that and know that because He loves you He made a way for you to enter a relationship with Him.
But never be deceived into thinking because God loves you, He will accept you even if you don't give your life to Him. This can be far from the truth and those that teach that 'God loves everyone to receive them into Heaven no matter what religion they follow' are telling you lies.
Yes, God loves humanity but God's love for humanity does not give people free access to Heaven. God in His holiness cannot and will not ever let sin enter into His presence.
This means God can love you so much but because of your sin, God cannot allow you to come into Heaven and defile Heaven without accepting the antidote provided through the sacrifice. You see friend, we can do 99% of good things in our lives and be seen as a saint from the world's standard's but that 1% bad thing we have done would have still made us sinful in God's eyes.
No amount of good things we do can cover over the bad we have done. It is like 99% of water having 1% of cyanide dropped in. No matter how much you reason, that water is not pure anymore.
It is the same way with our lives. Never confuse God's love to mean everyone has free access to Heaven. Because of God's love for us, God went through so much pain as God-incarnate to save us. God knew we cannot save ourselves no matter what we do on our own.
People still try to save themselves by all the good they do so they can reach God but God says, "all your works are like filthy rags to me"
God also says, "All have sinned and fallen short of the glory of God".
This means no human being is perfect and we cannot reach God on our own. God has to reach us and God has done that through the sacrificial death of Jesus Christ. I thought about an analogy called 'Calvary Hospital of Salvation'
The deadly VIRUS has infected the mind, body, and soul spreading rapidly. You and I cannot do anything to heal ourselves of this virus except come to the HOSPITAL where the GREAT PHYSICIAN waits so He alone can heal us.

The sick are gathered from all corners of the earth and come to this hospital. This hospital is called CALVARY HOSPITAL OF SALVATION and the EMERGENCY WARD is called GOLGOTHA.

The GREAT PHYSICIAN is not like other doctors who can only treat patients with physical ailments but this GREAT PHYSICIAN is much more and knows He has to stay 72 HOURS for every dying person there to be healed.

He knows what He has to do! This GREAT PHYSICIAN knew that only His BLOOD can wipe away this epidemic VIRUS, so for you and me He went to the blood transfusion room where people were about to die. There He lay down on the bed made of WOOD.

The surgeons walk into the room. They turn this GREAT PHYSICIAN on His back. Instead of using an IV, a WHIP with sharp glass, etc is used to draw out the BLOOD from the GREAT PHYSICIAN'S back! It does not stop there but to elevate the head on the bed of wood, a CROWN OF THORNS is used which draws more BLOOD.

As the head is elevated, the GREAT PHYSICIAN's hands are stretched wide on the wooden bed. Then the feet are bound together. This is done for the BLOOD transfusion to begin. Instead of using an IV, NAILS and a HAMMER are used. The NAILS are pounded through the hands into the wooden bed with a HAMMER so the BLOOD flows and that BLOOD is saved. The NAILS are pounded through the feet into the wooden bed with a HAMMER so more BLOOD flows and that BLOOD is saved. As the BLOOD continues to flow from the GREAT PHYSICIAN's body, the GREAT PHYSICIAN flat lines. Then the surgeons insert a SPEAR into the heart to make sure all the BLOOD is out. All the BLOOD is out!
Now this BLOOD was poured out into 'BLOOD DONOR' bags to be collected for anyone who wanted a transfusion to be healed of this deadly VIRUS known as SIN. In essence, it is the BLOOD that was shed at Golgotha on the CROSS of wood that has the power to SAVE.
The BLOOD is available for NOTHING BUT THE BLOOD could become the antidote for humanity's deteriorating condition caused by the DEADLY VIRUS.
Now the CALVARY HOSPITAL OF SALVATION has a BLOOD DONOR whose BLOOD can be used to save everyone there from this EPIDEMIC VIRUS.

Those dying need to be taken there to receive the BLOOD transfusion that is available. However, the BLOOD will not be forced upon those dying! THE PUREST RED ANTIDOTE is only given to those that are willing to receive the BLOOD TRANSFUSION so they could LIVE.

All that accept the BLOOD transfusion are being CLEANSED of this EPIDEMIC VIRUS in their system that is infecting the mind, body, and soul. This BLOOD goes into the dying person's mind, body, and soul and eats away at the virus, cleaning them and making them pure. This VIRUS is known as SIN. The BLOOD is the PRECIOUS CLEANSING BLOOD OF THE GREAT PHYSICIAN, JESUS CHRIST.

72 HOURS LATER, there is a commotion at the JOSEPH OF ARIMATHEA MORGUE. THE GREAT PHYSICIAN is not there anymore and the ANGELS that visit tell loved ones who came there, that THE GREAT PHYSICIAN IS ALIVE.

Those at the CALVARY HOSPITAL OF SALVATION come to realize that His CLEANSING BLOOD will never run out. Anyone infected who wants to be healed can accept what JESUS did for them that one day on the CROSS of WOOD at CALVARY near the ward called GOLGOTHA and be covered in His precious CLEANSING BLOOD forever.
This happened 2000 years ago! It needed to happen only once! JESUS paid the price for you and me so that we could have the ANTIDOTE forever, for His cleansing BLOOD shed on the CROSS of WOOD will never deplete but will be available for all races of humanity forever until the JUDGMENT DAY.
We need to accept the ANTIDOTE through a TRANSFUSION before JUDGMENT DAY because after that the BLOOD won't be available anymore to SAVE.
Now is the TIME OF SALVATION while you are alive! Don't let the BLOOD JESUS SHED be in vain. JESUS became the DONOR for you so accept the TRANSFUSION free of charge. It is given as a GIFT OF GRACE!
You can forever be SAVED and allow JESUS to TRANSFORM you. JESUS did not remain in the JOSEPH OF ARIMATHEA MORGUE forever but after 72 HOURS came back to LIFE to SAVE. So let us accept what Jesus did for us and be SAVED! There is a reason it is called CALVARY HOSPITAL OF SALVATION!
Jesus did it so we can have a relationship with Him who is our Heavenly Father. God came as God-incarnate to save humanity. He paid the debt we could never pay back. The least we can do is celebrate FATHER'S DAY everyday because of what our Heavenly Father has done for us.
"This is my blood of the covenant, which is poured out for many for the forgiveness of sins." (Matthew 26:28, NIV)
"Jesus said to them, "I tell you the truth, unless you eat the flesh of the Son of Man and drink his blood, you have no life in you. Whoever eats my flesh and drinks my blood has eternal life, and I will raise him up at the last day." (John 6:53-54, NIV)
"For all have sinned and fall short of the glory of God, and are justified freely by his grace through the redemption that came by Christ Jesus. God presented him as a sacrifice of atonement, through faith in his blood." (Romans 3:23-25a, NIV)
"But God demonstrates his own love for us in this: While we were still sinners, Christ died for us. Since we have now been justified by his blood, how much more shall we be saved from God's wrath through him! For if, when we were God's enemies, we were reconciled to him through the death of his Son, how much more, having been reconciled, shall we be saved through his life!" (Romans 5:8-10, NIV)
"In him we have redemption through his blood, the forgiveness of sins, in accordance with the riches of God's grace that he lavished on us with all wisdom and understanding." (Ephesians 1:7-8, NIV)
"But now in Christ Jesus you who once were far away have been brought near through the blood of Christ." (Ephesians 2:13, NIV)
"For God was pleased to have all his fullness dwell in him, and through him to reconcile to himself all things, whether things on earth or things in heaven, by making peace through his blood, shed on the cross." (Colossians 1:19-20, NIV)
"How much more, then, will the blood of Christ, who through the eternal Spirit offered himself unblemished to God, cleanse our consciences from acts that lead to death, so that we may serve the living God! For this reason Christ is the mediator of a new covenant, that those who are called may receive the promised eternal inheritance—now that he has died as a ransom to set them free from the sins committed under the first covenant." (Hebrews 9:14-15, NIV)
"May the God of peace, who through the blood of the eternal covenant brought back from the dead our Lord Jesus, that great Shepherd of the sheep, equip you with everything good for doing his will, and may he work in us what is pleasing to him, through Jesus Christ, to whom be glory for ever and ever. Amen" (Hebrews 13:20-21, NIV)
His grace is for you too friend! You can receive it and become a child of God. He will take care of you and get you through. You can experience His grace in Christ Jesus for your spirit. For the Lord heals the broken hearted and binds up their wounds.
Before I shared with you about my dad and about Father God, now I want to share with you an interview conducted on WORD-FM 101.5 about a dad who has raised 8 wonderful kids with his wife as He has always depended on His Heavenly Father having a relationship with Jesus Christ!
Listen to the interview at Father's Faith Elevates Eight Children's Care! (June 15, 08)
May you turn to your Heavenly Father who loves you so much that He has given you His Word full of promises! Amen!
"Faithfully Answers Today Helpfully Everlasting Redeemer!" (F.A.T.H.E.R)"What have you done for your F.A.T.H.E.R in life?"
PRAYER:
Oh Heavenly Father, O Light of the world, I seek you. I know that step by step you can guide me and lead me. I want to thank you so much for the earthly father's you have given us. Thank you for dad's in this world and those that are already with you. I pray for those that still do not know you here on earth that they give their lives to you. Thank you for your awesome love and everything you do that shows your glory. Lord, many times our concept of you is based on our own concept of our earthly father. Our concept becomes distorted especially when we do not have a positive encounter with our earthly father. Forgive us Lord when that happens, we can sometimes project that to you. I pray that you work in the hearts of earthly fathers to become loving towards their children always as they take you as their example. Father God, thank you for your awesome love that you have lavished upon us that we should be called your dear children. This alone makes me excited Father God for my view of you does not have to be based on my interaction here on earth. On the contrary, your Word is filled with how much you love me and have encompassed me with your grace. Thank you Father God. Please help me to always look to you and depend on you Father God. Thank you that I can call you Father. You will be there for me always and your love will never cease. Every thing that has breath should praise you Lord. Forgive us of our sins and please help us to live for you. Thank you for the grace you bestow upon our spirit as your children in Jesus Christ. Thank you for hearing us and answering us. In Jesus Name I Pray Father God! Amen!
If you want to be a soldier in the Lord's army, you can become it right now. Now is the time of Salvation! You do not have to wait but can pray this prayer and give your life to Christ to serve Him daily! There is no draft but coming to Christ is voluntary. He loves you so much and wants you to come to Him! He will take care of you, guiding you and leading you!
Dear Jesus, I love you. Thank you for loving me so much and thank you for choosing the cross to die for me. You became the Son of Man and lived here on earth. Then you humbled yourself and became obedient to death-even death on the cross. Thank you for dying on the cross for my sin. You died on the cross so that I can be covered in your blood and cleansed by your blood as I acknowledge that I need you and cannot enter Heaven without you being my pathway. So, Jesus I confess all my sins to you and all the ways I have tried to get into Heaven when you already provided the means and the Way. Thank you for all that you have done for me. The cross is the place, a wonderful place where accused and condemned find mercy and grace. Thank you Jesus, it is at the cross where the wrongs we have done and the wrongs done to us were nailed at the cross. Thank you Jesus, at the cross you died for our sins and at the cross you gave your life for us. I thank you for that and thank you for coming back to life to save us. Thank you Jesus for being there for me! Thank you for loving me. I love you Jesus! Please take me as I am and make my life into something that you will be proud of. I surrender my life to you and need your help to live for you. I am forever grateful for what you have done for me and I can never repay you. I want to live for you and need your help. Help me Jesus please. I thank you Jesus for saving me! Thank you for hearing my prayer and answering me. Whatever your will give me the willingness and strength to bear it. Thank you Jesus! I acknowledge you as my Lord and Personal Savior! In Your Name I Pray precious Jesus! Amen!
Make this your prayer. Don't let the enemy deceive you into thinking you need all the answers before coming to Christ. Let me just assure you though you may not have all the answers right now before coming to Jesus, He will answer them slowly. Yes, He will for I know our Redeemer will! Amen!
Prayer:
Jesus, I thank you for being the Bread of Life. You are the Living Bread of my life. Thank you for coming from Heaven and giving your life for the life of the world. You sacrificed yourself for humanity. Thank you Lord when we eat of you symbolically making you part of our life, digesting what you teach us by following you, we can be living Eternally, and the fruit that comes will reflect and resemble your life. I want that Father God. I want that Lord Jesus! I want that Holy Spirit! I know of a lot of people who partake of Holy Communion where the bread represents your body broken for their sin and the juice represents your blood shed for their sin. When we partake of Holy Communion, we are reminded that we are remembering you. I want to remember you always Lord Jesus. But for me to remember you always, I need to know you and acknowledge everything you said you are. So right now I acknowledge that you are my Lord and Personal Savior who died and rose again to give me life from sin. So right now, I come to you and say how sorry I am for my sin and living a life on my own. I repent of my sin and ask you to forgive me of my sin with your cleansing blood which I accept. Wash me and I will be clean from this infection of sin. Come Lord Jesus and please become part of my life as you live in me and I will live for you. I thank you Jesus for coming into my heart and making my heart your home. Thank you for living in me Jesus and I will live for you and serve you the rest of the days of my life. I do need your Spirit to reside in me and work in me and through me so I surrender all that I am and will be to you. Whatever your will is for me, please give me the strength and willingness to bear it and rejoice in you. Thank you so much Jesus. I thank you Jesus for becoming my Lord and Personal Savior. I thank you Jesus you have heard my prayer and have answered me. I thank you that I am your child Oh God. I thank you for becoming my only Way to Eternal Life. In Your Name I Pray Jesus! Amen!
Friend, if you have prayed this prayer and meant it in your heart, you are a new creation in Christ and all old things are passed away and everything has become new! You may feel something or may not but don't base it on feelings but base your new life in Christ on the promises of our Savior who will never leave you nor forsake you! Amen!
Spend time in His word and let the Lord speak to you! Start out in the Gospel of John! You can also check out the Gospel of Mark which are the devotionals I have been going through. Learn from Jesus through study and prayer. Also find yourself a church fellowship and a college fellowship you can be part of where you can be part of a community of believers to supplement your own walk with the Lord. Let it be a Bible-believing and Bible-breathing church! Believe in Bible Live Eternally!
Feel free to email me at reddy4hisglory2004@yahoo.com if you want to meet to study the Bible, pray with, talk about Spiritual issues or whatever is on your mind! My number is 412-720-4579
"This is my work and I can do it only because Christ's mighty energy is at work within me." (Colossians 1:29, TLB)
Love in Christ,
Ramesh
.Click picture to read my dad's memoriam: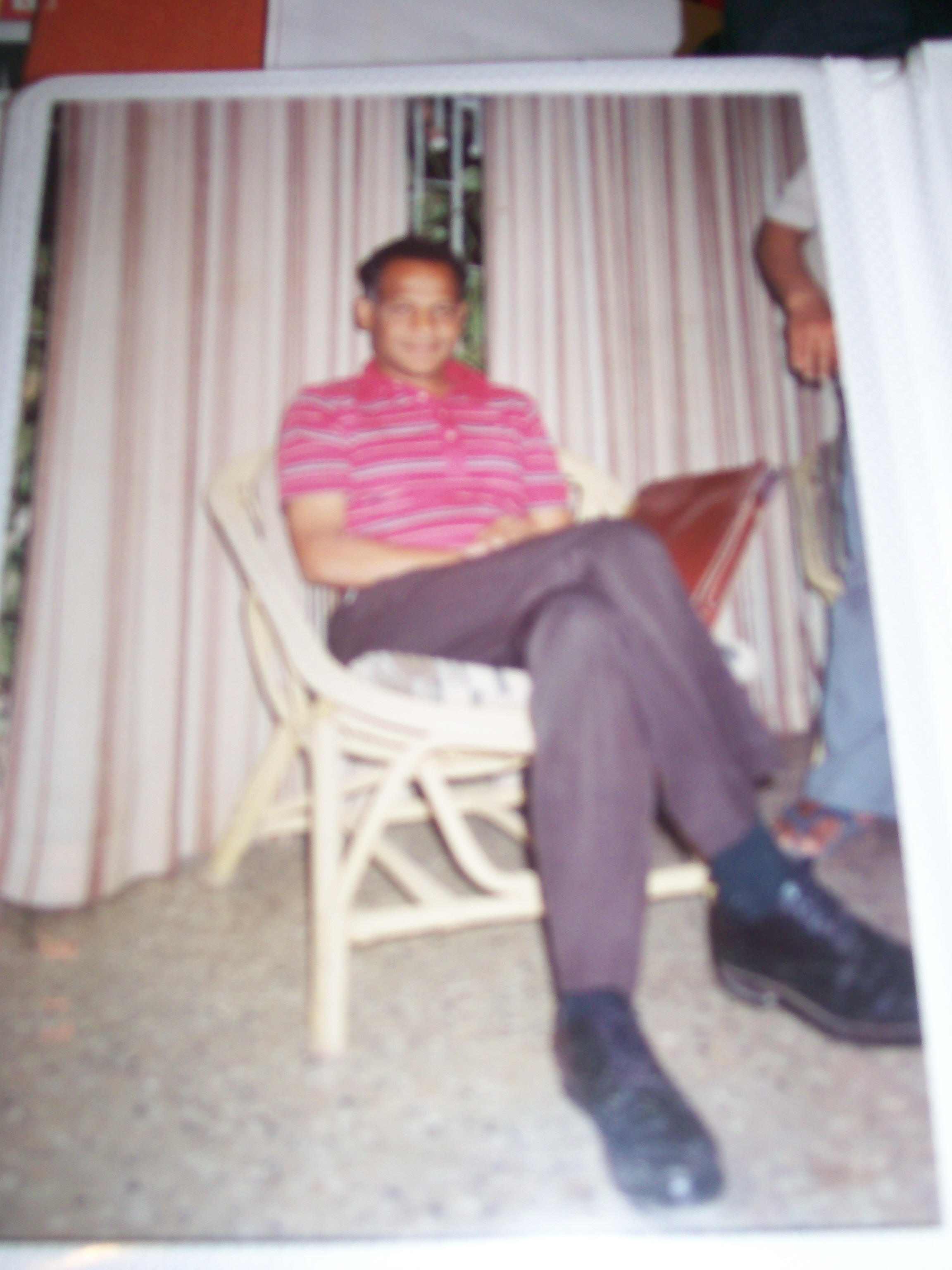 ' I AM ' Series Archives:
What kind of L.I.G.H.T do you follow? (Dec 13, 07, 10:09 a.m.)
Gospel of Mark Archives:
Mark 1:1: "What does the G.O.S.P.E.L mean to you?" (Jan 15, 08, 1:15 p.m.)
Mark 1:1-4: "How seriously do you T.E.S.T.I.F.Y about prophesy?" (Jan 12, 08, 11:18 p.m.)
Mark 1:5-8: "Who do you P.O.I.N.T to?" (Jan 16, 08, 8:48 a.m.)
Mark 1:9: How will you take a S.T.A.N.D? (Jan 17, 08, 11:21 a.m.)
Mark 1:9-11: "How is your loving P.R.A.I.S.E?" (Jan 18, 08, 8:53 a.m.)
Mark 1:12-13: "How do you handle T.E.M.P.T.A.T.I.O.N?" (Jan 19, 08, 12:27 p.m.)
Mark 1:14-15: How do you handle T.I.M.E given to you? (Jan 21, 08, 1:31 p.m.)
Mark 1:16-18: "What kind of P.R.O.F.E.S.S.I.O.N are you in?" (Jan 26, 08, 10:22 a.m.)
Mark 1:19-20: "Without having to P.R.O.C.R.A.S.T.I.N.A.T.E, what should you do?" (Jan 29, 08, 10:44 a.m.)
Mark 1:20-22: "How do you rate in the B.U.S.I.N.E.S.S of Jesus?" (Jan 30, 08, 11:29 a.m.)
Mark 1:20-22: "Whose T.E.A.C.H.I.N.G.S do you follow?" (Jan 31, 08, 11:52 a.m.)
Mark 1:23-28: "What C.A.P.T.I.V.I.T.Y are you facing today?" (Feb 01, 08, 10:35 a.m.)
Mark 4:3-20: "What if Jesus talked F.O.O.T.B.A.L.L?" (Feb 02, 08, 10:35 a.m.)
Mark 1:29-31: "Where do you need H.E.A.L.I.N.G?" (Feb 05, 08, 11:44 a.m.)
Mark 1:32-34: "Where do you need an A.N.S.W.E.R?" (Feb 06, 08, 11:16 a.m.)
Mark 1:35-39: "Where do you give your S.O.L.I.T.A.R.Y time to the Lord?" (Feb 07, 08, 11:41 a.m.)
Mark 1:40-42: "Where do you need to be C.L.E.A.N?" (Feb 09, 08, 11:00 a.m.)
Mark 1:43-45: "What do your actions C.A.U.S.E?" (Feb 11, 08, 9:23 a.m.)
MARK CHAPTER 2:
Mark 2:1-2: "What do you do with your P.O.P.U.L.A.R.I.T.Y?" (Feb 12, 08, 9:52 a.m.)
Mark 2:2-5: "What kind of F.R.I.E.N.D are you?" (Feb 13, 08, 11:49 a.m.)
Mark 2:5-12: "Where does P.A.R.A.L.Y.S.I.S take hold of you?" (Feb 15, 08, 7:42 a.m.)
Mark 2:5-12: "What are you thinking in your M.I.N.D?" (Feb 16, 08, 11:08 a.m.)
Mark 2:5-12: "What do you represent by your A.C.T.I.O.N.S?" (Feb 18, 08, 8:23 a.m.)
Mark 2:13-15: "Where are you looking for A.C.C.E.P.T.A.N.C.E?" (Feb 19, 08, 11:22 a.m.)
Mark 2:15-17: "Who do you I.N.V.I.T.E to Jesus?" (Feb 20, 08, 9:57 a.m.)
Mark 2:18-20: "When do you F.A.S.T?" (Feb 21, 08, 9:32 a.m.)
Mark 2:21-22: "How do you see your L.I.F.E?" (Feb 22, 08, 9:56 a.m.)
Mark 2:23-28: "What kind of L.E.A.D.E.R will you be? (Feb 23, 08, 10:46 a.m.)
Mark 2:23-28: "What does the S.A.B.B.A.T.H mean to you?" (Feb 25, 08, 10:46 a.m.)
CHAPTER 3:
Mark 3:1-6:"Whose N.E.E.D.S do you meet?" (Feb 26, 08, 9:54 a.m.)
Mark 3:7-8: "What is your I.M.P.A.C.T?" (Feb 27, 08, 8:17 a.m.)
Mark 3:9-11: "What S.P.A.C.E do you give yourself?" (Feb 28, 08, 9:38 a.m.)
Mark 3:11-12: "How do you fight E.V.I.L?" (Feb 29, 08, 9:11 a.m.)
Mark 3:13-16: "What emphasis do you put on your R.E.L.A.T.I.O.N.S.H.I.P with Jesus?" (March 01, 08, 9:29 a.m.)
Mark 3:17-19: "Where do you have your A.P.P.O.I.N.T.M.E.N.T in?" (March 03, 08, 9:49 a.m.)
Mark 3:20: "Where do you G.A.T.H.E.R?" (March 04, 08, 12:07 p.m.)
Mark 3:21: "How are your actions seen by your F.A.M.I.L.Y?" (March 05, 08, 10:24 a.m.)
Mark 3:22-27: "How do you handle S.L.A.N.D.E.R?" (March 06, 08, 7:57 a.m.)
Mark 3:28-30: "What is your V.I.E.W of Jesus?" (March 07, 08, 8:18 a.m.)
Mark 3:31-34: "What do you do with God's Will?" (March 08, 08, 8:45 a.m.)
CHAPTER 4:
Mark 4:1-20: "What do P.A.R.A.B.L.E.S mean to you?" (March 10, 08, 7:15 a.m.)
Mark 4:1-20: "What if Jesus talked F.O.O.T.B.A.L.L?" (Feb 02, 08, 10:35 a.m.)
Mark 4:1-20: "Where are you in your W.A.L.K with the Lord?" (March 11, 08, 9:32 a.m.)
Audio: "Where are you in your W.A.L.K with the Lord?" (March 11, 08, 11:05 a.m.)
Mark 4:21-23: "What kind of L.A.M.P will you be?" (March 12, 08, 9:40 a.m.)
Audio: "What do you C.O.N.C.E.A.L?" (March 14, 08, 10:11 a.m.)
"What do you C.O.N.C.E.A.L?" (March 14, 08, 8:52 a.m.)
John 12:12-15: "How can you B.L.E.S.S the Lord?" (March 17, 08, 1:25 a.m.)
Philippians 2:8: "What does the C.R.O.S.S mean to you?" (March 20, 08, 1:16 p.m.)
"How do you handle D.O.U.B.T.S?" (March 25, 08, 12:36 p.m.)
Mark 4:24-25: "What do you do with what you H.E.A.R?" (March 31, 08, 8:39 a.m.)
Mark 4:26-29: "What do you do with the W.O.R.D of God?" (April 05, 08, 10:18 a.m.)
Mark 4:30-34: "What do you do with the S.E.E.D?" (April 07, 08, 11:48 a.m.)
Mark 4:35-41: "What are the S.T.O.R.M.S in your life?" (April 08, 08, 11:52 a.m.)
CHAPTER 5:
Mark 5:1-13: "Where is your T.O.R.M.E.N.T coming from?" (April 09, 08, 11:50 a.m.)
Mark 5:14-17: "Where do you need H.E.A.L.I.N.G?" (April 11, 08, 11:46 a.m.)
Mark 5:14-17: "What do people R.E.P.O.R.T about you?" (April 12, 08, 11:00 a.m.)
Mark 5:18-19: "What makes you A.F.R.A.I.D of Jesus?" (April 14, 08, 10:40 a.m.)
Mark 5:18-19: "Will you T.E.L.L others about Jesus?" (April 15, 08, 11:32 a.m.)
Mark 5:20: "What do you do with your T.E.S.T.I.M.O.N.Y?" (April 16, 08, 12:03 p.m.)
Proverbs 17:4: "What does G.O.S.S.I.P do to you?" (April 17, 08, 6:52 p.m.)
Exodus 12:5,7,11,13-14: "How do you know judgment will P.A.S.S.O.V.E.R you?" (April 24, 08, 9:26 a.m.)
Mark 5:21: "Why will you G.A.T.H.E.R before Jesus?" (April 28, 08, 9:36 a.m.)
Mark 5:22-24: "What place do you give P.R.A.Y.E.R in your life?" (April 29, 08, 7:51 a.m.)
Mark 5:24b-29: "Unclean Now? Christ's Leading Everyday Always Nurtures! (U.N.C.L.E.A.N)" (May 05, 08, 10:24 a.m.)
Mark 5:30-34: "Forever, Redeemer Everyday Excitingly Delivers Omnipotent Message!(F.R.E.E.D.O.M)" (May 05, 08, 10:24 a.m.)
Mark 5:35-37: "Timing Is Messiah's Involvement Nurturing Graciously! (T.I.M.I.N.G)" (May 07, 08, 10:07 a.m.)
Mark 5:35-42: "What place do you give G.O.D.S W.I.L.L in your life?" (May 08, 08, 9:33 a.m.)
CHAPTER 6:
Mark 6:1-2:"Where do you seek W.I.S.D.O.M for your life?" (May 09, 08, 10:31 a.m.)
Mark 6:2-3:"What do you do with your C.A.L.L.I.N.G in life?" (May 10, 08, 9:43 a.m.)
Mark 6:2-3: "Who/Where is your I.D.E.N.T.I.T.Y found in?" (May 12, 08, 8:45 a.m.)
Mark 6:4: "When do you feel A.C.C.E.P.T.E.D in your life" (May 13, 08, 8:21 a.m.)
Mark 6:4-6: "How is your F.A.I.T.H in the Lord?" (May 14, 08, 8:01 a.m.)
Mark 6:6-7:"What do you T.E.A.C.H by your life?" (May 15, 08, 10:34 a.m.)
Mark 6:6-7:"Who are you S.E.N.T by?" (May 16, 08, 6:49 a.m.)
Mark 6:7-11:"Where are you S.T.A.Y.I.N.G in your life?" (May 17, 08, 8:38 a.m.)
Mark 6:12-13: "How is your spiritual H.E.A.L.T.H in your life?" (May 20, 08, 7:41 a.m.)
Mark 6:12-14: "What have people H.E.A.R.D about Jesus through you?" (May 21, 08, 8:36 a.m.)
Mark 6:14-16: "What do you T.H.I.N.K about Jesus?" (May 22, 08, 10:02 a.m.)
Mark 6:16-17: "How do you handle D.O.U.B.T.S in your life?" (May 23, 08, 9:05 a.m.)
Mark 6:17-20: "When do you S.P.E.A.K out?" (May 24, 08, 9:32 a.m.)
Philippians 4:9: "What kind of S.O.L.D.I.E.R will you be?" (May 26, 08, 9:55 a.m.)
Mark 6:21-25: "What has the T.O.N.G.U.E done in your life?" (May 27, 08, 8:27 a.m.)
Mark 6:25-29: "What has P.R.I.D.E done in your life?" (May 28, 08, 8:25 a.m.)
Mark 6:30: "What is your M.I.S.S.I.O.N you have been called to?" (May 29, 08, 8:19 a.m.)
Mark 6:31-32: "Where do you find R.E.S.T in your life?" (May 30, 08, 8:04 a.m.)
Mark 6:33-34: "Who have you made the S.H.E.P.H.E.R.D of your life?" (May 31, 08, 8:37 a.m.)
Mark 6:35-44: "What kind of B.R.E.A.D do you eat?" (June 02, 08, 8:34 a.m.)
Mark 6:45: "Whose C.A.R.E are you really in?" (June 03, 08, 9:32 a.m.)
Mark 6:46: "When do you P.R.A.Y in your life?" (June 03, 08, 9:32 a.m.)
Mark 6:46-48b:"What T.R.O.U.B.L.E are you facing in your life?" (June 05, 08, 9:53 a.m.)

Mark 6:48-50: "What is the F.E.A.R you are facing in life?" (June 06, 08, 9:23 a.m.)
Mark 6:51-52: "How have you H.A.R.D.E.N.E.D your heart?" (June 07, 08, 9:09 a.m.)
Mark 6:53-54: "What are you R.E.C.O.G.N.I.Z.E.D for in your life?" (June 09, 08, 9:37 a.m.)
Mark 6:55-56: "Who do you I.N.T.R.O.D.U.C.E to Jesus in your life?" (June 10, 08, 10:50 a.m.)
CHAPTER 7:
Mark 7:1-8: "How do you view H.Y.P.O.C.R.I.S.Y in your life?" (June 11, 08, 6:11 a.m.)
Mark 7:1-8: "How does the Lord view your W.O.R.S.H.I.P in life?" (June 12, 08, 9:24 a.m.)
Mark 7:1-8: "Whose T.E.A.C.H.I.N.G.S do you follow in life?" (June 13, 08, 8:12 a.m.)
Mark 7:9-13: "How do you honor your P.A.R.E.N.T.S in life?" (June 14, 08, 9:16 a.m.)