"Seek Simmon's Farm For Fresh, Amazing Apples!
"


Kristen Agnew Lippert
Senior Staff Writer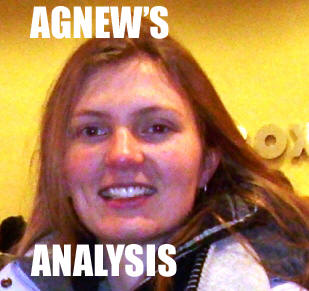 Discovering farmers markets in Pittsburgh doesn't take more than visiting the Strip District or your local neighborhood on certain days of the week.
What about going to where the produce grows and picking it yourself?
This fall, a group of us took a trip to Simmons Farm and discovered a great way to eat local, fresh produce.

Overlooking the beautiful hillsides of Western PA, Simmons' apple trees are abundantly ripe, come the end of September and October. Choose between Rome, Empire, Jonagold, and both Golden and Red Delicious varieties to bake, eat fresh, or dehydrate.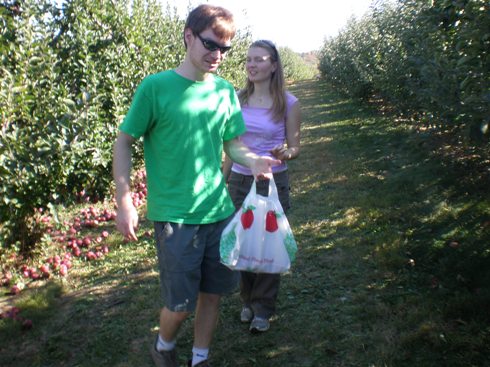 At $9 a peck, we took home our money's worth! The farm gives visitors a bag to measure our harvest, and it holds more than expected. (By the way, a peck is 2 gallons. Sorry, no pickled peppers here, Peter.)

Quick tips on apple-picking at Simmons:
-Empire is delicious when eaten fresh!

-Rome's texture makes it best for baking.
-Jonagolds, slightly smaller than Red Delicious and Rome, are a good way to fill in the empty bag space (and later, apple pie)!
-Washing the tree-picked apples before eating is recommended.
-Check out the free apples at the storefront!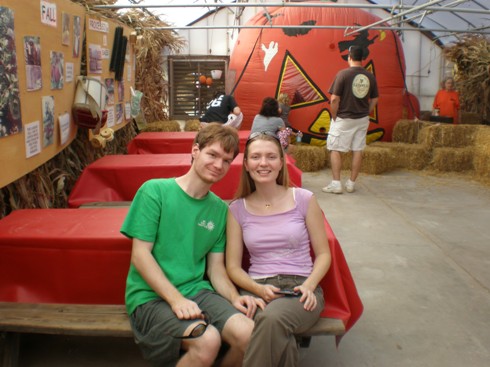 Hayrides are other fun activities at Simmons Farm for individuals, groups of friends and families. Combine a hayride with pumpkin-picking, or call in advance to schedule an evening bonfire and s'mores.

Near the on-site store, the petting zoo, free apple cider, and cornpit (not a sandpit: imagine thousands of corn kernels!) entertained kids and us adults all afternoon.

To enjoy Simmons Farm or learn more about what they offer year-round, visit:

170 Simmons Rd
McMurray, PA 15317
(724) 941-5138

http://www.simmonsfarm.com/home.html
All photos by Ramesh C. Reddy
Kristen Agnew Lippert is a senior staff writer for Pittsburgh Standard and also serves as the staff advisor for the student organization of Pittsburgh Standard.
Kristen Agnew Lippert's Articles:
Video: "Former Atheist Lee Strobel Captivates Audiences at Northway Christian Community this weekend!" (Sept 13, 10, 10:46 a.m.)
"Pittsburgh Lives Art!" (June 13. 10, 3:28 p.m.) By Kristen Agnew
Video: "Pink for the Day" (May 14, 10, 2:24 p.m.) By Kristen Agnew
"Ultimately Urbana Missions Message Intensely Impacts Lives Lovingly!" (May 05, 10, 7:28 p.m.) By Kristen Agnew
"Tim Tebow's Ad Against Abortion Promotes Parenthood/Protests!" (March 13, 10, 4:47 p.m.) By Kristen Agnew
"Avatar' Amazes Audiences At Adventure Accumulating Outright Oscar Nominations Now!" (Feb 04, 10, 2:30 p.m.) By Kristen Agnew
"Truth Triumphs Technology Through The Centuries, Celebrating Christ's Conception Called Christmas!" (Dec 23, 09, 4:31 p.m.) By Kristen Agnew
"'Jon & Kate Plus 8' Expresses Enormous Emotions Dawning Divorce's Disappointment!"
(Nov 25, 09, 10:38 a.m.) By Kristen Agnew
"Trusting Truth Through Tough Times!"
(Sept 21, 09, 5:10 p.m.) By Kristen Agnew
"Fervently 'Faith Like Potatoes' Produces Farmer's Vegetables Victoriously Blending Beliefs!" (Aug 16, 09, 5:16 p.m.)By Kristen Agnew
"Pride Plummets People's Souls Sinfully Showing Satan's Shame!"(July 30, 09, 7:01 p.m.) By Kristen Agnew
"Judging Jesus' Style Saves Souls, Crashes Condemnation!" (July 17, 09, 12:29 p.m.) By Kristen Agnew
Cast Closed Accounts Accepting Christ's Commitment!"
(July 09, 09, 11:10 a.m.) By Kristen Agnew
"Surprisingly Slumdog Millionaire Makes Eight Expensive Oscars Outright!" (July 02, 09, 9:18 p.m.) By Kristen Agnew
"Perseverance Produces Christ's Committed Crop!" (July 02, 09, 6:03 p.m.) By Kristen Agnew
Agnew on Video:
"Actively AIV Students Serve Offering OIF's Mercy Ministry Momentum!" (April 19, 10, 9:57 a.m.) By Ramesh C. Reddy
"Agnew Awesomely Leads Living Acts Audience!" (July 18, 09, 5:48 p.m.) By Kristen Agnew