Pitt Dance Team's colors of black, red, green, and
white

give significance to the Christmas season!

In a world filled with colors, the colors of black, red, white, and green worn by the Pitt Dance Team have significance during this Christmas season. When the Pitt Dance Team performed wearing those colors, they reminded me of the significance of those colors.

Black reminds me of pitch darkness. Sin takes us into pitch darkness. People do not want other people to see the wrongs they do so they do it in darkness.

"This is the verdict: Light has come into the world, but men loved darkness instead of light because their deeds were evil." (John 3:19)

Whether we like it or not, symbolically the world has been covered with pitch darkness and so have we. Each of us is covered with darkness.

Into this darkness, light decided come to deliver each of us covered in darkness. This is so exciting to know!

"The true light that gives light to every man was coming into the world." (John 1:9)

Now all of us can come into the Light!

"In him was life, and that life was the light of men. The light shines in the darkness, but the darkness has not understood it." (John 1:4)

Jesus is the Light of the world and He came God-incarnate as Baby Jesus born on Christmas Day to deliver each of us from darkness.

"When Jesus spoke again to the people, he said, "I am the light of the world. Whoever follows me will never walk in darkness, but will have the light of life." (John 8:12)

Whether the Dance Team realized it or not, the black pants they wore symbolized humanities darkness and sadness. If that were the case all the time then there would be no reason to have joy this Christmas season. But, it is not the case for Jesus is the reason for the season. He came to give us His red.

What do I mean by that you may wonder?

Once again I want you to look at the Dance Team. They are covered in red too! Red reminds me of why Jesus came! Sin has marred humanity but that is why Jesus came and was born in Bethlehem.

He was born to a Virgin Mary so one day He could deliver us from sin. One day Jesus decided to offer a limitless transfusion to those who wanted it.

What was the purpose of the transfusion?

The purpose of the transfusion is to give an antidote to the virus called sin that has infected humanity. The virus has polluted our blood and made it into poisonous crimson. The transfusion will give new life to those who accept it and take it as the antidote.

Antidote is there because God so loved us so much, even in our sins, that He gave His only begotten Son that whosoever believeth in Him should not perish but have everlasting life.

Everlasting life is there because the antidote was given for each of us to wash away our sinful disease. Sinful disease is there until we accept the cure.

The cure is there because of the cross. The cross is there because that was the only way for the antidote to be made.

Antidote to be made was there because Jesus loved us so much that, while we were yet sinners, He shed His blood to cleanse us from sin and make us have good spiritual health. Good spiritual health is there only when we freely accept the antidote, Christ's cleansing blood.

Christ's cleansing blood is there to cure us only when we come to grips that we have this sinister disease and confess all the symptoms of this disease called sin and ask for the cure by believing in Jesus, our Lord and Personal Savior. Jesus, our Lord and Personal Savior is there for us to accept Him because after shedding His blood and dying for us, God brought Him back to life on the third day and He sits at the right Hand of God, the Father interceding on our behalf in a wonderful place called Heaven.

Heaven is there so that God can receive us when we leave this earth because through what Jesus did for us, God sees in us the righteousness of Christ when we give our life to Christ. The righteousness of Christ is there to cover our sins with his precious blood crucifying our sin to the cross and making us live a life worthy of the Gospel of Jesus Christ.

Gospel of Jesus Christ is there to show us that we are not saved by works so let no man boast, but by Jesus Christ who has given us the free gift of grace.

Life is in the blood and Jesus can cover us with His precious cleansing blood that is so red and pure. That is why red is my favorite color. It took all of Christ's red blood to give a transfusion to deliver the world. We can still be covered in the cleansing blood of Jesus!

Jesus said, "This is my blood of the covenant, which is poured out for many for the forgiveness of sins." (Matthew 26:28)

"In him we have redemption through his blood, the forgiveness of sins, in accordance with the riches of God's grace." (Ephesians 1:7)

"But now in Christ Jesus you who once were far away have been brought near through the blood of Christ." (Ephesians 2:13)

"How much more, then, will the blood of Christ, who through the eternal Spirit offered himself unblemished to God, cleanse our consciences from acts that lead to death, so that we may serve the living God!" (Hebrews 9:14)

"But if we walk in the light, as he is in the light, we have fellowship with one another, and the blood of Jesus, his Son, purifies us from all sin." (1 John 1:7)

"May the God of peace, who through the blood of the eternal covenant brought back from the dead our Lord Jesus, that great Shepherd of the sheep, equip you with everything good for doing his will, and may he work in us what is pleasing to him, through Jesus Christ, to whom be glory for ever and ever. Amen." (Hebrews 13:20-21)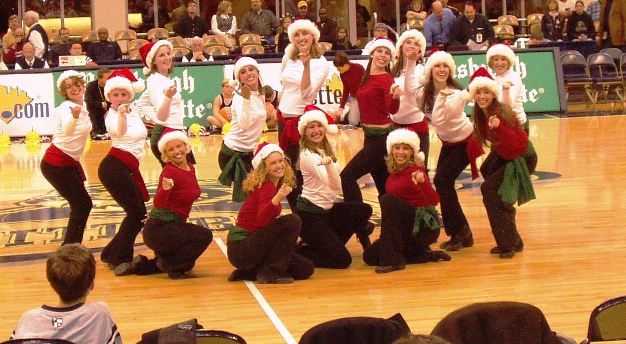 Photo by Ramesh C. Reddy
Look at the Pitt Dance Team! They did not just have black and red on. They went a step further and wore white and green too!
With the Christmas season, white and green have significance too!
The color white reminds me of purity only Jesus Christ can give. He can cover us spiritually in white giving us purity. It does not matter where we have been or what we have done.
"Come now, let us reason together," says the LORD . "Though your sins are like scarlet, they shall be as white as snow; though they are red as crimson, they shall be like wool. (Isaiah 1:18)
It also reminds me of a Lamb. Jesus is the Lamb of God who came to take away the sins of the world.
"The next day John saw Jesus coming toward him and said, "Look, the Lamb of God, who takes away the sin of the world!" (John 1:29)
Finally, green reminds me of Eternal Life. Jesus was born to give Eternal Life to those who have accepted His gift.
Green is for life everlasting and also reminds me of health! We can find it in Jesus this Christmas season and forever!
Isn't it so cool that most of the vegetables we eat that are green are very healthy!
"Everything that lives and moves will be food for you. Just as I gave you the green plants, I now give you everything." (Genesis 9:17)
"The LORD is my Shepherd, I shall not be in want. He makes me lie down in green pastures, he leads me beside quiet waters, He restores my soul. He guides me in paths of righteousness for his name's sake." (Psalm 23:1-3)
"The righteous will flourish like a palm tree, they will grow like a cedar of Lebanon; planted in the house of the LORD , they will flourish in the courts of our God. They will still bear fruit in old age, they will stay fresh and green, proclaiming, "The LORD is upright; he is my Rock, and there is no wickedness in him." (Psalm 92:12-15)
"Whoever trusts in his riches will fall, but the righteous will thrive like a green leaf." (Proverbs 11:28, NIV)
"But blessed is the man who trusts in the LORD whose confidence is in him. He will be like a tree planted by the water that sends out its roots by the stream. It does not fear when heat comes; its leaves are always green. It has no worries in a year of drought and never fails to bear fruit." (Jeremiah 17:7-9)
In conclusion, looking at the beautiful Pitt Dance Team that the Lord made, the colors they wear can remind us of not only our own frailties but how Jesus Christ can cover us in His righteousness forever and ever!

Just as the Dance Team [names are not in any particular order] of Cassidy, Jackie, Lindsey, Lauren, Sam, Shanna, Stephanie, Mara, Maria, Fallon, Megan, Lindsay, Kristin, Missy, Rachel, Kristin and anyone else I forgot to mention is precious and special in the Lord's sight, so are you!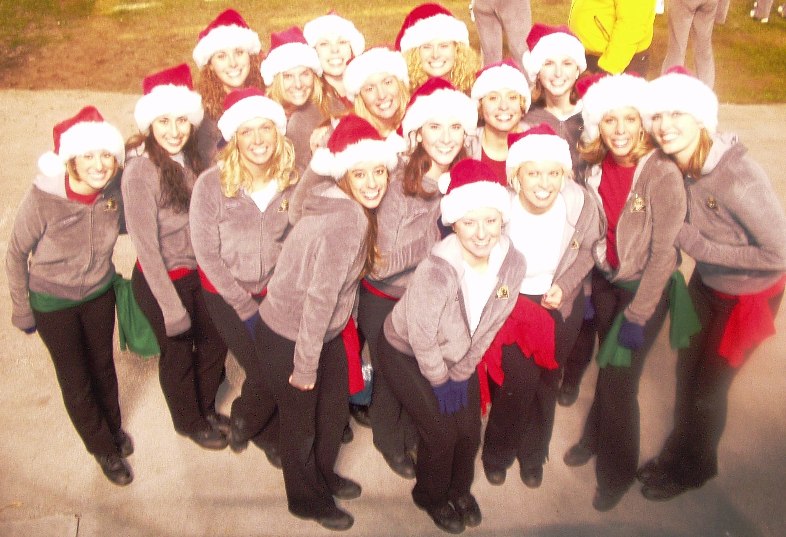 Photo by Ramesh C. Reddy
Speaking of covering us in His righteousness, the gray colored sweat shirts the team has worn for warmth against the coldness, reminds me of the warmth Jesus Christ can give us this Christmas season as we seek Him as our Lord and Personal Savior.
We live in a cold world and their is coldness in people's attitudes and only Christ's loving presence can bring warmth to a cold heart.
For in His love, He will cover us with His warmth as we are received into His Arms of Love! For He created us special and precious in His sight!
For the Lord says, "Fear not, for I have redeemed you; I have summoned you by name; you are mine." (Isaiah 43:1)
"For you created my inmost being; you knit me together in my mother's womb. I praise you because I am fearfully and wonderfully made; your works are wonderful, I know that full well. My frame was not hidden from you when I was made in the secret place. When I was woven together in the depths of the earth, your eyes saw my unformed body. All the days ordained for me were written in your book before one of them came to me." (Psalm 139:13-16)
This Christmas season won't you give yourself to the One who came to give His life for you! He wants to save you and give you His transfusion. You can accept it now! He is the donor donating His precious cleansing blood for you! You can have new life this day. Yes, you can friend! That is exciting to know!
Jesus says, " The Spirit of the Lord is on me, because he has anointed me to preach good news to the poor. He has sent me to proclaim freedom for the prisoners and recovery of sight for the blind, to release the oppressed, to proclaim the year of the Lord's favor." (Luke 4:18-19)

This Christmas season if you want to give your life to Jesus Christ, make the song "O Come O Come Emmanuel" your personal prayer to the Lord!
If you want to ever talk or pray with me, I would love to! Jesus loves you so much and gives Himself to you! Amen!
You can also personalize this prayer!
Dear Lord Jesus, thank you for loving me so much as I am. Thank you for creating me so beautifully and wonderfully. You see me as special and precious regardless of how I see myself. I want you to colorize my life for me with your love and presence. Many times I feel my life is gloomy as when rain is about to come. But just as the rainbow colorizes and brightens the sky after the rain, I know you can brighten my life with your Holy Spirit guiding me and leading me. I am so sorry for my sins. Please forgive me Jesus and come into my heart. Please make my heart your home. Live in me Jesus and please help me to live for you and serve you with the gifts and talents you have given me all the days of my life. I thank you Jesus for shedding your blood on the cross to cleanse me of my sin. Thank you I can one day reign with you as I acknowledge you as my Lord and Personal Savior. So at this time I just do that. I want to know you as my Lord and Personal Savior. Help me Jesus! Thank you Jesus. Thank you that you have heard my prayer and answered me. Thank you for coming into my life and heart this Christmas season. O Come O Come Emmanuel! You are the One who paid the ransom to set me. Thank you Jesus. In Your Precious Name I Pray Jesus! Amen!
Ramesh C. Reddy believes in the loving and saving power of Jesus Christ and can be reached at rcrst6@pitt.edu