"The Hope of Glory: Glimpses into the past and future of St. Nicholas Croatian Catholic Church in

Pittsburgh

.
"
Kristen Lippert
Senior Staff Writer
A church in decline?

Its green domes soaring above the urban landscape, Saint Nicholas Croatian Catholic Church captures the gazes of passersby, calling attention to Pittsburgh's rich heritage of ethnically-diverse faith communities. The former church sits along East Ohio Street-Route 28, just north of the Allegheny River
and below Pittsburgh's Troy Hill
neighborhood. Between dilapidated businesses, gutted houses, and the remnants of less enduring brick and stone foundations, the sturdy Saint Nicholas cathedral remains boarded up, off-limits to visitors. With the recent expansion of Route 28 construction, the question of the church's fate looms in city residents' minds.


History: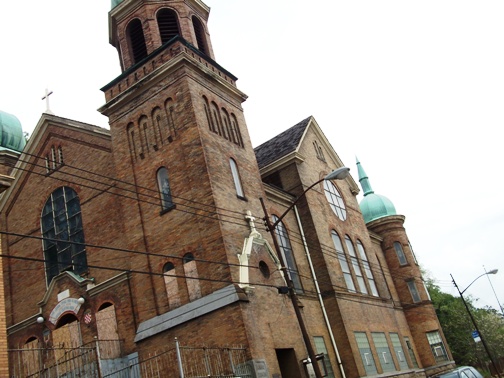 The sign above the entrance tells of the church's founding: "First Croatian Catholic Parish in America, established AD 1894, Mother Croatian Parish," with patriotic letters set in neat red, white and blue tiles. The present structure's cornerstone dates to the year 1900. It is one of two parishes built to serve Pittsburgh's growing Croatian community. The church now sits uphill from its original site, having been moved in 1921 for the widening of the highway. Designated an historic landmark in 1976, the church also received the title of City Designated Historic Structure in 2001 before the building was closed in 2004 due to a failing boiler. As of 2010, the Pittsburgh Catholic Diocese owned the property and was approaching sale to Lamar Advertising, Inc.



Faithful People:



The church's early members were Croatian immigrants who fled Eastern Europe's political and economic turmoil near the turn of the twentieth century. They worked in steel mills and mines and resided in what was then the city of Allegheny and nearby communities (including present-day Millvale, Etna and Lawrenceville). Wanting to preserve their rich Roman Catholic tradition and Croatian culture, the early congregants chose two church locations to make it convenient for most of their members to worship. Their patron Saint Nicholas (from whom the modern Santa Claus is derived) is their namesake and is known for his generosity.

Today, the parish remains active at its Millvale site, welcoming people of all nationalities in the name of Jesus Christ. Masses are conducted in both Croatian and English. The church preserves Maxo Vanka's famous murals inside its walls, which depict the early immigrant experience and beliefs. The Millvale parish has reportedly spent over $500,000 since 1998 maintaining the now-vacant property on Route 28. Father Dan Whalen believes the purpose of that North Side building has passed, with the Millvale church now accommodating the congregants' needs.



Proposed Renovation:



The Preserve Croatian Heritage Foundation (PCHF) maintained an interest in the property following its decline and has partnered with the Northside Leadership Conference (NSLC) to explore its potential redevelopment. In December 2009, the groups proposed designs for a National Immigration Museum that would double the building's square footage and would connect Northside residents with Riverfront Trail access. The museum would honor and remember the experience of the region's immigrants--not just those of Croatian decent.

Integra Realty Resources conducted a feasibility study for the project and highlighted the potential of the museum to attract visitors to the Northside. According to the 2009 market report, the museum would operate on earned and invested income, government funding, and private donations, totaling about $0.5 million per year in estimated expenses.

While acknowledging Pittsburgh's "long immigration history," Integra's report concludes that renovating St. Nicholas church would take significant effort: "Although the existing church building...has a distinct architectural history and style which compliments the immigration story, the age and layout of the structure, and functional impairments related to the site and parking, create a less than ideal redevelopment situation and above normal challenges."

Perhaps these structural challenges explain why the site has not been redeveloped to date. The church's sale to L



Timeline of events:



1890: Croatian congregants first celebrate mass in a barn, following permission from their bishop.

1899: The church purchases property on Bennett Hill in Millvale from William J. Mellon.

1900: Plans are made for two church sites, and members celebrate the first mass in the new St. Nicholas Church in Millvale.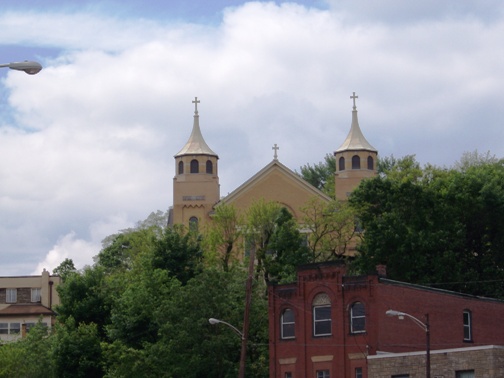 1901: The St. Nicholas Church in the North Side is completed (along present-day Route 28).

1921: The North Side church is moved uphill for the widening of East Ohio Street. That same year, a fire destroys part of the St. Nicholas church in Millvale.

1937, 1941: Maxo Vanka paints the murals in the Millvale church.

1970s-1980s: The declining population forces both parish's schools to close and the pastoral staff to be reduced.

1994/5: The Millvale and North Side parishes are united following the declining population. Around that same time, the Pennsylvania
Department of Transportation (PennDOT) proposes to demolish the property for Route 28 expansion.

2001: The North Side church becomes a City Designated Historic Structure. PennDOT revises their road plans to preserve the site.

2004: The North Side church closes after a boiler breaks.

2007: The parish prepares for the sale of the North Side property by removing the altar, church statues and other religious objects. The Follieri Group (church renovator based in NY) is interested in the property, but the sale falls through due to suspect business dealings.

2008: Follieri pleads guilty to fraud charges. The Catholic Diocese of Pittsburgh rejects an offer from the Croatian American Cultural and Economic Alliance ($44,400 plus 10% of generated income).

2009: The PCHF and NSLC present their designs for a National Immigration Museum, following the completion of a feasibility study.

2010: The church is pending sale to Lamar Advertising, Inc. Leaders of PCHF and NSLC talk with Lamar about the site. The Croatian Ambassador to the United States pledges her support.

2011: The property stands.


Lippert's Lesson:
The controversy over the future of the North Side St. Nicholas church site reflects a desire for deeper connection to our city's cultural heritage. At the crux of the matter is the need to adapt to societal needs while remembering Pittsburgh's past.

Do the changes in the Croatian community and the resulting effects on the church's organization demonstrate a transience of cultures in an assimilating nation, or were the shifting economic tides the causal force?

Will the needs of urban transportation and development supplant an educational initiative and cut off a connection with our neighbors' roots?

I first became interested in the fate of the Croatian church around 2009, while riding past the site on Route 28. At that time, "No Trespassing" signs and chains guarded the entrance. Crumbling steps are now visible; the present structure seems like a ghost of its past magnificence.

The church building's glory has faded.

But what is the true glory of the Church?

I don't think Jesus meant for his disciples to hold onto one building as a symbol of faith. Instead, the Bible continually speaks of the church as living members of Christ's body:

"Speaking the truth in love, we will in all things grow up into him who is the Head, that is, Christ. From him, the whole body, joined and held together by every supporting ligament, grows and builds itself up in love, as each part does its work." (Ephesians 4:16, New International Version, See also Colossians 1:24 for a specific reference to Christ's body as the church.)

Romans 12 and 1 Corinthians 12 explain how the diverse members of Christ's body, the church, are indeed one. For example: "So in Christ we who are many form one body, and each member belongs to all the others." (Romans 12:5, NIV)

Even as Pittsburgh's communities change with different ethnic groups migrating in and out, all of us contribute to an eternal story, led by an eternal Priest.

Hebrews 7:23-25 reminds us that Jesus' priesthood does not die out over time, as Paul references the Levitical priests' transiency: "Now there have been many of those priests, since death prevented them from continuing in office; but because Jesus lives forever, he has a permanent priesthood. Therefore he is able to save completely those who come to God through him, because he always lives to intercede for them" (NIV).

Think about it, even the organization of the Church as we know it today will shift over time, as it has across centuries. But because we have this hope--that Jesus lives to intercede, to represent us, to mediate between us and our Holy Father-- we don't need to fear jobs moving, leadership changing, or friends relocating, however sad or troublesome these are! Our hope is unshaken when it is rooted firmly in Christ.

Based on what I have read in the news, I think the leaders of the modern St. Nicholas Croatian Catholic Church in Millvale agree with this theology. Whether the North Side building stands or falls, the church and its heritage lives in its people. Their and our hope is God's very presence through Jesus, as the Apostle Paul writes: "God wanted his people throughout the world to know the glorious riches of this mystery- which is Christ living in you, giving you the hope of glory" (Colossians 1:27, GOD'S WORD Translation).

Sources
http://www.pittsburghnorthside.com
http://www.thenorthsidechronicle.com/immigrant_museum?calendarDate=2009-12-04
http://www.pittsburghlive.com/x/pittsburghtrib/news/cityregion/s_591372.html
http://www.post-gazette.com/pg/07079/770918-53.stm
http://www.pittsburghlive.com/x/pittsburghtrib/news/pittsburgh/s_662879.html
http://www.globalpittsburgh.org/communities/index.jsp?pageId=0690200091781090187613551
http://bible.cc

Photos by Kristen Lippert

For a detailed history of the current Croatian church along with images of its murals, check out: http://stnicholascroatian.com/Index.html

To view a rotating image of the church's architecture, visit: http://www.post-gazette.com/pg/10011/1026269-429.stm

For other local historic designations, reference: http://www.phlf.org/historic-plaque-program/local-historic-designations/
Express Your View
Kristen Agnew Lippert's Articles:
"Bodiography Contemporary Ballet Moves Audiences!" By Kristen Agnew Lippert (May 14, 11, 12:16 a.m.)
"Confessions and Hope: Reflection on Psalm 25:1-11!" (March 10, 11, 8:16 a.m.) By Kristen Agnew Lippert
"Seek Simmon's Farm For Fresh, Amazing Apples!" (Nov 04, 10, 10:31 a.m.) By Kristen Agnew-Lippert
Video: "Former Atheist Lee Strobel Captivates Audiences at Northway Christian Community this weekend!

"
(Sept 13, 10, 10:46 a.m.)
"Pittsburgh Lives Art!" (June 13. 10, 3:28 p.m.) By Kristen Agnew
Video:
"Pink for the Day" (May 14, 10, 2:24 p.m.) By Kristen Agnew
"Ultimately Urbana Missions Message Intensely Impacts Lives Lovingly!
"
(May 05, 10, 7:28 p.m.) By Kristen Agnew
"Tim Tebow's Ad Against Abortion Promotes Parenthood/Protests!" (March 13, 10, 4:47 p.m.) By Kristen Agnew
"Avatar' Amazes Audiences At Adventure Accumulating Outright Oscar Nominations Now!" (Feb 04, 10, 2:30 p.m.) By Kristen Agnew
"Truth Triumphs Technology Through The Centuries, Celebrating Christ's Conception Called Christmas!"
(Dec 23, 09, 4:31 p.m.) By Kristen Agnew
"'Jon & Kate Plus 8' Expresses Enormous Emotions Dawning Divorce's Disappointment!"
(Nov 25, 09, 10:38 a.m.) By Kristen Agnew
"Trusting Truth Through Tough Times!"
(Sept 21, 09, 5:10 p.m.) By Kristen Agnew
"Fervently 'Faith Like Potatoes' Produces Farmer's Vegetables Victoriously Blending Beliefs!" (Aug 16, 09, 5:16 p.m.)By Kristen Agnew
"Pride Plummets People's Souls Sinfully Showing Satan's Shame!"(July 30, 09, 7:01 p.m.) By Kristen Agnew
"Judging Jesus' Style Saves Souls, Crashes Condemnation!" (July 17, 09, 12:29 p.m.) By Kristen Agnew
Cast Closed Accounts Accepting Christ's Commitment!"
(July 09, 09, 11:10 a.m.) By Kristen Agnew
"Surprisingly Slumdog Millionaire Makes Eight Expensive Oscars Outright!" (July 02, 09, 9:18 p.m.) By Kristen Agnew
"Perseverance Produces Christ's Committed Crop!" (July 02, 09, 6:03 p.m.) By Kristen Agnew
Agnew on Video:
"Actively AIV Students Serve Offering OIF's Mercy Ministry Momentum!" (April 19, 10, 9:57 a.m.) By Ramesh C. Reddy
"Agnew Awesomely Leads Living Acts Audience!" (July 18, 09, 5:48 p.m.) By Kristen Agnew