GREEK LIFE
Posted on Tue, May 08, 2007 at 11:39 a.m. EST
BEST OF
AUG 05 - JULY 06
NEWS
'Jews for Jesus' Justified or Jilted!

Video:Commencement 2006 christens college classmates colorfully!
Photo: LLS lovingly lets largest lively banner bring Bob' O Connor brightness!

Video: Pedestrian Plummets to Pavement at Fifth & Bigelow

Video: Pennsylvania Governor's School of International Studies 2006 Supports AIDS Awareness!
SGB ELECTIONS:
Video: SGB Presidential Debate Exclusive Coverage

"Supporting the Six Servant Student Candidates for SGB"

"Students Savor Food Services and Diversity Seeking the SGB 8 and President!"
CAMPUS LIFE:

Blasi on Board Brings Back Brightness with Bundles of Bliss
Senior of the Year Award Recipient Reminisces Regarding Rewards, Responsibilities, and Review of Four Years!"
"Star Serenades Senior of the Year"
GREEK LIFE:
Photos: Chi Omega Sorority Sisters Sweep for a Sweet 3-Peat!
Video: Sorority Sisters Seek Students Selectively!
Video: Vote for your favorite Greek Life Talent Show!
Video: Watch Alpha Phi Alpha open Greek Sing 2006 with a stomp
Video: Watch the winning performance from Greek Sing 2006!

Video: Greek Talent Show Online Winner is Claire Natale
Video: Watch Cavallaro and her sisters of Delta Zeta take 2nd place at Greek Sing 2006
EXPRESSIONS:
"What kind of F.O.O.T.B.A.L.L receiver will you be for Jesus?"
"Demystifying Dan Brown's Delusional Deceptive Da Vinci Code: Lie #3: The Bible is a by product of man and not of God!"
"Demystifying Dan Brown's Delusional Deceptive Da Vinci Code: Lie #2: Regarding the issue of Jesus being married to Mary Magdalene"
"Demystifying Dan Brown's Delusional Deceptive Da Vinci Code: Lie #1: Regarding the issue of Christ's divinity!"
IMPRESSIONS:
Banning Bisexual Blood Brings Benefit
ACLU Aims to Annihilate Almighty's Attendance
Funding Failed for Fellowship, 5-3 in SGB!
HOTPRESSIONS:
Rebuttal to Sam Morey's Pitt News column, "Jews for Jesus offend many on campus"
Rebuttal I to Rose Afriyie's sex column, "Relationships part two: when to emotionally invest."
"Contraceptives cause consequences for children!"
FEATURE:
Top 20 responses to 'Doing Arrival Survival is like......"
Top 24 answers to 'Celebrating Thanksgiving is like'........
Top 25 responses given by students at Schenley Cafe for the origins of the CANDY CANE!
Photos: College Day at Kennywood Kindles Kinesis
Photos: Peer PGSIS 2005's Past Portfolio Presentations
SPECIAL FEATURES:
Audio: Christmas Story with Sing Along Songs
Video: "Celebrate Mary's Conception of Christ with Church of AICCP"
Rhyme delivers message of Christmas
Audio: RCR4JC- FM: Jesus is the reason for the season
Video: Light Up Night Showers Christmas Tree With Lights!
ENTERTAINMENT:

Spiritual Review of "The Visitation"
Video: Spiritual Review of 'X-Men: The Last Stand'
Video: PGSIS 2006 provided with Point State Park fireworks falling from the firmament!

Video: Spiritual Review of 'Superman Returns'
Spiritual Review of "Pirates of the Caribbean: Dead Man's Chest"
EDUCATION:
Human Resource Management Final Exam 45 Sample Questions
Human Resource Management Final Exam Sample Questions II
Retail Management Sample Exam 54 Questions
Retail Management 116 Sample Questions
SPORTS:
Photo: Introducing the 2005 University of Pittsburgh Cheerleaders and Dance Team!
Photos: Pittsburgh Panthers v.s Notre Dame Fighting Irish Slide Show 2006
Reddy's Realistic Rankings for Regular Season of NFL 2005
Pick for free the PS NCAA 2006 Tournament Contest Brackets and win a cash prize
Photo: Panthers costly gaffes cost championship of Big East
Photo: Former Pitt divers deliver dazzling performances
"Riveting Racing Recap of Indianapolis 500 and Coca-Cola 600"
STEELER COVERAGE:
Photo: Steeler fans celebrate at Cathedral of Learning as Steelers surge to Super Bowl XL seeking Seattle Seahawks
Video: Indian Student Association involves itself in Steelers celebration
Photo: Steeler Supporters Spring into action at Schenley Café
TOP 17 responses to Steelers seeking the Seattle Seahawks on Sunday's Super Bowl XL was like……
Video: "Supporters Stress Significance of Seeking Savior's Service for Steelers Sensation"

Video: "Fans faithfully fostered for Steeler's sensational quarterback near Mercy"

Video: "Motorcycle Menace Makes Mercy Mobilized by Faithful Fans of Ben Roethlisberger"
"Sorority sister Splane scores strongly giving girl's Greek Talent Show 2007 Title To Chi Omega!"
Ramesh C. Reddy
Pittsburgh Standard
Editors Note: Due to the stage lighting the video is not as clear because it had to be made a little bright!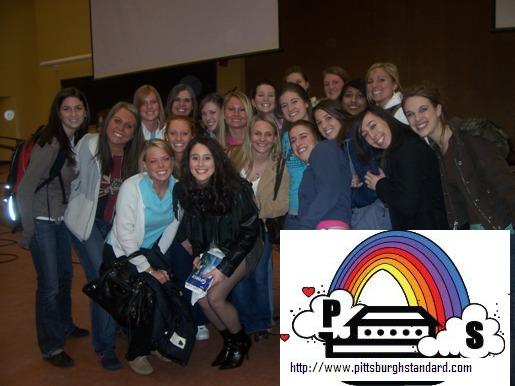 Welcome Miss Greek Talent Show 2007 Lauren Splane
With her performance of Cher so many points she did gain
To listen to her people would have even come in the rain
With her performance she got the judge's winning vote
As they all took note!
However, there is much better music in Heaven
With the Lord who created the world in Seven
So give Jesus your heart
So He can do His part
And Satan's fiery arrows you can dart
Click on the picture for the winning video to start

Coming Soon:
Male Winner of Greek Talent Show 2007
Ordering Information:
You can order a high quality DVD of any Greek Sing 2007 performance by clicking the EXPRESS YOUR VIEW link and typing in how many copies you would want under MESSAGE! Each copy is $4.99 with 50% of the money going back to the Greek Sing 2007 Charity. The money will be held until a certain amount is reached.
Copy of the above picture or 15,000 other frames can also be bought in sizes ranging from 3 x 5 to 25 x 19. Prices range from $0.99 to $6.99. Regardless of how much you purchase, 50% of it will go back to charity.
Copies will be delivered to the William Pitt Union and can be picked up in 'Schenley Cafe' once a payment has been made. Payment can be made by check, cash, or money order payable to Pittsburgh Standard. You will receive a receipt for your purchase.
The other 50% will be used to raise money to continue to fund the Pittsburgh Standard. I thank the Lord that He continues to provide the funding through different means! Anyone's financial help so the paper can continue to stream video and audio online without interruption will be appreciated.
Chi Omega Archives:
Watch Chi Omega & Zeta Beta Tau Win Greek Sing 2005! (May 2007)
Video: Chi Omega's Operation Offers Nothin' But a Gangsta Party at Kappa Alpha Psi's Place (April 03, 07, 3:38 p.m.)

"PDM II Provides Promising Funding at Fitzgerald Fieldhouse to Fight Cancer" (Dec 2006)
"Greek Life Gives Gifts of Giving!" (Aug 2006)
"Welcome to Greek Talent Show" (March 2006)

TOP 17: Steelers seeking the Seattle Seahawks on Sunday's Super Bowl XL (Feb 2006)
"Sorority Sisters Seek Students Selectively!" (Feb 2006)
"Star Serenades Senior of the Year" (Dec 2005)

"Senior of the Year Award Recipient Reminisces Regarding Rewards, Responsibilities (Dec 2005)

"Students Savor Food Services and Diversity Seeking the SGB 8 and President!" (Nov 2005)
"SGB Presidential Debate Delivers Dosage"(Nov 2005)
"Chi Omega Sorority Sisters Sweep for a Sweet 3-Peat!" (Oct 2005)
Watch a clip of Chi Omega and Zeta Beta Tau celebrating their victory at Greek Sing (April 02, 05)
"Student Government Board Member Liz Blasi enjoys a meal at Schenley Cafe with her Chi Omega sisters (Jan 2005)
Blasi on Board Brings Brightness! (Dec 2004)
Greek communities can communicate charity and care! Take a tour of the different sororties (Sept 2004)
Top 25 answers to "Loving the world God...." (April 2004)

"Sorority Sisters Seek Scrumptious Sandwiches!" (Sept 2003)

Camping out for basketball tickets photo gallery (Nov 2002)

"Homecoming game with Boston College presents all kinds of surprises!" (Nov 2002)
"Chi Omega rocks in students life" by Linda Batykefer (Jan 2002)

Greek Life Archives:

Video: Delta Zeta Deliciously Delivers Lusciously with Lambda Chi Alpha (April 01, 07, 4:55 a.m.)
Video: "'Delta Delta Delta Delights' Dominate David Lawrence Hall" (March 14, 07, 2:37 p.m.)
Audio: "Deepher Dude 2007 Delights Da Deepher Beauties" (Feb 12, 07, 3:27 p.m.)
Video: SGB's Shady Henien Spoke Sensational Speech (Jan 2006)
"Pittsburgh Standard Thanks Pittsburgh Dance Marathon Members with a Poem" (Dec 2006)
Photos: "PDM II Provides Promising Funding at Fitzgerald Fieldhouse to Fight Cancer" (Dec 2006)

Video: "Light's Lovely Litchfield Towers iPDM Mural Loses Liveliness" (Dec 2006)
Photo: "Egyptian-American Ascends to SGB Presidency with INTEGRITY believing in Almighty!" (Nov 2006)
"Chris Meaner Communicates Concerning the A-Z's of Greek Life Community!" (Oct 2006)
Video: "Greek Life Gives Gifts of Giving through Greek Sing 2006!" (Aug 2006)
Video: Watch Cavallaro and her sisters of Delta Zeta take 2nd place at Greek Sing 2006 (May 2006)
Video: Watch the winning performance from Greek Sing 2006! (April 2006)

Video: Watch Alpha Phi Alpha open Greek Sing 2006 with a stomp (April 2006)
Video: Greek Talent Show Online Winner is Claire Natale (April 2006)
Video: Vote for your favorite Greek Life Talent Show! (March 2006)
Video: Sorority Sisters Seek Students Selectively! (Feb 2006)
Photos: Chi Omega Sorority Sisters Sweep for a Sweet 3-Peat! (Oct 2005)
Video: Watch a clip of Chi Omega and Zeta Beta Tau celebrating their victory at Greek Sing (April 02, 05)
Photo: Student Government Board member Liz Blasi enjoys a meal at Schenley Cafe with her Chi Omega sisters (Jan 2005)
Photo: Kappa Kappa Gamma sister Jessica shows her Pitt spirit with her friends! (Dec 11,04)
Photo: Newest sisters of Delta Zeta sorority enjoy a meal at Schenley Cafe after their initiation! (Dec 06,04)
Photo: Greek communities can communicate charity and care! (Sept 09,04)
Photo: "Sorority sisters seek scrumptious sandwiches!" (Sept 2003)
Photo: Cavalier smashed in the Schenley Quad (Sept 2003)
Photo: Pitt student assimilates into Delta Zeta (Nov 2002)
Photo: What Kappa Delta means to me! (Sept 2002)
Photo: "Chi Omega rocks in student's life!" (Jan 2002)