Wait is over for Guiding Light hopefuls!
Ramesh C. Reddy
Pittsburgh Standard
Editors note: This article incorporates a previous articles information to bring readers an update of what transpired before the finalists were chosen!
On Tuesday, Nov 04, when elections are happening all across the country, two University of Pittsburgh students found out their fate.
Pitt students William Morse and Elizabeth Vitalbo were chosen to be the finalists among eight other finalists from the universities of Georgia, Miami, Denver and Northwestern University to do a live screen test with an actor from Guiding Light on The Early Show during the week of Nov 10.
They had come on Thursday, Sept 25, to take a shot at becoming a star on the soap opera Guiding Light. The open casting call was held at the University of Pittsburgh campus in the William Pitt Union, Lower Lounge from 9:30 a.m. until 1:30 p.m. The first 90 minutes was reserved for Pitt students only.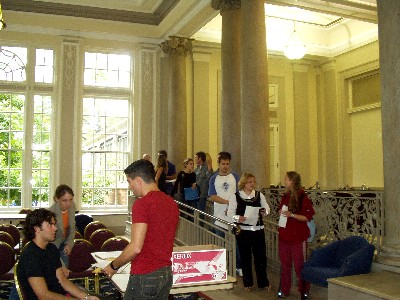 Photo by Ramesh C. Reddy
Students wait in anticipation to register as Alan Locher, Associate Director of Public Relations for Guiding Light speaks to Rob Feinberg, one of the finalists last year for the show 'As the World Turns' while Meghan Merriman, Associate Producer for CBS News' The Early Show listens.
The event sponsored by the Pitt Program Council (PPC) in conjunction with Special Events attracted students of different ethnicities who waited to be interviewed by Guiding Light casting director Rob Decina as actress Aubrey Dollar, who plays "Marina Cooper" on the daytime drama observed.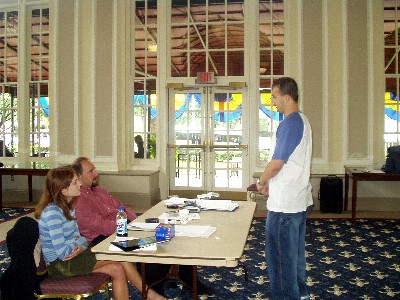 Photo by Ramesh C. Reddy
Guiding Light actress Aubrey Dollar observes Andy Loveridge as casting director Rob Decina interviews him.
PPC program coordinator Jocelyn Brown was excited for the students.
"The turnout has been a little slow possibly because of the rain but overall we are happy with the turnout to give those students the opportunity to shine", said Brown.
Locher was disappointed with the turnout this year.
"Last year we had a great turnout here. We had Rob Feinberg as one of our finalists. I was hoping for a bigger turnout today because of the turnout last year. Last years' turnout made an impact to come back to Pitt", said Locher.
Feinberg, now a sophomore Communications major at the University of Pittsburgh won the opportunity to do a live screen test for As the World Turns last year on the CBS News' The Early Show.
"It was amazing and best experience of my life. It was a great thing to have happened", said Feinberg.
Locher has been with Guiding Light and As the World Turns for six years and has loved working there and touring campuses.
"I love that everyday is different. I get to work with some creative and talented people and believe in the product we put out" said Locher.
Decina who has been with Guiding Light since Nov 1999 shares Locher's enthusiasm!
"It's [The excitement] is definitely, absolutely discovering young talent, finding people that are special and talented. Aubrey has incredible talent and is one of our best actresses on the show", said Decina.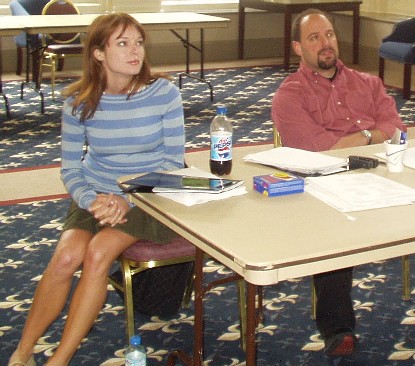 Photo by Ramesh C. Reddy
Rob Decina and Aubrey Dollar listen to students' responses to why they were motivated to audition for Guiding Light.

Students from different backgrounds wanted to shine with Dollar on Guiding Light..
Anna Shenker, a Pitt student who wants to be a lawyer thought it was fun to be part of this experience.
Charise Shively, a freshman Biology major said, "I have a small interest in acting. I am taking an Intro to Performance class. I want to see if acting is something I can pursue and have the talent."
Aisha Shabazz, also a freshman Biology major and roommate of Shively decided to wait in line too because of her friend.
"She pointed it out to me and I wanted to check it out. I never saw acting as a career but I always thought it was interesting", said Shabazz.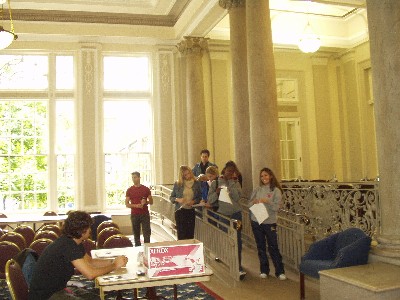 Photo by Ramesh C. Reddy
Cherise Shively and Asia Shabazz wait to get registered.
Not everyone saw acting as a non-career.
Andy Loveridge, a Pitt student said, "I want to be an actor. I saw auditions and decided to give it a chance."
Approximately 20 students among those who met with Decina and Dollar got the opportunity to read a screen script at 2:30 p.m in the William Pitt Union's Dance Studio on the 5th floor.
Dollar who has been an star actress with Guiding Light for the past year and a half was happy to be on the other side.
"I love it [Guiding Light] and it is a great show and a wonderful family to be part of. This afternoon when students read the [screen script] it should be fun to watch. I have usually been on the auditioning side", said Dollar.
"Two people who show up on Guiding Light is up to the viewers", said Decina.
Meghan Merriman, the Associate Producer of The Early Show was happy to be at Pitt.
"It is good to see anybody come out. People we saw were great and very enthusiastic. We would have hoped to see more. Everyone and the community has been awesome! I mostly work with our affiliates such as KDKA", said Merriman.
The two winners should be announced on Nov 17 and will win a weeklong role on Guiding Light in the summer of 2004.
Express your views on this article!