Pitt Dance Team Goldens Heinz Field
Ramesh C. Reddy
Pittsburgh Standard
The Pitt Dance Team comes out and gives their golden performance for the fans. What stuck out to me was not the blue that they had on but the shiny golden dresses. They shined and glittered in the afternoon sun radiantly across the field no matter where they were.
Their shiny golden dresses reminded me of what Heaven would be like!
"The great street of the city was of pure gold, like transparent glass. I did not see a temple in the city, because the Lord God Almighty and the Lamb are its temple. The city does not need the sun or the moon to shine on it, for the glory of God gives it light, and the Lamb is its lamp. The nations will walk by its light, and the kings of the earth will bring their splendor into it. On no day will its gates ever be shut, for there will be no night there. The glory and honor of the nations will be brought into it. Nothing impure will ever enter it, nor will anyone who does what is shameful or deceitful, but only those whose names are written in the Lamb's book of life. (Revelation 21:21b-27, NIV)
It is so exciting to be part of a city that is built in gold. Imagine what would happen if that were to happen on our earth right now. It would be decimated because of peoples' sinfulness. Not when God Himself one day builds it. Only the righteous and true will be able to enter it and live in it. We all can be part of it. Yes, we can friend!
The condition is that our names are written in the Lamb's book of life. When that happens, we will have a ticket to enter in.
I want that, don't you?
Our names can be written in the Lamb's Book of Life! Yes, they can! It starts with our acknowledgement of what the Lamb of God did for us.
Friend, because of our wrong doings we have been separated from God. No matter how many good deeds we do, we cannot enter the golden city because to God all our deeds are like filthy rags. All the good deeds we do will not cover any shameful or deceitful things we do.
You see friend, 99.9% of pure water can be contaminated with 00.1% of cyanide. That is how our sin is to God. It is like cyanide that has contaminated us. Only the righteous can enter the city of gold and we can become righteous. It can happen, yes it can!
Am I saying that we will never sin again?
No, no, no! In our humanity, we will mess up but the good news is in Jesus Christ.
"If we confess our sins, He is faithful and just and will forgive us our sins and purify us from all unrighteousness. If we claim we have not sinned, we make him out to be a liar and his word has no place in our lives" (1 John 1:9-10)
How can you be purified from all unrighteousness?
The answer is Jesus Christ again! He is the Lamb of God that came to take away the sin of the world. He wants to give you life according to John 1.
He did that on the cross. His shed blood can cleanse us of all our sins and filthiness when we accept what Jesus did for us on the cross.
When we are at the gate and God asks us why He should give us a ticket to get in, we can have the right answer!
It is not because of all the good things we have done because what about that 0.01 bad thing. It still defiles us and makes us unholy. God in His Righteousness cannot allow sin to enter His presence so we will still not have a ticket to get in.
It is because of Jesus Christ we can get in. We let God know that we are sinners saved by the blood of Jesus Christ. It is His blood that covers us and purifies us from all sin because of His loving grace.
Now when God looks at us, He does not see our sinfulness but Christ's Holy Righteousness covering us. This gives us a ticket to Heaven and the city of gold built by God Himself!
"To all who received Him, He gave them right to become children of God. All they needed to do was trust in Him to save them." (John 1:12, NIV)
You and I can have that my friend. Even though we have messed up badly or mess up badly, Jesus is there to forgive us when we turn to Him. God loves us so much that He gave His only begotten Son for us so that we should not perish but have Everlasting Life according to John 3:16.
Giving our lives to Jesus because of what He did for us on the cross can transform our own lives. Life is in the blood and His blood is the best transfusion all of us can get. Being covered in Christ's blood is the best thing that can happen to us. He paid the price for your sin and paid the debt we can never pay back.
Jesus answered, "I am the way, the truth, and the life. No one comes to the Father except through me." (John 14:6, NIV)
What we can do is decide to live for Him and follow Him the rest of the days of our lives. This does not mean we won't mess up but it means we will turn to Jesus always and allow His Holy Spirit to guide us and lead us so the Lord can work in our lives and make us Holy as the days go by!
"But if we walk in the light, as he is in the light, we have fellowship with one another, and the blood of Jesus, his Son, purifies us from all sin." (1 John 1:7, NIV)
The Dance Team with their golden performances brings entertainment to a lot of fans but it is nothing compared to what the Lord Jesus Christ wants to do in each of your lives.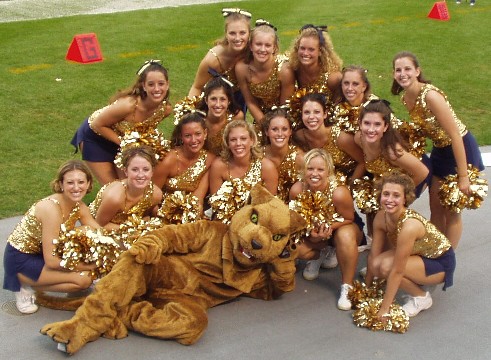 Photo by Ramesh C. Reddy
Whether you are a member of an athletic team, the dance team, the cheerleading team, etc, you can have a ticket to enter the city of gold!
If you want to enter the city of gold, make this your prayer:
Dear Lord Jesus, you know all about me. You know the things I have done and the things I plan to do. You know all my sins and all the things I have done that I see as good. Yet Lord, all our deeds are like filthy rags to you. You remind us that no one is righteous, not one because all have sinned and fallen short of the glory of God. Yet, you have provided a way for us to be righteous. It is because of what you decided to do for us Jesus. You went to the cross and shed your blood to cleanse us of all our sins and cover us in your righteousness. I want to be covered in your precious blood. What can wash away my sin, nothing but your blood Oh Jesus! What can make me whole again, nothing but your blood Jesus! So at this time, I come to you just as I am. Please forgive me of all my sin and cleanse me in your righteousness. I am so sorry for my sins. Please come into my heart and make my heart your home. Please live in me Jesus and I will LIVE FOR YOU and serve you the rest of the days of my life. I acknowledge you as my Lord and Personal Savior who saves me from all my sins and gives me access to the city of gold that you are going to build. I want to be with you in Heaven and experience everything you have for me as my inheritance. Thank you Jesus! Help me to live for you and serve you the rest of the days of my life. Thank you Jesus when I mess up, I can turn to you and you forgive me and see me as righteous. Thank you Jesus that you have heard my prayer and answered me! In Your Precious Holy Name I Pray Jesus! Amen!
Friend, if you need someone to talk to or pray with, email me at rcrst6@pitt.edu. Whatever you need to help you in your Christian walk, I would like to provide as I am able!