Air Force ROTC simulates POW camp!
Ramesh C. Reddy
Pittsburgh Standard
Air Force ROTC simulated a POW camp as part of a 24-hour vigil to remember those who are Prisoners of War (POW's) and those Missing In Action (MIA's)
The simulation was in recognition of Friday, Sept 19, 2003.
Molly Dinner, a Pitt junior and Air Force ROTC member said, "Friday is National POW/MIA Day across the nation."
Twelve members of the Air Force ROTC took part in the vigil since Friday, midnight doing four hour shifts. In the simulation, three members took part every four hrs.
One of them was the prisoner in a triangular prison and two of them were guards.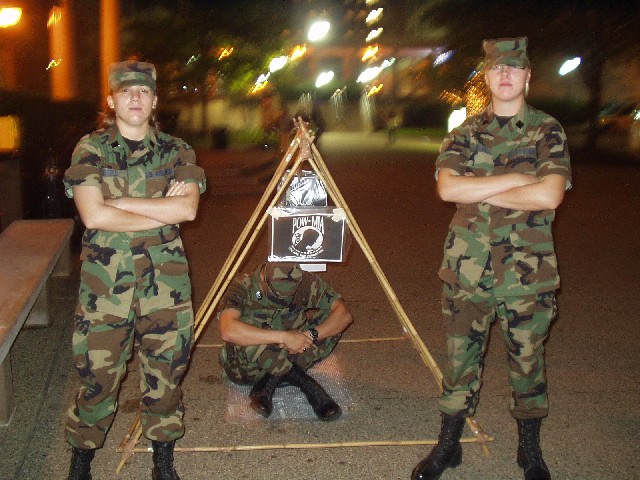 Photo by Ramesh C. Reddy
Left to right: Guards Kristin Russell and Molly Dinner guard prisoner Rick Dortch
Kristin Russell, a Pitt junior and Air Force ROTC member was pleased with people's responses because bystanders would ask what they were doing and say something positive.
Rick Dortch, a 2nd year graduate student and Air Force ROTC member role played the part of the prisoner.
"It definitely gives you time to think about what it is like to be a POW in Vietnam and so on", said Dortch.
Express your views on this article!