Pitt Dance Team Rainbow Heinz Field
The Pitt Dance Team came out on the field with their radiant colors just as rainbows are so beautiful arching over the skies with their radiant colors.

Rainbows send us the message that God is watching over the earth and will keep His covenant that was made to all.
"I establish my covenant with you: Never again will all life be cut off by the waters of a flood; never again will there be a flood to destroy the earth. And God said, "This is the sign of the covenant I am making between me and you and every living creature with you, a covenant for all generations to come: I have set my rainbow in the clouds, and it will be the sign of the covenant between me and the earth. Whenever I bring clouds over the earth and the rainbow appears in the clouds, I will remember my covenant between me and you and all living creatures of every kind. Never again will the waters become a flood to destroy all life. Whenever the rainbow appears in the clouds, I will see it and remember the everlasting covenant between God and all living creatures of every kind on the earth." (Genesis 9:11-16, NIV)
Now what does this have to do with the Pitt Dance Team you may wonder?
Well, when they came out on the field in their beautiful colors, it reminded me of the rainbow. When they posed for a picture in the shape of a bow it reminded me of the rainbow. They emphasize commitment, teamwork, and pride.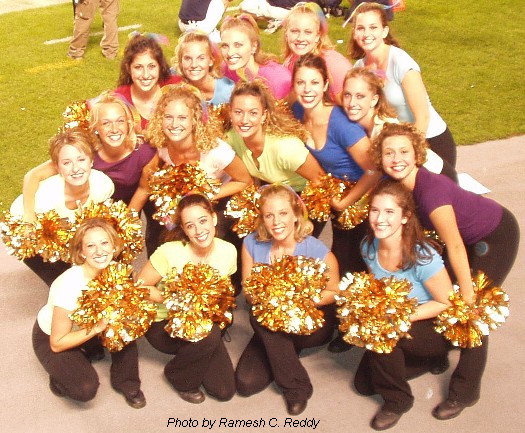 God is all about commitment, teamwork, and pride!
A rainbow comes colorfully after the rain reminding me of God's creation and covenant. It also reminds me of how much more beautiful and special we are to God more than the rainbow. He created us first and gave us the rainbow.
"For you created my inmost being; you knit me together in my mother's womb. I praise you because I am fearfully and wonderfully made; your works are wonderful, I know that full well. My frame was not hidden from you when I was made in the secret place. When I was woven together in the depths of the earth, your eyes saw my unformed body. All the days ordained for me were written in your book before one of them came to me." (Psalm 139:13-16)
The Dance Team colorized Heinz Field with their presence and colorful unity. No matter what they went through in their years, I believe the Lord brought them through and can work in their lives.
I believe they were able to cheer many people on the field with their excitement and enthusiasm. As the Dance Team colorized Heinz Field temporarily last week, the Lord Jesus wants to colorize your life.
Yes, He does my friend! When Jesus colorizes your life it will not be temporary friend but permanent. Heinz Field may not forever be here and the team could graduate one day being replaced by another team.
Jesus however will always be with you and neither leave you nor forsake you. A colorless life can be boring majority of the time but with Jesus life can be colorful. This does not always mean that things will always be peachy. For the Lord never promises a life without trials and tribulations but His love and presence in us can get us through. To others our life will look colorful because of Jesus Christ in our lives.
When you let Jesus colorize your life, He will remember the covenant made with you. Remember the rainbow starts out with the color RED. Red is the color of life and life is in the blood and blood is the color of red.
It is the red blood that Jesus shed on the cross to deliver you and me from our sin. He came back to life to save us covering us in His precious blood.
Remember the rainbow ends in violet. Violet is the color that reminds me of a King. I always used to think the robe put on Jesus was violet/purple. Well, now Jesus reigns in Heaven as the King of Kings. We can one day reign with Him. I want that!
Don't you want that friend?
This can be the day or the hour for you to let Jesus colorize your life. May you remember that Jesus loves you so much. You are never out of His love. You are never out of His reach. He loves you and you are so special and precious in His sight.
It does not matter who you are whether you are a dance team member, a cheerleading member, a football player, a fan, etc. Jesus loves us all in His love.
If you want Jesus to colorize your life, you can make this your prayer.
Dear Lord Jesus, thank you for loving me so much as I am. Thank you for creating me so beautifully and wonderfully. You see me as special and precious regardless of how I see myself. I want you to colorize my life for me with your love and presence. Many times I feel my life is gloomy as when rain is about to come. But just as the rainbow colorizes and brightens the sky after the rain, I know you can brighten my life with your Holy Spirit guiding me and leading me. I am so sorry for my sins. Please forgive me Jesus and come into my heart. Please make my heart your home. Live in me Jesus and please help me to live for you and serve you with the gifts and talents you have given me all the days of my life. I thank you Jesus for shedding your blood on the cross to cleanse me of my sin. Thank you I can one day reign with you as I acknowledge you as my Lord and Personal Savior. So at this time I just do that. I want to know you as my Lord and Personal Savior. Help me Jesus! Thank you Jesus. Thank you that you have heard my prayer and answered me. In Your Precious Name I Pray Jesus! Amen!
Ramesh C. Reddy believes in the loving and saving power of Jesus Christ and can be reached at rcrst6@pitt.edu