"Wonderfully 'What If'" Involves Choosing Choices Determines Destiny!"
By Ramesh C. Reddy
Publisher

Theatrical Release Year: August 20, 2010

'What If' (2010)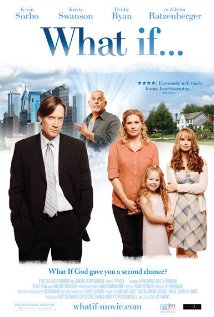 Source: http://www.imdb.com.
The movie is rated PG. The run time is 114 min.


Main Cast:
Kevin Sorbo - Ben Walker
Kristy Swanson - Wendy Walker
John Ratzenberger - Mike the Angel
Debby Ryan - Kimberly Walker
Taylor Groothuis - Megan Walker

Plot Synopsis:
'What If' is a story about a guy who gives up his love for ministry and his girlfriend when he is falls into temptation for a lucrative business opportunity. Fifteen years later, while on a trip, he gets into an accident and relives how his past 15 years would have been like if with the question, "What If'.
Plot Review:
'What If' is an excellently written script about where a person wanted to be, where a person is, where a person could have been, and where the person will be. It wonderfully incorporates elements of 'It's A Wonderful Life!' and 'A Christmas Carol' to tell a powerful story to touch lives.
Content Review:
If you have ever been tempted to put your own desires for a lucrative career above God's will for your life and above the love of your life, then this is the movie to watch. 'What If' is a powerful, touching story of what happens when we decide to make choices of our own, leaving God and His will for our lives out of the picture. It helps us wrestle with the choices we want to make, choices we have made, and the choices that can be made relieving to us how those choices can affect those around us either positively or negatively making us ask the question, 'What If' we followed God's path for our lives instead of our own. It is a story of love, forgiveness, redemption, sacrifice, career, family, and how knowing the God of the Bible and choosing to live for Him changes our lives and those around us.
Questions to Ponder:
1. What character in 'What If' do you most identify with and why?
2. Who or what has influenced you to take the first career path you have taken and why? How is it similar or different from how Ben chose his path? What has been the outcome?
3. Ben thought he was happy in the career path he took on his own until he realized what true happiness is. Who and what revealed true happiness to him? What about you?
4. When have you ever asked yourself the question, 'What If' in your life and what has been the outcome?
5. Where have you found the most happiness: In loving family or loving fortune? Why or why not?
6. In 'What If' what were moments of prayer to the Lord and what did they accomplish? What can you learn from these moments of prayer?
7. What are moments of love you remember from 'What If' and how is it similar or different from the love you display for others?
8. What is a sacrifice you have made to show love to someone and how did it specifically impact the person?
9. In 'What If' 1 Corinthians 13:4-8 is read by a wife to her husband which states, Love is patient, love is kind. It does not envy, it does not boast, it is not proud. 5 It does not dishonor others, it is not self-seeking, it is not easily angered, it keeps no record of wrongs. 6 Love does not delight in evil but rejoices with the truth. 7 It always protects, always trusts, always hopes, always perseveres. 8 Love never fails. But where there are prophecies, they will cease; where there are tongues, they will be stilled; where there is knowledge, it will pass away.(1 Corinthians 13:4-8). Of the qualities of love, what do you exhibit the most toward your significant other and what quality do you least exhibit?
10. What are moments of Redemption we see from 'What If'? Where do you need Redemption and how can the God of the Bible give you that Redemption?"
11. What does the parable of the Vineyard Workers in Matthew 20:1-15 tell us about God's intervention in our lives?
12. Where do you see moments of forgiveness in 'What If' and where can you apply that in your life?
13. When God calls, He equips, enables, and empowers those He calls to do His will. How is that revealed in the movie especially in the story of Moses that was preached?
14. If you have gone your own way and done your own thing, what is the Good News of the Gospel we learn from 'What If' even though our actions could cause a delay?
Spiritual Biblical Review of Green Lantern: "Greatly Green Lantern Lets Fear Famish!" (Dec 03, 2011, 9:31 p.m.) By Ramesh C. Reddy

Movie Review: "'Courageous' Commends Christ's Commission For Families!" (Oct 12, 11, 5:24 p.m. (EST) By Ramesh C. Reddy

"Beautifully 'Blindside' Touches Triumphantly Portraying People's Compassionate Care!" (June 10, 10, 8:43 a.m.) By Ramesh C. Reddy

"Openly Observing Sleuth Sherlock Holmes' Hermeneutics Involves Implications!" (May 08, 10, 11:11 a.m.) By Ramesh C. Reddy

"IronMan 2 Intensely Suffocates Storyline!" (May 07, 10, 8:34 a.m.) By Ramesh C. Reddy

"ClashOfTheTitans' Characterizes Man's Mistakes, Supporting Spiritual Warfare's World!" (April 07, 10, 12:50 p.m.) By Ramesh C. Reddy

"'2012' Takes Tearful People Past World's Withering!" (March 08, 10, 11:16 a.m.) By Ramesh C. Reddy

"Avatar' Amazes Audiences At Adventure Accumulating Outright Oscar Nominations Now!" (Feb 04, 10, 2:30 p.m.) By Kristen Agnew

REVIEWS OF DVD RELEASES OF 2009:

13. "Fervently 'Faith Like Potatoes' Produces Farmer's Vegetables Victoriously Blending Beliefs!" (Aug 16, 09, 5:16 p.m.) By Kristen Agnew

12. "Greatly G.I. Joe's Justice Collapses COBRA!" (Aug 10, 09, 6:31 p.m.)

11. "Watchmen' Will Handle Human Nature Notoriously " / March 06, 2009 / July 21, 2009

1.

"'LoveTakesWing' Lets Lord's Ways Win!" / Unavailable

REVIEWS OF DVD RELEASES OF 2008:

22. "Dark Knight' Kindles Joker's Judgment, Justifying Satan's Sinister Soul Search" /July 18, 2008 / Dec 09, 2008

21. "Get Smart' Sagaciously Saves People Publicly" / June 20, 2008 / Nov 04, 2008

20. "Incredible Hulk' Helps Humans Have History!" / June 13, 2008 / Oct 21, 2008

19. "'Indiana Jones and the Kingdom of the Crystal Skull' Surprisingly Sagged!" / May 22, 2008 / Oct 14, 2008

18. "'Iron Man's' Machine Suit Saves Citizens Carefully!' / May 02, 2008 / Sept 30, 2008

17. "'Bucket List' Lovingly Leaves Life Laudable!" / Jan 11, 2008 / June 10, 2008

16. "Flawless' Forgoes Forgiveness For Foes" / March 28, 2008 / June 03, 2008

15. "Semi Pro' Portrays Sacrificial Success" / Feb 29, 2008 / June 03, 2008

14. "Meet the Spartans' Sends Malignant Message!" / Jan 25, 2008 / June 03, 2008

13. "'The Eye' Elevates Donor's Deliverance!" / Feb 01, 2008 / June 03, 2008

12. "National Treasure 2' Tests Truth Through Time!" / Dec 21, 2007 / May 20, 2008

11. "'Chronicles of Narnia: Prince Caspian' caringly Christocentric" / May 16, 2008 / Dec 02, 2008

10. 'Untraceable' Unabashed Viewing Victims!" / Jan 25, 2008 / May 13, 2008

9. "'Over Her Dead Body' Brings Love's Laughter!" / Feb 01, 2008 / May 06, 2008

8. "'P.S. I Love You' Yells Love's Language!" / Dec 21, 2007 / May 06, 2008

7. "'Hero Wanted' Wonderfully Renders Redemption!" /March 28, 2008 / April 29, 2008

6. "'How She Moves' Makes Sizzling Steps!" /Jan 25, 2008 /April 29, 2008

5. "'Golden Compass' Contradicts Christ's Creation!"/ Dec 07, 2007/ April 29, 2008

4. "One Missed Call' Causes Evil's Eruption!" / Jan 04, 2008 / April 22, 2008

3. "Totally Baked' Brings Beelzebub's Badness!" /Unavailable / April 20, 2008

2. "The Invasion' Imparts Inoculations Inevitability!" / Aug 17, 2007 / Jan 29, 2008

1. "'Incendiary' Invokes Illicit Sex Sowing Crumbling Consequences Through Terrorism!" / Unavailable / Jan 20, 2008


REVIEWS OF DVD RELEASES OF 2007:

11. "'Rush Hour 3' Renders Renegade Relative Ruthless!" /Aug 10, 2007 / Dec 20, 2007

10. "'The Bourne Ultimatum' Universally Unravels U.S.A's' Undercover Utilities / Aug 03, 2007 / Dec 10, 2007

9. "'Transformers' Thrusts Towards Truth!" / July 03, 2007 / Dec 10, 2007

8. "'Live Free Or Die Hard' Heightens Humans Hurts!" / June 27, 2007/ Nov 20, 2007

7. "Spiderman's search for Salvation saved scorching soul" / May 04, 2007 / Oct 02, 2007

6. 'The Astronaut Farmer' Follows Family's Faithfulness! / Feb 23, 2007 / July 10, 2007

5. "'The Contractor' Creates Catastrophe for Cops!" / Unavailable / July 10, 2007

4. "Hannibal Rising' Reveals Revenge's Radicalism" /Feb 09, 2007 / May 29, 2007

3. "'The Last Sin Eater' Emphasizes Emancipation Enters Endlessly" / Feb 09, 2007 / May 15, 2007

2. "'Illegal Aliens' Assist Earth's Emancipation" /Unavailable / May 01, 2007

1. "'Happily NEver After' Alters Age-old Analysis!"/ Jan 05, 2007 / May 01, 2007

REVIEWS OF DVD RELEASES OF 2006:

10. Pirates Of The Caribbean 2 (2006) / July 07, 2006 / Nov 20, 2006
9. Superman Returns (2006) / June 28, 2006 / Nov 28, 2006
8. "'Captured By You' Yells Greed's Game!" /March 21, 2003 / Oct 24, 2006
7. X-Men: The Last Stand (2006) / May 26, 2006 / Oct 03, 2006
6. Last Holiday (2006) / January 13, 2006 / May 02, 2006
5. End Game (2006) / Unavailable / May 02, 2006
4. Swarmed (2005) / Unavailable / May 02, 2006
3. The Detonator (2006) / Unavailable / April 25, 2006
2. The Visitation (2006) / Unavailable / Feb 28, 2006
1. Red Eye (2005) / August 19, 2005 / Jan 10, 2006

REVIEWS OF DVD RELEASES OF 2005:

16. The Island (July 2005) / July 22, 2005 / Dec 13, 2005
15. Fantastic Four (2005) / July 08, 2005 / December 06, 2005
14. Batman Begins (2005) / June 15, 2005 / October 18, 2005
13. Mr. & Mrs. Smith (2005) / June 10, 2005 / Nov 29, 2005
12. Hostage (2005) /March 11, 2005 / June 21, 2005
11. Hitch (2005) /Feb 11, 2005 / June 14, 2005
10. Spiderman: The Venom Saga (2005) / Unavailable/ June 07, 2005
9. Swimming Upstream (2003) / Feb 27, 2003 / May 31, 05
8. Star Wars: Episode III - Revenge of the Sith / May 19, 2005 / Nov 01, 2005
7. xXx: State of the Union (2005) / April 29, 2005 / July 26, 2005
6. The Interpreter (2005) / April 22, 2005 / October 04, 2005
5. In Good Company (2005) / January 14, 2005 / May 10, 2005
4. National Treasure (2004) / November 19, 2004 / May 03, 2005
3. Ocean's 12 (2004) / December 10, 2004 / April 12, 2005
2. Blade: Trinity (2004) / December 08, 2004 / April 26, 2005
1. Suspect Zero (2004) / August 27, 2004 / April 12, 2005

REVIEW OF DVD RELEASES OF 2004:

1. 'Paycheck' is worth the money / December 25, 2003 / May 18, 2004

DVD RELEASES OF 2003:

2. City By the Sea' Sinks Family Life! / September 06, 2002 / Feb 18, 2003
1. Blood Work' Pumps Up the Blood! / August 09, 2002 / June 01, 2003

DVD RELEASES OF 2001:

1. 'Replicant' created to save lives! / May 11, 2001 / October 16, 2001

DVD RELEASES OF 1999:

1. 'Retroactive' is actively time wrapped / January 1, 1997 /August 24, 1999