"Messiah Often Lovingly Delivers! (M.O.L.D)
"
By Ramesh C.Reddy
Pittsburgh Standard



July 16, 2008
Editors Note: The devotional has a background song which can be heard if you use Internet Explorer.
SCRIPTURE:
"About four thousand men were present. And having sent them away, he got into the boat with his disciples and went to the region of Dalmanutha." (Mark 8:9-10)

OBSERVATION:
I asked myself what did Jesus do?
1. Jesus sent away four thousand men.
2. Jesus got into the boat with his disciples.
3. Jesus went to the region of Dalmanutha.
I decided to focus on what Jesus did next.
INTERPRETATION:
I asked myself the significance of 'Jesus got into the boat with his disciples'?
I found it very significant that Jesus spent a lot of time with the disciples during the 3-day retreat and even after it. This shows me how much Jesus wants to mold the disciples how He wants them to be.
IMPLICATIONS:
I saw important implications for my own life. Those the Lord Jesus placed in my life, I need to spend time with them to help mold them to His image. More than anything I need to spend time with Jesus a lot so Jesus can mold me the way He wants me to be. I can do that by spending time with Jesus by reading and meditating on His Word and through prayer. Jesus will mold me and shape me the way He wants me to be by His wonderful grace.
Jesus wants to spend time with me because He loves me and died for my sins to save me. I need to always remember that including the fact that Jesus was buried and came back on the 3rd day to save as witnessed by 500 people.
I ask you now dear friend, who do you let mold your life?
Dear friend, whoever we let mold our lives, we will reflect their character and image eventually. This is not a principle that applies just in the faith realm but also in the political realm, etc.
Whoever you allow to mold your thinking, will determine who you eventually vote for. I believe if you allow Jesus Christ to mold your thinking, it would make sense to you to vote for a Pro-Life and Pro-marriage candidate who is for the life of the unborn and for the sanctity of marriage. Also, international issues such as the plight of Israel will become important to you as the nation of Israel is very important to Jehovah. Jehovah is the one who prophesized Israel becoming a country and will continue to protect Jersualem.
We need to allow Jesus to mold us in our faith so it can be reflected in the way we vote, in the way we interact, etc.
More than anything we need to let Jesus mold us so we can live a life worthy of the Gospel of Jesus Christ and not be ashamed. Jesus paid the ultimate price on the cross for you and me so when we turn to Him and accept His sacrifice on our behalf, we will live forever and His Holy Spirit will begin a work in us to transform us to His likeness.
I am excited to be molded my Jesus so anything in my life will not only reflect Christ's love but also Christ's justice. Sometimes people think just because they have Jesus in their hearts, Jesus will be happy with them. This is far from the truth for Jesus looks at the fruit of our life and if we are walking in the Spirit and not fulfilling the lust of the flesh.
I cannot imagine anyone being molded by the Lord choosing to vote for a Pro-Choice candidate or a candidate who is for Gay Marriage, etc but sadly that does happen unless the Lord convicts them during the molding process.
May you always be molded by the Lord Jesus and Him alone not being influenced by anyone who goes against the Word of God or tries to twist the Word of God to fit their needs.
"Messiah Often Lovingly Delivers!" (M.O.L.D)/"Who do you let M.O.L.D your life?"
Prayer:
Dear Lord Jesus, thank you so much for the time you spent with the disciples to mold them and make them the way you want them to be as they stick to your teachings and ways. Thank you for taking part in the 3-day retreat with the 4000 men too. Oh Lord thank you that you want to be involved in our lives too. Help us to live for you and serve you and mold those around us for your honor and glory as we are first molded by you and your ways! In Your Name I Pray Jesus! Thank you for hearing us and answering us! Amen!!
If you want Christ in your life, make this your prayer. Don't let the enemy deceive you into thinking you need all the answers before coming to Christ. Let me just assure you though you may not have all the answers right now before coming to Jesus, He will answer them slowly. Yes, He will for I know our Redeemer will! Amen!
Prayer:
Jesus, I thank you for being the Bread of Life. You are the Living Bread of my life. Thank you for coming from Heaven and giving your life for the life of the world. You sacrificed yourself for humanity. Thank you Lord when we eat of you symbolically making you part of our life, digesting what you teach us by following you, we can be living Eternally, and the fruit that comes will reflect and resemble your life. I want that Father God. I want that Lord Jesus! I want that Holy Spirit! I know of a lot of people who partake of Holy Communion where the bread represents your body broken for their sin and the juice represents your blood shed for their sin. When we partake of Holy Communion, we are reminded that we are remembering you. I want to remember you always Lord Jesus. But for me to remember you always, I need to know you and acknowledge everything you said you are. So right now I acknowledge that you are my Lord and Personal Savior who died and rose again to give me life from sin. So right now, I come to you and say how sorry I am for my sin and living a life on my own. I repent of my sin and ask you to forgive me of my sin with your cleansing blood which I accept. Wash me and I will be clean from this infection of sin. Come Lord Jesus and please become part of my life as you live in me and I will live for you. I thank you Jesus for coming into my heart and making my heart your home. Thank you for living in me Jesus and I will live for you and serve you the rest of the days of my life. I do need your Spirit to reside in me and work in me and through me so I surrender all that I am and will be to you. Whatever your will is for me, please give me the strength and willingness to bear it and rejoice in you. Thank you so much Jesus. I thank you Jesus for becoming my Lord and Personal Savior. I thank you Jesus you have heard my prayer and have answered me. I thank you that I am your child Oh God. I thank you for becoming my only Way to Eternal Life. In Your Name I Pray Jesus! Amen!
Friend, if you have prayed this prayer and meant it in your heart, you are a new creation in Christ and all old things are passed away and everything has become new! You may feel something or may not but don't base it on feelings but base your new life in Christ on the promises of our Savior who will never leave you nor forsake you! Amen!
Spend time in His word and let the Lord speak to you! Start out in the Gospel of John! You can also check out the Gospel of Mark which are the devotionals I have been going through. Learn from Jesus through study and prayer. Also find yourself a church fellowship and a college fellowship you can be part of where you can be part of a community of believers to supplement your own walk with the Lord. Let it be a Bible-believing and Bible-breathing church! Believe in Bible Live Eternally!
Feel free to email me at reddy4hisglory2004@yahoo.com if you want to meet to study the Bible, pray with, talk about Spiritual issues or whatever is on your mind! My number is 412-720-4579
"This is my work and I can do it only because Christ's mighty energy is at work within me." (Colossians 1:29, TLB)
Love in Christ,
Ramesh
.Click picture to read my dad's memoriam: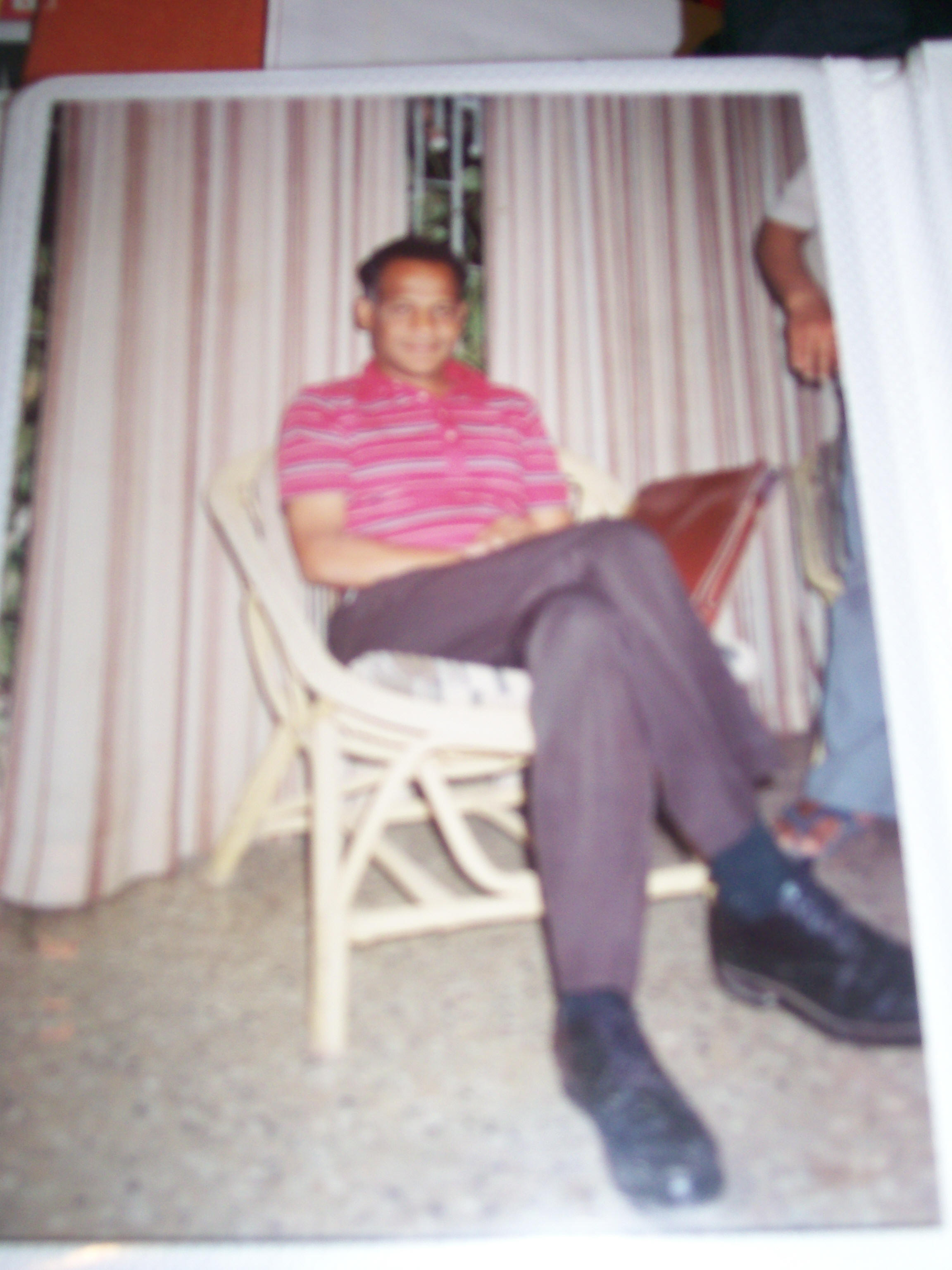 ' I AM ' Series Archives:
What kind of L.I.G.H.T do you follow? (Dec 13, 07, 10:09 a.m.)
Gospel of Mark Archives:
Mark 1:1: "What does the G.O.S.P.E.L mean to you?" (Jan 15, 08, 1:15 p.m.)
Mark 1:1-4: "How seriously do you T.E.S.T.I.F.Y about prophesy?" (Jan 12, 08, 11:18 p.m.)
Mark 1:5-8: "Who do you P.O.I.N.T to?" (Jan 16, 08, 8:48 a.m.)
Mark 1:9: How will you take a S.T.A.N.D? (Jan 17, 08, 11:21 a.m.)
Mark 1:9-11: "How is your loving P.R.A.I.S.E?" (Jan 18, 08, 8:53 a.m.)
Mark 1:12-13: "How do you handle T.E.M.P.T.A.T.I.O.N?" (Jan 19, 08, 12:27 p.m.)
Mark 1:14-15: How do you handle T.I.M.E given to you? (Jan 21, 08, 1:31 p.m.)
Mark 1:16-18: "What kind of P.R.O.F.E.S.S.I.O.N are you in?" (Jan 26, 08, 10:22 a.m.)
Mark 1:19-20: "Without having to P.R.O.C.R.A.S.T.I.N.A.T.E, what should you do?" (Jan 29, 08, 10:44 a.m.)
Mark 1:20-22: "How do you rate in the B.U.S.I.N.E.S.S of Jesus?" (Jan 30, 08, 11:29 a.m.)
Mark 1:20-22: "Whose T.E.A.C.H.I.N.G.S do you follow?" (Jan 31, 08, 11:52 a.m.)
Mark 1:23-28: "What C.A.P.T.I.V.I.T.Y are you facing today?" (Feb 01, 08, 10:35 a.m.)
Mark 4:3-20: "What if Jesus talked F.O.O.T.B.A.L.L?" (Feb 02, 08, 10:35 a.m.)
Mark 1:29-31: "Where do you need H.E.A.L.I.N.G?" (Feb 05, 08, 11:44 a.m.)
Mark 1:32-34: "Where do you need an A.N.S.W.E.R?" (Feb 06, 08, 11:16 a.m.)
Mark 1:35-39: "Where do you give your S.O.L.I.T.A.R.Y time to the Lord?" (Feb 07, 08, 11:41 a.m.)
Mark 1:40-42: "Where do you need to be C.L.E.A.N?" (Feb 09, 08, 11:00 a.m.)
Mark 1:43-45: "What do your actions C.A.U.S.E?" (Feb 11, 08, 9:23 a.m.)
MARK CHAPTER 2:
Mark 2:1-2: "What do you do with your P.O.P.U.L.A.R.I.T.Y?" (Feb 12, 08, 9:52 a.m.)
Mark 2:2-5: "What kind of F.R.I.E.N.D are you?" (Feb 13, 08, 11:49 a.m.)
Mark 2:5-12: "Where does P.A.R.A.L.Y.S.I.S take hold of you?" (Feb 15, 08, 7:42 a.m.)
Mark 2:5-12: "What are you thinking in your M.I.N.D?" (Feb 16, 08, 11:08 a.m.)
Mark 2:5-12: "What do you represent by your A.C.T.I.O.N.S?" (Feb 18, 08, 8:23 a.m.)
Mark 2:13-15: "Where are you looking for A.C.C.E.P.T.A.N.C.E?" (Feb 19, 08, 11:22 a.m.)
Mark 2:15-17: "Who do you I.N.V.I.T.E to Jesus?" (Feb 20, 08, 9:57 a.m.)
Mark 2:18-20: "When do you F.A.S.T?" (Feb 21, 08, 9:32 a.m.)
Mark 2:21-22: "How do you see your L.I.F.E?" (Feb 22, 08, 9:56 a.m.)
Mark 2:23-28: "What kind of L.E.A.D.E.R will you be? (Feb 23, 08, 10:46 a.m.)
Mark 2:23-28: "What does the S.A.B.B.A.T.H mean to you?" (Feb 25, 08, 10:46 a.m.)
CHAPTER 3:
Mark 3:1-6:"Whose N.E.E.D.S do you meet?" (Feb 26, 08, 9:54 a.m.)
Mark 3:7-8: "What is your I.M.P.A.C.T?" (Feb 27, 08, 8:17 a.m.)
Mark 3:9-11: "What S.P.A.C.E do you give yourself?" (Feb 28, 08, 9:38 a.m.)
Mark 3:11-12: "How do you fight E.V.I.L?" (Feb 29, 08, 9:11 a.m.)
Mark 3:13-16: "What emphasis do you put on your R.E.L.A.T.I.O.N.S.H.I.P with Jesus?" (March 01, 08, 9:29 a.m.)
Mark 3:17-19: "Where do you have your A.P.P.O.I.N.T.M.E.N.T in?" (March 03, 08, 9:49 a.m.)
Mark 3:20: "Where do you G.A.T.H.E.R?" (March 04, 08, 12:07 p.m.)
Mark 3:21: "How are your actions seen by your F.A.M.I.L.Y?" (March 05, 08, 10:24 a.m.)
Mark 3:22-27: "How do you handle S.L.A.N.D.E.R?" (March 06, 08, 7:57 a.m.)
Mark 3:28-30: "What is your V.I.E.W of Jesus?" (March 07, 08, 8:18 a.m.)
Mark 3:31-34: "What do you do with God's Will?" (March 08, 08, 8:45 a.m.)
CHAPTER 4:
Mark 4:1-20: "What do P.A.R.A.B.L.E.S mean to you?" (March 10, 08, 7:15 a.m.)
Mark 4:1-20: "What if Jesus talked F.O.O.T.B.A.L.L?" (Feb 02, 08, 10:35 a.m.)
Mark 4:1-20: "Where are you in your W.A.L.K with the Lord?" (March 11, 08, 9:32 a.m.)
Audio: "Where are you in your W.A.L.K with the Lord?" (March 11, 08, 11:05 a.m.)
Mark 4:21-23: "What kind of L.A.M.P will you be?" (March 12, 08, 9:40 a.m.)
Audio: "What do you C.O.N.C.E.A.L?" (March 14, 08, 10:11 a.m.)
"What do you C.O.N.C.E.A.L?" (March 14, 08, 8:52 a.m.)
John 12:12-15: "How can you B.L.E.S.S the Lord?" (March 17, 08, 1:25 a.m.)
Philippians 2:8: "What does the C.R.O.S.S mean to you?" (March 20, 08, 1:16 p.m.)
"How do you handle D.O.U.B.T.S?" (March 25, 08, 12:36 p.m.)
Mark 4:24-25: "What do you do with what you H.E.A.R?" (March 31, 08, 8:39 a.m.)
Mark 4:26-29: "What do you do with the W.O.R.D of God?" (April 05, 08, 10:18 a.m.)
Mark 4:30-34: "What do you do with the S.E.E.D?" (April 07, 08, 11:48 a.m.)
Mark 4:35-41: "What are the S.T.O.R.M.S in your life?" (April 08, 08, 11:52 a.m.)
CHAPTER 5:
Mark 5:1-13: "Where is your T.O.R.M.E.N.T coming from?" (April 09, 08, 11:50 a.m.)
Mark 5:14-17: "Where do you need H.E.A.L.I.N.G?" (April 11, 08, 11:46 a.m.)
Mark 5:14-17: "What do people R.E.P.O.R.T about you?" (April 12, 08, 11:00 a.m.)
Mark 5:18-19: "What makes you A.F.R.A.I.D of Jesus?" (April 14, 08, 10:40 a.m.)
Mark 5:18-19: "Will you T.E.L.L others about Jesus?" (April 15, 08, 11:32 a.m.)
Mark 5:20: "What do you do with your T.E.S.T.I.M.O.N.Y?" (April 16, 08, 12:03 p.m.)
Proverbs 17:4: "What does G.O.S.S.I.P do to you?" (April 17, 08, 6:52 p.m.)
Exodus 12:5,7,11,13-14: "How do you know judgment will P.A.S.S.O.V.E.R you?" (April 24, 08, 9:26 a.m.)
Mark 5:21: "Why will you G.A.T.H.E.R before Jesus?" (April 28, 08, 9:36 a.m.)
Mark 5:22-24: "What place do you give P.R.A.Y.E.R in your life?" (April 29, 08, 7:51 a.m.)
Mark 5:24b-29: "Unclean Now? Christ's Leading Everyday Always Nurtures! (U.N.C.L.E.A.N)" (May 05, 08, 10:24 a.m.)
Mark 5:30-34: "Forever, Redeemer Everyday Excitingly Delivers Omnipotent Message!(F.R.E.E.D.O.M)" (May 05, 08, 10:24 a.m.)
Mark 5:35-37: "Timing Is Messiah's Involvement Nurturing Graciously! (T.I.M.I.N.G)" (May 07, 08, 10:07 a.m.)
Mark 5:35-42: "What place do you give G.O.D.S W.I.L.L in your life?" (May 08, 08, 9:33 a.m.)
CHAPTER 6:
Mark 6:1-2:"Where do you seek W.I.S.D.O.M for your life?" (May 09, 08, 10:31 a.m.)
Mark 6:2-3:"What do you do with your C.A.L.L.I.N.G in life?" (May 10, 08, 9:43 a.m.)
Mark 6:2-3: "Who/Where is your I.D.E.N.T.I.T.Y found in?" (May 12, 08, 8:45 a.m.)
Mark 6:4: "When do you feel A.C.C.E.P.T.E.D in your life" (May 13, 08, 8:21 a.m.)
Mark 6:4-6: "How is your F.A.I.T.H in the Lord?" (May 14, 08, 8:01 a.m.)
Mark 6:6-7:"What do you T.E.A.C.H by your life?" (May 15, 08, 10:34 a.m.)
Mark 6:6-7:"Who are you S.E.N.T by?" (May 16, 08, 6:49 a.m.)
Mark 6:7-11:"Where are you S.T.A.Y.I.N.G in your life?" (May 17, 08, 8:38 a.m.)
Mark 6:12-13: "How is your spiritual H.E.A.L.T.H in your life?" (May 20, 08, 7:41 a.m.)
Mark 6:12-14: "What have people H.E.A.R.D about Jesus through you?" (May 21, 08, 8:36 a.m.)
Mark 6:14-16: "What do you T.H.I.N.K about Jesus?" (May 22, 08, 10:02 a.m.)
Mark 6:16-17: "How do you handle D.O.U.B.T.S in your life?" (May 23, 08, 9:05 a.m.)
Mark 6:17-20: "When do you S.P.E.A.K out?" (May 24, 08, 9:32 a.m.)
Philippians 4:9: "What kind of S.O.L.D.I.E.R will you be?" (May 26, 08, 9:55 a.m.)
Mark 6:21-25: "What has the T.O.N.G.U.E done in your life?" (May 27, 08, 8:27 a.m.)
Mark 6:25-29: "What has P.R.I.D.E done in your life?" (May 28, 08, 8:25 a.m.)
Mark 6:30: "What is your M.I.S.S.I.O.N you have been called to?" (May 29, 08, 8:19 a.m.)
Mark 6:31-32: "Where do you find R.E.S.T in your life?" (May 30, 08, 8:04 a.m.)
Mark 6:33-34: "Who have you made the S.H.E.P.H.E.R.D of your life?" (May 31, 08, 8:37 a.m.)
Mark 6:35-44: "What kind of B.R.E.A.D do you eat?" (June 02, 08, 8:34 a.m.)
Mark 6:45: "Whose C.A.R.E are you really in?" (June 03, 08, 9:32 a.m.)
Mark 6:46: "When do you P.R.A.Y in your life?" (June 03, 08, 9:32 a.m.)
Mark 6:46-48b:"What T.R.O.U.B.L.E are you facing in your life?" (June 05, 08, 9:53 a.m.)

Mark 6:48-50: "What is the F.E.A.R you are facing in life?" (June 06, 08, 9:23 a.m.)
Mark 6:51-52: "How have you H.A.R.D.E.N.E.D your heart?" (June 07, 08, 9:09 a.m.)
Mark 6:53-54: "What are you R.E.C.O.G.N.I.Z.E.D for in your life?" (June 09, 08, 9:37 a.m.)
Mark 6:55-56: "Who do you I.N.T.R.O.D.U.C.E to Jesus in your life?" (June 10, 08, 10:50 a.m.)
CHAPTER 7:
Mark 7:1-8: "How do you view H.Y.P.O.C.R.I.S.Y in your life?" (June 11, 08, 6:11 a.m.)
Mark 7:1-8: "How does the Lord view your W.O.R.S.H.I.P in life?" (June 12, 08, 9:24 a.m.)
Mark 7:1-8: "Whose T.E.A.C.H.I.N.G.S do you follow in life?" (June 13, 08, 8:12 a.m.)
Mark 7:9-13: "How do you honor your P.A.R.E.N.T.S in life?" (June 14, 08, 9:16 a.m.)
Philippians 4:20-23: "What have you done for your F.A.T.H.E.R in life?" (June 15, 08, 5:40 p.m.)
Mark 7:14-19: "How do you C.L.E.A.N your life?" (June 17, 08, 9:26 p.m.)
Mark 7:20-23: "When are you getting a H.E.A.R.T transplant?" (June 18, 08, 7:36 a.m.)
Mark 7:24: "Why not take the C.R.E.D.I.T offered to you in life?" (June 19, 08, 10:12 a.m.)
Mark 7:25-26: "How often do you ask Jesus to S.A.V.E your loved ones in life?" (June 20, 08, 9:45 a.m.)
Mark 7:27-30: "What A.D.V.E.R.S.I.T.Y are you facing in life?" (June 21, 08, 10:38 a.m.)
Mark 7:31-32:"Who do you B.R.I.N.G to Jesus?" (June 23, 08, 9:50 a.m.)
Mark 7:33-34: "Where do you want the Lord to W.O.R.K in your life?" (June 24, 08, 10:12 a.m.)
Mark 7:35-36: "What do you need W.E.L.L done in your life?" (June 25, 08, 10:10 a.m.)
CHAPTER 8
Mark 8:1a:"Where do you G.A.T.H.E.R in life?" (June 26, 08, 10:11 a.m.)
Mark 8:1b-3:"Who needs your C.O.M.P.A.S.S.I.O.N this week?" (June 27, 08, 10:16 a.m.)
Mark 8:1b-3: "What place do you give a R.E.T.R.E.A.T in your life?" (June 30, 08, 10:24 a.m.)
Mark 8:1b-3: "What do you E.A.T in life?" (July 01, 08, 10:27 a.m.)
Mark 8:1b-3: "What are you H.U.N.G.R.Y for in life?" (July 02, 08, 10:15 a.m.)
Mark 8:1b-3: "What D.I.S.T.A.N.C.E will you go to meet Jesus?" (July 03, 08, 10:06 a.m.)
Mark 8:4: "What do you F.O.R.G.E.T in life?" (July 07, 08, 11:04 a.m.)
Mark 8:4-7: "How do you handle P.R.O.B.L.E.M.S in your life?" (July 08, 08, 10:14 a.m.)
Mark 8:8a: "What are you T.H.A.N.K.F.U.L for in your life?" (July 09, 08, 10:05 a.m.)
Mark 8:8b: "What has being G.E.N.E.R.O.U.S done to you?" (July 12, 08, 9:05 a.m.)
Mark 8:9-10: "Where has the Lord placed you to C.A.R.E in life?" (July 15, 08, 11:29 a.m.)